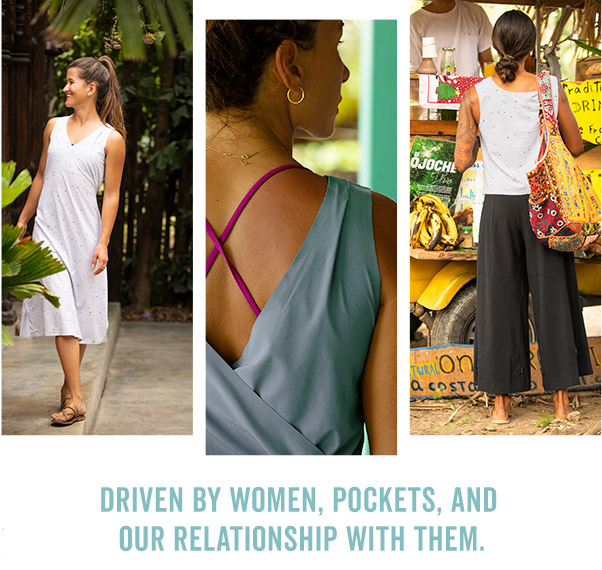 Pockets are a cultural thing at T9HQ, tracing back to pre-suffragette struggles, and one that we take seriously and very personally. The one-liner version of history on this is that women had their pocket rights revoked and were purposely burdened with purses and bags to slow them down. So, it makes sense that at Title Nine – where we're all about empowering women to do more, and move more – we demand pockets.
We've been at this game for over thirty years now, and from handwarmer to stash, to envelope, cargo, and zippered, we thought we'd done them all. It turns out that we were just getting started.
The Women Behind the Pockets

The know-how and ingenuity of our small and mighty design team come through in the thoughtful approach to each piece. Mothers, daughters, globetrotters who prefer to travel light, bike commuters who don't eschew style, the headcount is small, but their impact as a team is mighty. While it can be easy to compile a wishlist of what women want from their clothing, delivering the goods can be incredibly tricky. The women on our design team are (to put it lightly) outdoor enthusiasts who have tried and tested apparel and gear over lifetimes, allowing both what they have learned and what they have lived to fuel collaboration. The result is our most innovative collection yet.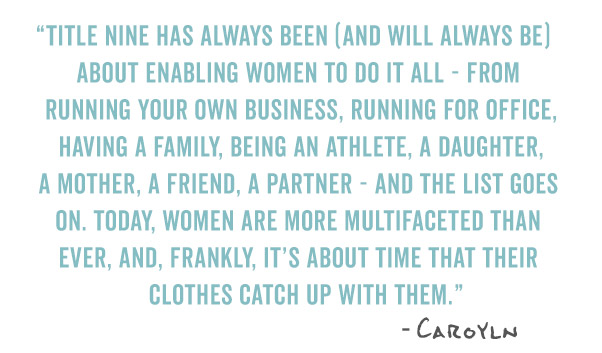 The team's design mission is much deeper than merely adding pockets or making them larger. Women want solutions to the everyday challenges that can slow us down, and in some ways, hold us back. The feeling of being tied down and restricted is among the last things any woman wants: once she knows the unbridled ease of movement in the world, there's no going back. Just ask Carolyn Ebers, sourcing director and head of product development at Title Nine, who was quietly dreaming up some versatile magic. The piece that spawned our group was nothing new: it was Carolyn's "10 year old dress that has been to three continents, and countless 'pack in a purse' weekends" that ignited the spark.
Enter the MOST Pocketed Dress You've Ever Seen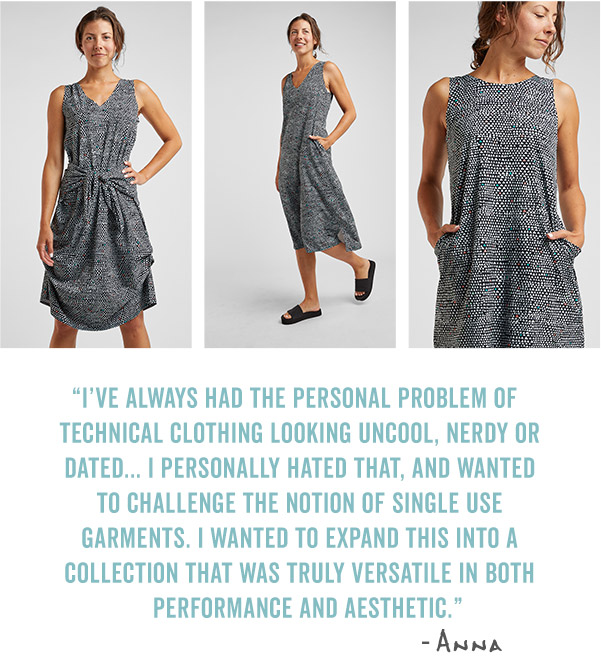 The deeper meaning to some incredibly deep pockets aside, we've never seen pockets this deep on a dress. Not just any dress, but one that's dinner-date sharp while still infinitely packable, shaking out wrinkles fast and taking up no more room in our bag than a reusable thermos. One dress that can have six different silhouettes, whose pockets can haul it all while literally being fit to be tied (turn the pockets "inside out" to use them as a knotted belt). "Everyone in our small crew – ages spanning a few decades – got it," said Carolyn of the day she unveiled the prototype dress to her team, and they began working on what would become the Round Trip Dress. A "one-piece-wonder" for travel or easy, everyday wear, amplified by quiet high tech construction and performance fabric. The bonded, 'stitchless' construction smoothes seams for comfort in all the right places while reducing the garment weight. The recycled Nimblene™ blend is secretly agile and flyweight as running shorts, while delivering a clean, chic face. With two necklines to suit every occasion and a total of (at least!) 18 ways to style it, cruising groomed trails, chasing down trains, then switching shoes for dinner (well, maybe) has never been easier. Plus, it shadows all sorts of body types with ease and fits our every mood.

That first wearable wonder got us thinking: what else could we do better?
In-house designer Anna Medina was essential in the next steps. Her surprise confession? She has (or, had!) trouble wearing and loving performance-driven gear. "I've always had the personal problem of technical clothing looking uncool, nerdy, or dated. I'd wear my hiking pants for my backpacking trip, and then I wouldn't touch them until my next backpacking trip. I personally hated that and wanted to challenge the notion of single-use garments. I wanted to expand this into a collection that was truly versatile in both performance and aesthetic."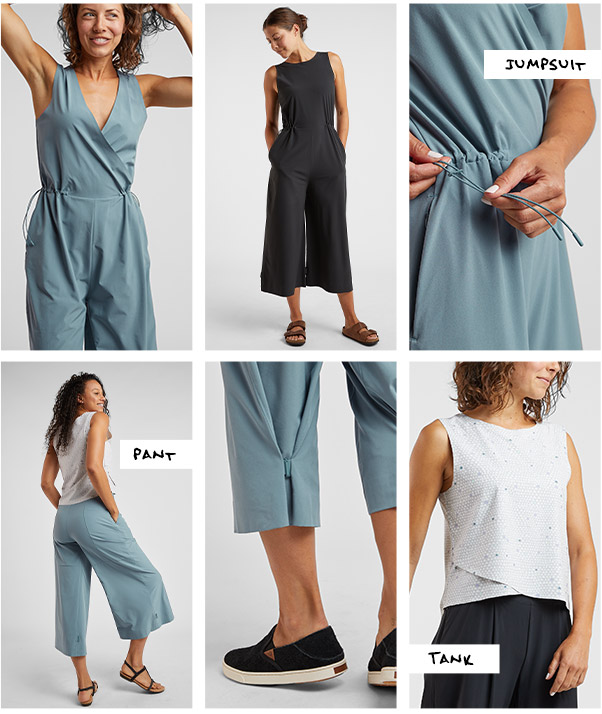 Typically when we begin a new design, the focus is function followed by style. "We don't follow trends," explained Anna, so that wasn't what led them. Instead, she said, "We wanted to push the designs further and explore convertibility." They'd already accomplished that task with the Round Trip Dress, and they began it over again now, with the final three pieces of the group. "Can you wear it multiple ways?" They asked. "Does it fit multiple body types?" The ever-important, "What kind of pockets will it have, how many, and where?" And, can it perform beyond the picture, keeping up with our real lives, performing with athletic ease?


With every design element featuring its own empowering benefit, Anna, Carolyn, and their team created a set ready for any body, and any adventure. All their legwork, brainstorming, and heavy-lifting ingenuity have cross-pollinated and bloomed a collection that lets us travel lighter and dress easier.
Both remarkable and reversible – with choose-your-own-necklines on the dress, jumpsuit, and top – the Round Trip Collection is ready to mix, match, and personalize in over 40 ways. From the bonded, stitchless seams for flyweight mobility to 'magic lock' legs that let us do things similar pants wouldn't allow, to the adaptable ruching, belting, and more, we backed down from no detail.
We put it together. Now, we invite you to experience it for yourself.