Let's Get Technical
Allow us to set the scene. It's morning, it's autumn, the leaves are crisp and crimson-ing, the air is chilly, the windows are cold to the touch, your morning tea billows a steam genie, your dog is barking about SOMETHING again (or is that your husband). Either way, the fall forecast beckons you to begin the day. You go through the list in your head: run, work, workout or is it ski slope, errands, exercise. Whatever it is, we know you saved like, 15 minutes to get dressed, and it's go time.
The old you: Packs out with a day bag full of cold weather outfit options and waddles down the street looking like an over-layered doughboy.
The new you: throws on some cute, lightweight layers to keep you cozy throughout your adventure-packed day.
How to reach this point of metamorphosis? Check out our chilly weather layering checklists.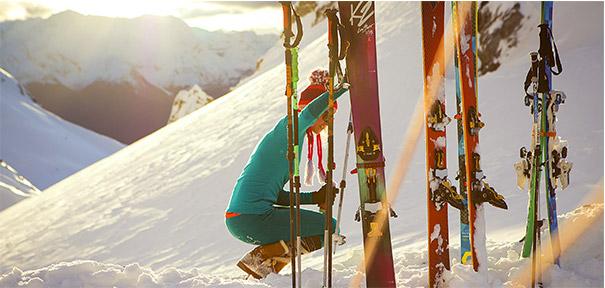 1. Busy Mountain Babes
Baselayer: Bank Baselayer Long Sleeve and Bank Baselayer Capri: premium, itch-free, stink-free Merino wool from the Swiss Alps.
Mid Layer: Jag Insulated Puffer Vest: a flyweight that's a heavy heater.
Outer Layer: Thunderhead Rain Shell: wind and water-resistant protection.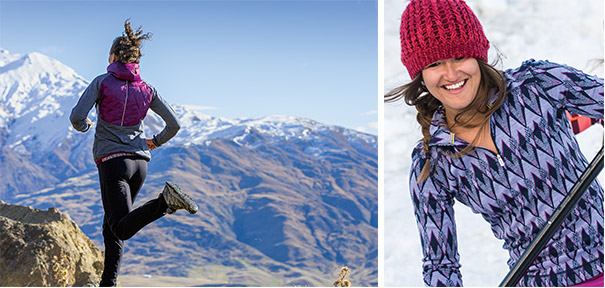 2. Trail Blaze to Work Days Babes
Baselayer Top: Wonder Woman 1/4 Zip Baselayer: the heavyweight SmartWool® baselayer (or standalone long sleeve!) we can't quit. Temperature regulating Merino wool keeps us cool in summer, warm in winter.
Baselayer Bottoms: Trail Legging: With plenty of pockets, these leggings carry what old school leggings can't (and go where they won't).
Outer Layer: Will Power Jacket: performance and protection that helps us outsmart Mother Nature.
Post-Run Layer: Woolie Wrapper's Delight Skirt: zips over our run tights to go from sweaty to ready.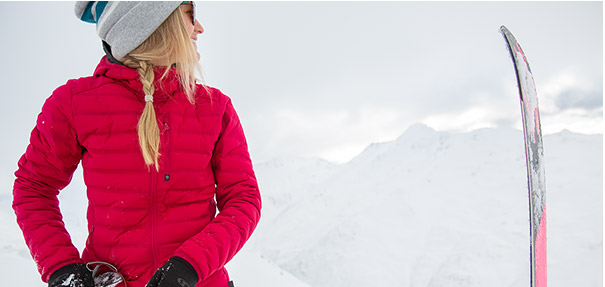 3. Just Wanna Stay Warm Babes
Baselayer Top: Grace Long Sleeve: soft as a dream, infused with StinkStopper for more wears between washes.
Baselayer Bottoms: Crash Tight: wind-blocking, weather-scoffing fleece tights.
Mid Layer: Slalom Half Zip Hoodie: a heavyweight baselayer or warming wool midlayer, designed for and by ski mogul Kari Traa to wick away sweat from ski run to trail run.
Outer Layer: Alchemy Hooded Puffer Jacket: practically magic! a down jacket that stretches with us and warms even when wet.
Head Warmer: Bhaktapur Hat: pure lambswool beanie with a fleece lining warms you through multiple snowball fights.