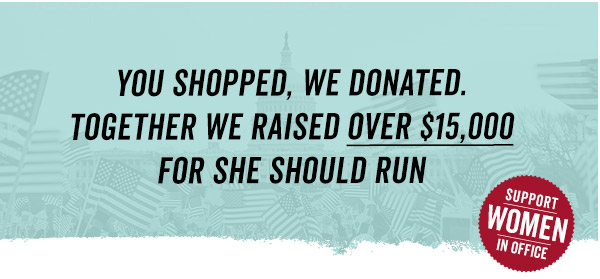 This week, we broke records. More of us ran for office than ever before, and many, MANY of us came out to show our support.
We showed up, and guess what? The world heard us, loud and clear. A record 117 women were elected to office, including 96 in the House, 12 in the Senate, and 9 elected governor.
Here at Title Nine, we're all about supporting women who risk, lead, and own, so we're proud to cheer on every woman who dared to run—those who won AND lost. It takes guts to get out there, and when you're ready to run again, we'll be right there beside you.
Because we're not done yet—not even close. She Should Run is working to get 250,000 women running for elected office by 2030, and we'll be working alongside them to help make that happen. Because when more women run, everyone wins.
For women who are feeling inspired or disappointed, what's most important is that they feel the importance of their voice being a part of the solution. That can be through encouraging others or considering a run.

-Erin Loos Cutraro, founder and CEO, She Should Run via ABC news
This Election Day, women did what we've always known we can do: lead the way. And yeah, the midterms are over. But we've been around long enough to know it's a marathon, not a sprint. So for all of you who are out there making change happen in your own lives, in others' lives, and in your community, lace up those shoes. It's time to RUN.