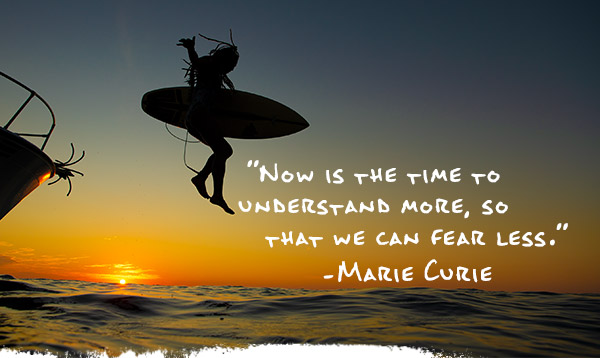 As the COVID crisis continues, I find myself thinking a lot about fear and understanding. What I've found is that this crisis has given me the gift of understanding, or more accurately, the opportunity to find understanding over and over and over again. I thought I'd share some of the fears I've had, both large and small, so that together, we can start fearing-less.
FEAR: COVID-19 can survive in the air and on surfaces for a long time. It is highly contagious with high mortality rates. Everyone is at risk.
UNDERSTANDING: We don't understand COVID transmission completely, but our worst fears are not our reality.
FEAR: Title Nine will splinter into factions and fiefdoms as many of us move to work-from-home.
UNDERSTANDING: We are more connected and collaborative than I'd ever realized, more committed than I could have hoped for. And, Zoom all-hands meetings are actually kind of fun!
FEAR: As our stores close and sales dry up, we won't be able to pay our suppliers on time.
UNDERSTANDING: Our suppliers are strong and they have our backs in small and large ways. We are grateful.
FEAR: OMG I am going to go insane if I have to exercise indoors everyday.
UNDERSTANDING: Turns out my kids are pretty inventive trainers and indoor workouts aren't so bad…still waiting for that beach body though. 😉
FEAR: We will run out of $$$
UNDERSTANDING: Turns out that we CAN learn how to work with bankers (and they actually will help out)! Thanks, Allen and Kelly.
FEAR: We are going to run out of toilet paper!
UNDERSTANDING: Ummmm, no. And I've come to love my tiny neighborhood market!
Of course, none of this negates the dominoing of disappointments and grief caused by COVID-19, but I'm finding that the more I can temper my fear with understanding, the lighter my burden becomes.
As we get ready to dive back in, here's to less fear and more understanding for all of us.

Missy Park
Founder

#fearlessunderstandmore @titlenine