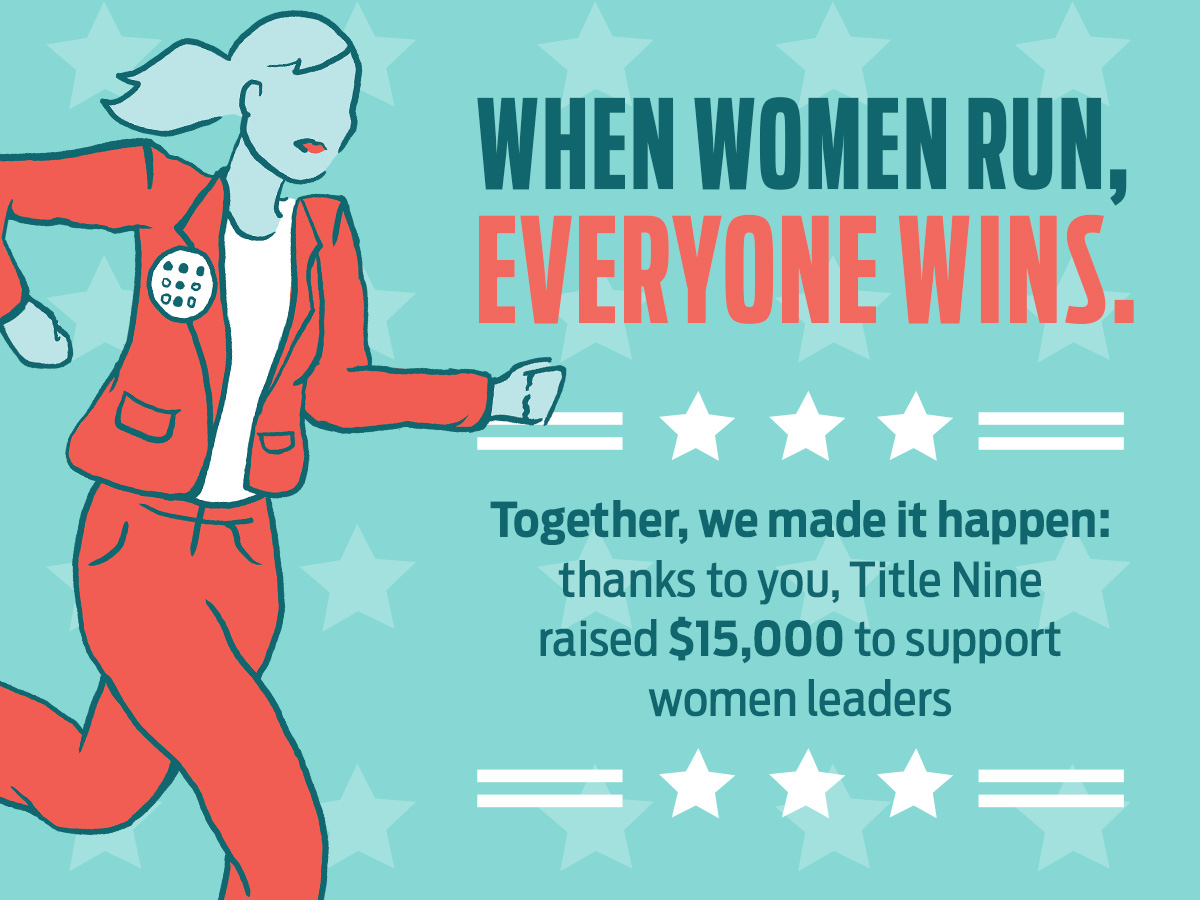 On Inauguration Day, we pledged to give 9% of sales, online and in stores, to support women running for office. We are proud to share that we raised $15,000 together, to support the non-partisan nonprofit organization, She Should Run.
Thanks to you, we are helping to expand the pool of future female elected leaders. Since the election, She Should Run has welcomed thousands of new women of all parties into their programs–programs which, in the past, have served just a few hundred women.
"The She Should Run team is truly grateful and energized by your support! Know that this donation will go a long way towards our team scaling our services for the over 7,000 new women in our programs now." – Clare Bresnahan, Executive Director, She Should Run
Title Nine Customers #BetOnWomen
We were blown away by the responses we received. In our stores and on our website, you showed us that we can all #BetOnWomen, because when more women run, everyone wins. Here's what some of you said about giving back.
"Love this Title Nine! Regardless of your party affiliation, more women need to be in politics." -Elizabeth R.


"As an elected official to my local school board, and a supporter of She Should Run… I will be sure to make a purchase Friday!" -Deidre M.

"This is an amazing program! Thanks for taking a stand for all women willing to run for office. Yet another reason I'm proud to support @Title Nine (besides your great products for active women)." Kim O.

"I would have procrastinated shopping except I saw this on social media and decided today was the day to shop!" -Title Nine Edina customer

"My mom and I are thrilled by the 9% back today, and rushed down to shop on this exact day. We loved the idea of giving back to such a great non-profit." – Title Nine Boulder customer

"I specifically ordered something yesterday when I saw that title nine is supporting the organization She Should Run. It is refreshing to see a company take an active step to support women in this country, especially in this uncertain political climate. Thank you." -Lauren C.
Did you participate in our campaign or otherwise support women on Inauguration Day? Have you ever considered running for political office or do you currently hold office? Share your story!