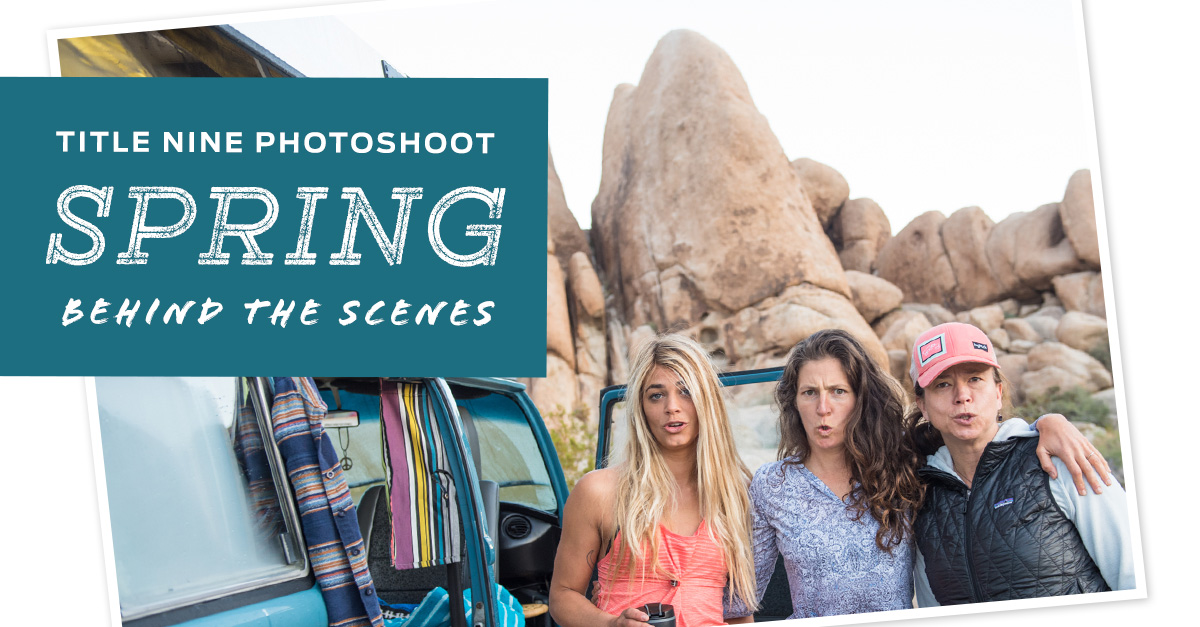 Our appetite for adventure never wanes, and often, this brings the unexpected–in a good way. For our spring photoshoots, we explored three new spots – Hood River, Joshua Tree and Boulder – while staying true to our love of the Hawaiian Islands and our amazing real women "models."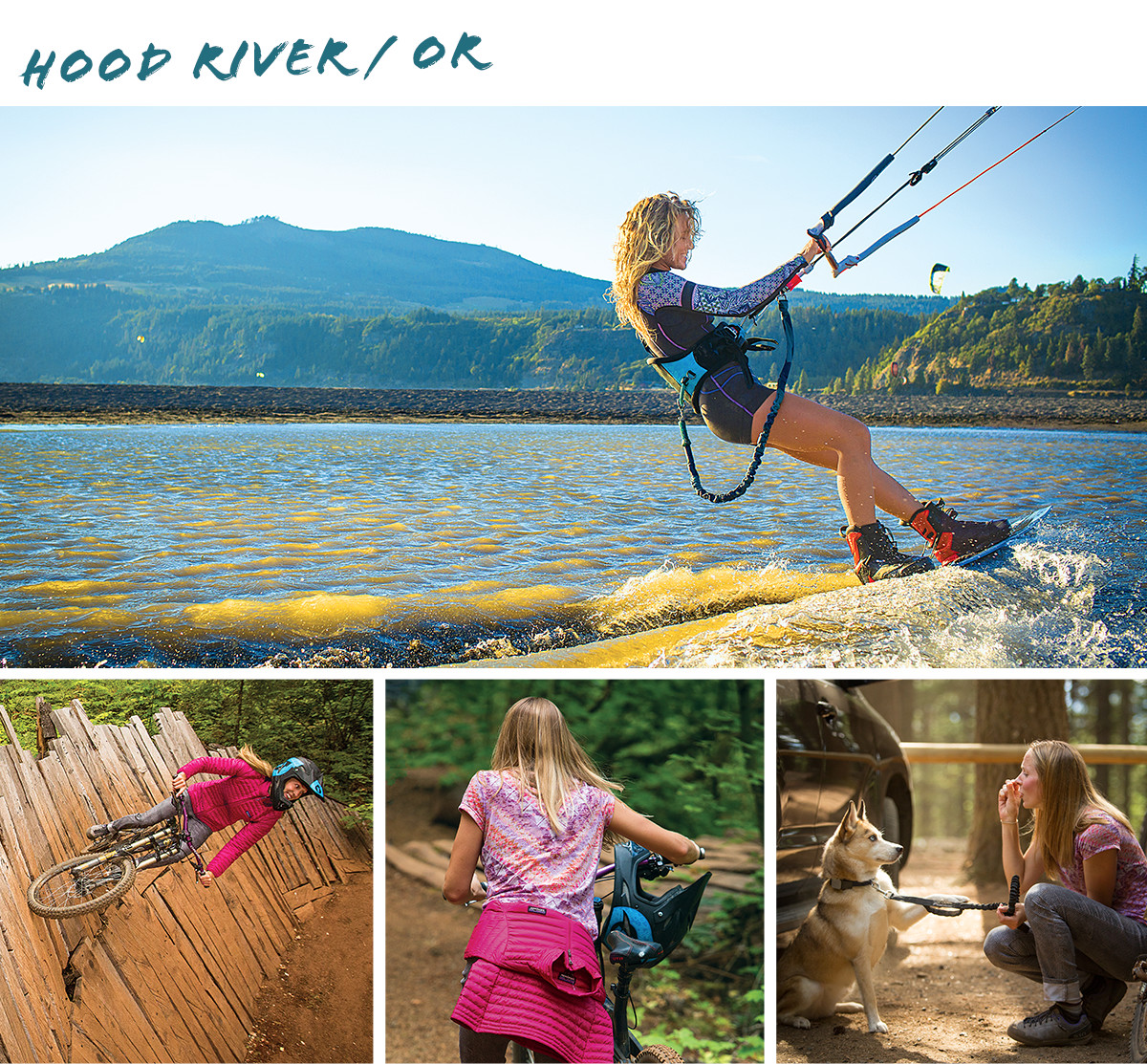 They weren't kidding when they called this town the wind capital of the world. The feeling on the Columbia River is electric, where the rush of wind literally never stops. This made for some exceptional kite-boarding with our new "model" Colleen. And we were finally able to try something we've been dying to capture this year: mountain biking on trails with wooden berms and jumps. Hood River has a fantastic course tucked deep in the woods. Whitney was fired up to shred (over, and over, and over) for the perfect shot, no matter how cold the rest of us got!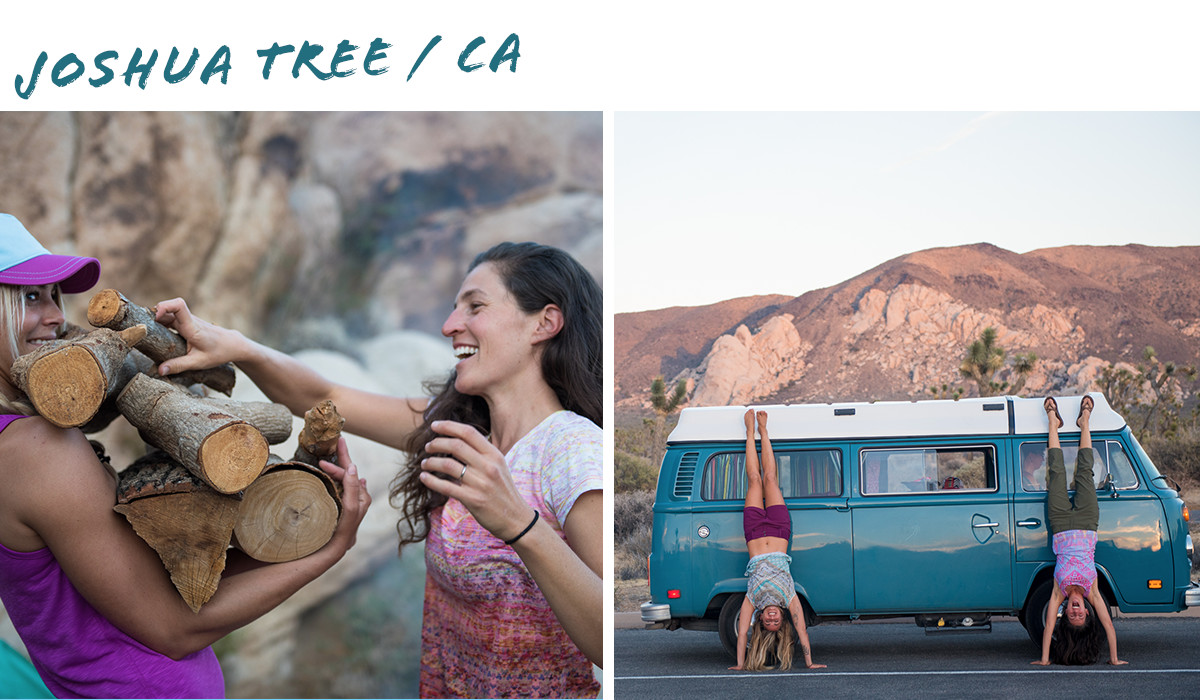 One of the highlights of our spring photoshoots was our bare bones adventure to Joshua Tree. We piled into a vintage VW van in Costa Mesa with our "models" Caitlin and Jennica, and photo team, Ann and Freya. Trekking three hours into the desert during a thunder and lightning storm, we arrived at the campsite after nightfall, in the rain. There's nothing quite like setting up a tent by lightning flashes.
Camping, hiking, climbing, cooking, and modeling our gear (all without a shower), definitely got real after a few days – but our clothes, and our "models," held up beautifully! No make up. Barely running a brush through their hair. Sleeping under the stars. Living off coffee, energy bars, and fruit. Our "models" are the real deal.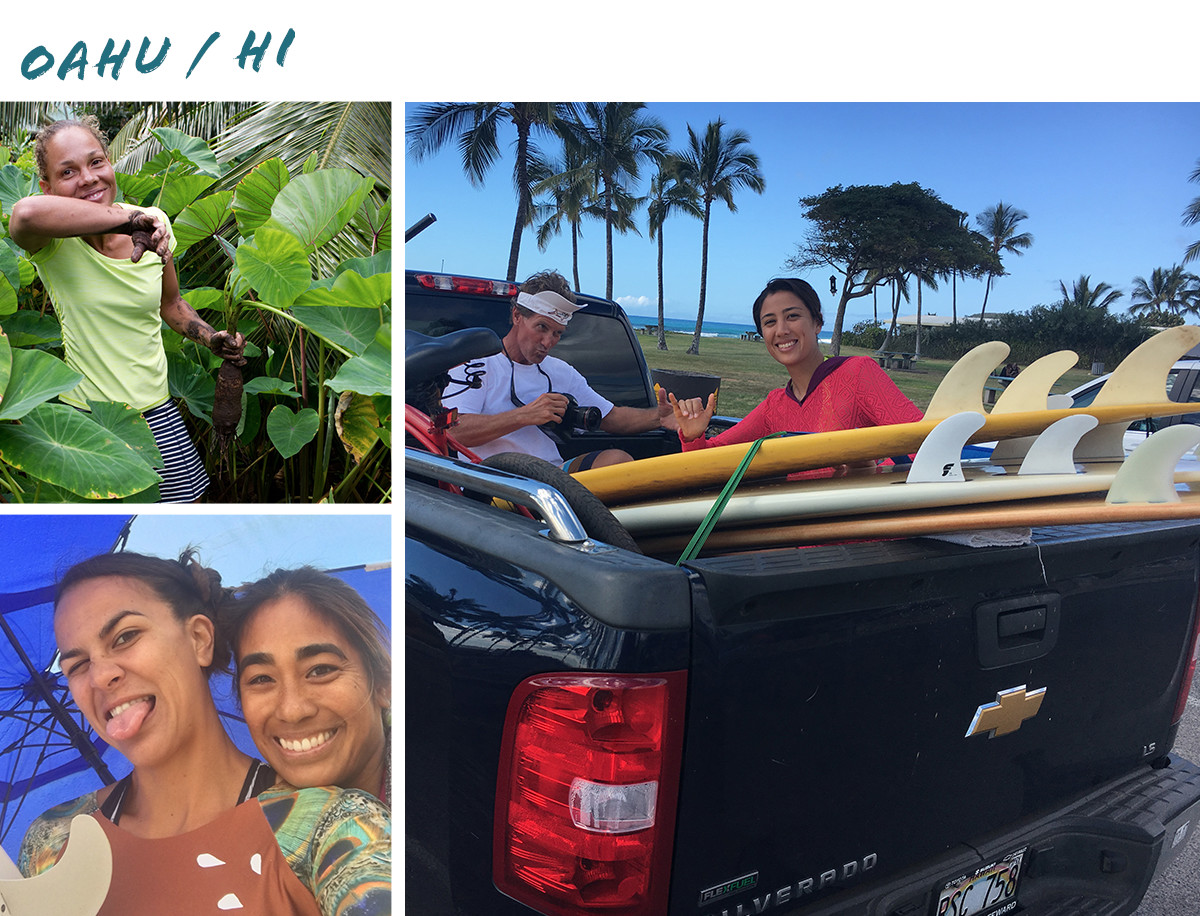 It's no surprise that we returned to our first love, Hawaii, for our spring shoot. Not just for the warmth and beauty of the islands, but also because this crew is up for anything! Joss and Tyneski on Oahu, and Caydie and Shawn on the Big Island, continue to keep things exciting year after year; whether we are tackling huge waves on the North Shore, getting dirty in the taro fields, or stuffing our faces with fresh mochi on the Big Island.
MAHALO NUI LOA:
Giant thanks to our photographers: Joss, Caydie McCumber, Freya Fennwood, Martin Sundberg, Jeff Deiner and Robert Houser – they understand our brand and make us shine. Additional thanks to our photo assistants: Har Rai Khalsa and "Mayor" Shawn Pila; and our up-for-anything "models:" Tyneski Quintel, Colleen Carroll, Whitney, and Jennica Lowell. A special shout out to Caitlin Davis-Levin for not only being a T9 "model" for ten years and counting, but for epitomizing our brand and making us laugh until our face hurts.
Meet more of our real-women "models" or find out next time we'll be scouting for models in your neck of the woods.