See what our in-house style experts have to say about this fall's must have items.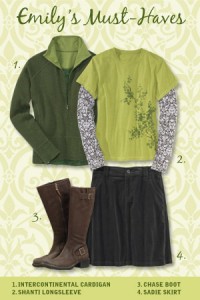 Emily
1. Intercontinental Cardigan – Warm, lightweight, comfortable, machine washable and stylish. What more could you want?
2. Shanti Longsleeve – I love the burnout sleeves and the graphic. But, the icing on the cake is the wicking/ breathable body fabric.
3. Chase Boot – These look great with a skirt or with pants. Bonus: They are so comfy that you barely know that they're on!
4. Sadie Skirt – This skirt is the perfect length for wearing with tights and boots. Plus, the stretchy cord fabric is comfy and warm!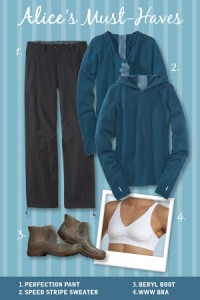 Alice
1. Speed Stripe Sweater – Sporty, cute, super functional – I can wear it as a layering piece or over a T.
2. Perfection Pant – Super flattering fit, stain resistant (I'm a big spiller) 😉 technical fabric for rugged durability. It's function meets fashion.
3. Beryl Boot – It's the most comfortable boot I've ever tried – and it's cool.
4. WWW Bra – Wear it all day AND I can work out in it. Super versatile and really comfortable.








More