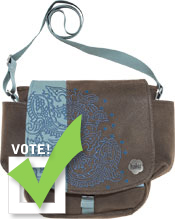 We have a winner! Congratulations to Shelley with her
Holiday Haiku
:
Snow and ice and sun Sledding, skiing, mountain fun Wintertime has come.
Congratulations as well to the other finalists, Laurie, Sherri, Esther and Caroline. Shelley will receive an awesome
Haiku Messenger Bag
custom embroidered with her poem and all the finalists will all receive a 1 year
Team T9 membership
.
Honerable mentions: Kyle:
I wrote this Haiku to win a present for Mom she loves Title Nine
Stephenie:
My bra, my bra is tight, cutting, binding, useless— no more! Sis boom bah.