Our retail gal, Kate Johnson, from the Madison store recently traveled to India and brought back with her some excellent fashion advice, a fresh take on the less popular Kerala, and a beautiful reflection on the women of the world. Enjoy.
Traveling to India is one of those once in a lifetime opportunities. When the chance arises, you just have to emphatically say YES and ask questions later, sure that the details will work themselves out- as they always do. In July, my husband and I spent two weeks in the South Indian state of Kerala. Contrary to what Kerala's tourism board would lead you to believe, this is not the typical American tourist choice. Most opt, understandably, for the Taj Mahal, Delhi, Mumbai or Varanasi, all in the north. We were also traveling during monsoon season- euphemistically known as 'the off-season'. Needless to say, packing was daunting. Luckily, I work at a Title Nine store!
So, here's what I ended up bringing with me: mostly SAMBA. I tell you what; I'm not sure what I would've done without my Samba V-Tees (long and short sleeved of course). Well, actually I can tell you exactly what I would've done – there would be plenty of photographic evidence of a beet red, sweaty, frizzy-haired, soaking wet, smelly, smelly white girl in India. Instead, thanks to Title Nine, I maintained a reasonable body temperature (and moisture level, for that matter) and was free to explore and enjoy my surroundings. Culturally, shoulders should be covered at all times and any obvious 'chest' should be concealed. But the hot and humid weather disagreed. The tencel blended with cotton and spandex of the Samba fabric performed above expectations. It resisted odor like a champ, wrinkles shook out like an instant face-life, and breathed like… Lance Armstrong. If I had been thinking straight, I would've packed my Samba dress (Amelia) and skirts (Amelia and Cha Cha)! Burnouts from Prana proved invaluable as light, breathable layers and cover-ups. Here's the Chai Tee in action at a spice market in Koch: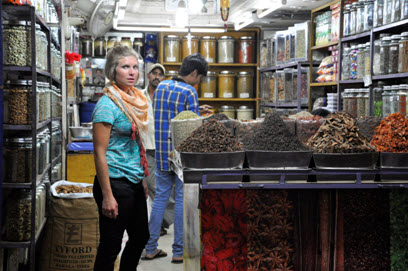 I also rocked the Take A Hike Capri on a daily basis, and relished their wicking and breathability. The Black Hole Duffel easily and safely toted all of this around through four international airports, monsoons, shady train stations and crowded streets. The convertible backpack straps and waterproof coating were clutch to say the least. We also stowed away the Stuffable Duffel for day trips and to bring home all of our acquired goodies.
The best way I can muster to describe India is that it is a million contradictions in every square inch. Beauty and ugliness, treasure and trash, perfumed and putrid smells, wealth and poverty: they all co-exist and live side by side. (As a caveat, my observations are based on my experiences in a specific time, place and perspective – everyone can and does have their own personal opinions).
Kerala boasts historic port cities with ancient Chinese fishing nets, mountain top tea plantations of the softest green, rustic backwaters pocked with rice paddy fields and the most genuine, proud and hospitable people. We hiked waterfalls, saw elephants in the wild, spent the night on a houseboat, stayed in a tree house, swam in the Arabian sea (the 3-Reasons bra and No-Sweat underoos make for a fine swimming suit in a pinch I might add), and ate lunch with some exceptionally adorable monkeys.
Being the Title Niner that I am, observing the role of women in different cultures is always on my mind. On this subject, I am met with more contradictions. In Kerala, women seem well respected as laborers (they work construction, in factories and in the paddy fields) not as sex symbols. A few women ride scooters or bikes alone in the cities and push the boundaries of eastern dress code, but ultimately traditional conservatism prevails.
As you can imagine, 'fitness' is not a focus in India as it is in the US, but obesity is extremely rare. With the exception of the more westernized cities, fitness is a byproduct of (and almost intrinsic in) a lifestyle of hard work, not a separate venture for the sake of vanity or 'health'. They drink coconut water because they have done so for millennia, not because it's the coolest new recovery drink. They bike everywhere because they have to, not because they want to burn the extra calories while high-five-ing Mother Nature. Not that there's anything wrong with that, of course.
We spotted several signs like this little gem: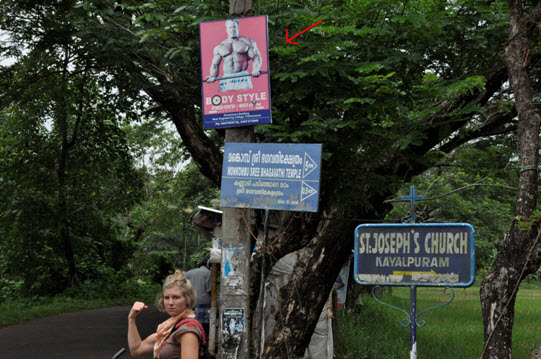 Most signs were in the cities, but this one was in a small village in the southern backwaters. They usually depict a muscle bound (white) guy and a slim, glowing (white) lady with a caption like "SUPER MUSCLE EXTREME SHAPE: with yoga and aerobics for the ladies!" This is telling and hilarious, but what struck me the most came on our last day in India.
I was gripping the back of a friend's scooter for dear life, zooming through Kochi, and spotted a group of high school aged girls walking hand in hand along the road. They were giggling and teasing each other and they were not wearing saris or salwar kameez, but…JERSEYS! They were a team! After the initial wave of shock and 'you go girl' solidarity passed, I got to the crux of the scene- the jerseys were emblazoned with boy's names. Each girl wore a hand-me-down shirt at least two sizes too big and with names like 'SANJAY' or 'AKHIL' across their backs.
Now, I know that many of you can empathize with this, especially as we celebrate the 40th anniversary of the passing of Title IX this year; you were trailblazers then, and these girls are trailblazers now. We have so much to be thankful for. The 9 year-old me who cut her hair short to play on the boys little league team, and the 29 year-old me serving at a Title Nine store in Wisconsin thanks you whole-heartedly. I also thank those Indian girls and their parents. At the risk of sounding sappy, we are indeed a worldwide community of women. We are business executives, we are mothers, daughters, wives and partners. We are Olympians, we are weekend warriors, we are doctors and nurses. We are secretaries, we are suffragettes, we are prisoners and we are retailers. We are still wearing boy's jerseys. But more crucially than this, we are role models. As women, we have the unique opportunity, every single day, to show what we're made of and are capable of.
India taught me that we as women and humans have come so very far, but not far enough. It taught me that if you are creative enough, there are no obstacles and that there is no substitute for plain old hard work. We are all essentially doing the same thing; it just looks a little different sometimes. I also learned that traffic lights are unnecessary and that 2 adults and 3 children is a perfectly acceptable amount of riders on a single motorcycle.
Namaste