Every day after surfing, we'd get together and talk about the day, how we did and what we learned. We all had some great learnings. Check back here every day as we continue to share with you, what we learned at surf camp…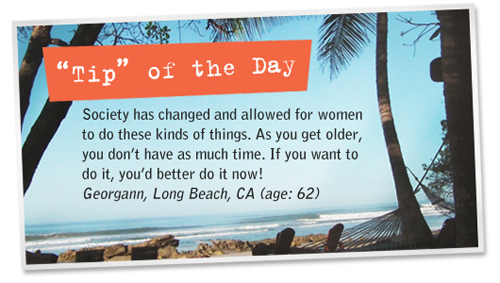 Previous "Tips" of the Day:
"Tip" of the Day:
Take the leash off your foot before you walk away – or the board comes with you!
Sarah, Santa Monica, CA

"Tip" of the Day:
Make sure your drawers fit nice and tight or the ocean will take 'em right off!
Jennifer, San Rafael, CA

"Tip" of the Day:
Everything in surfing you can equate to life. The harder you fight the ocean, the harder it is to surf. The harder you fight in life, the harder you fight to succeed.
Jen, New York

"Tip" of the Day:
It's the subtleties. Just one little thing is all it takes to nail a move

"Tip" of the Day:
Learning new things mentally and physically is what keeps you young. You're never too old to do it all…
Georgann, Long Beach, CA (age: 62!)
Melissa, Vancouver, B.C.