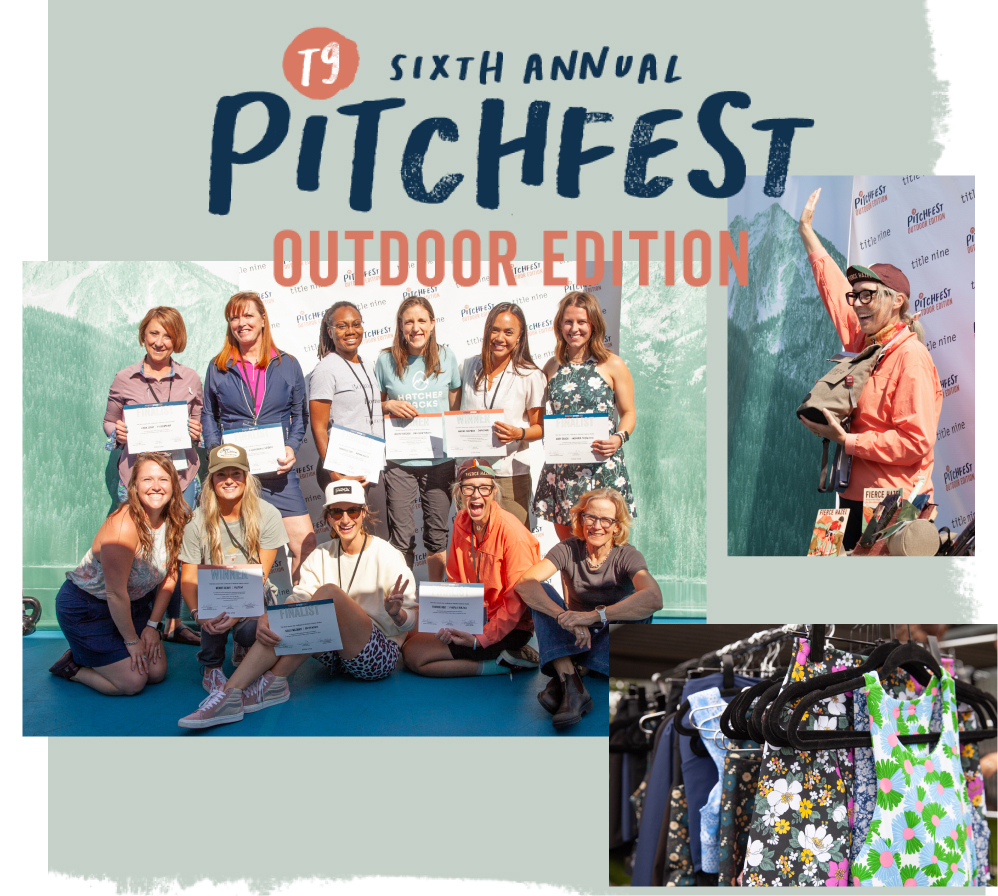 For the sixth year running, we were blown away by the passion, badass-ery, and courage of female entrepreneurs.
It all went down at our 6th annual Pitchfest Outdoor Edition here at T9 HQ. Over two days, nine women had a chance to share their business stories, pitch their products, and join our community of T9 Movers & Makers®.
What are the quick and dirty details? 
Each finalist had 7 minutes to deliver an inspiring pitch, then 7 minutes for Q&A from judges to further make their case. A 'W' means a 2024 purchase order, a featured spread in the Title Nine catalog, web spotlights, and brand-building exposure to our adventurous customers. During the pitches, there were some creative props, more than a few tough questions, and even some tears from a place of passion – but as always, it was amazing and inspiring.
How the day went down:
Nine finalists traveled to HQ from all over the country to pitch their outdoor gear in front of a panel filled with a veteran T9 Mover & Maker, a seasoned product merchant, and our very own CMO and CFO. 
Pitchfest literally takes place in our own backyard and we filled it (like always) with cold brew, stickers, and loads of delicious goodies from local women-owned vendors.
We kicked things off with a game: our take on head-shoulders-knees-and-toes meets musical chairs.
T9 Founder and President, Missy and Laurie, introduced the event and reminded us that, "this is the day that fills our tanks" and just being a female entrepreneur takes a unique type of bravery.
The pitches began! The nine finalists delivered their pitches and left us feeling totally inspired and in awe of their innovative products and bold businesses. 
After a group workout with Natalie Taylor, the gang fueled up on a delicious lunch from local fave Mama Lamees and played another wonderfully chaotic game.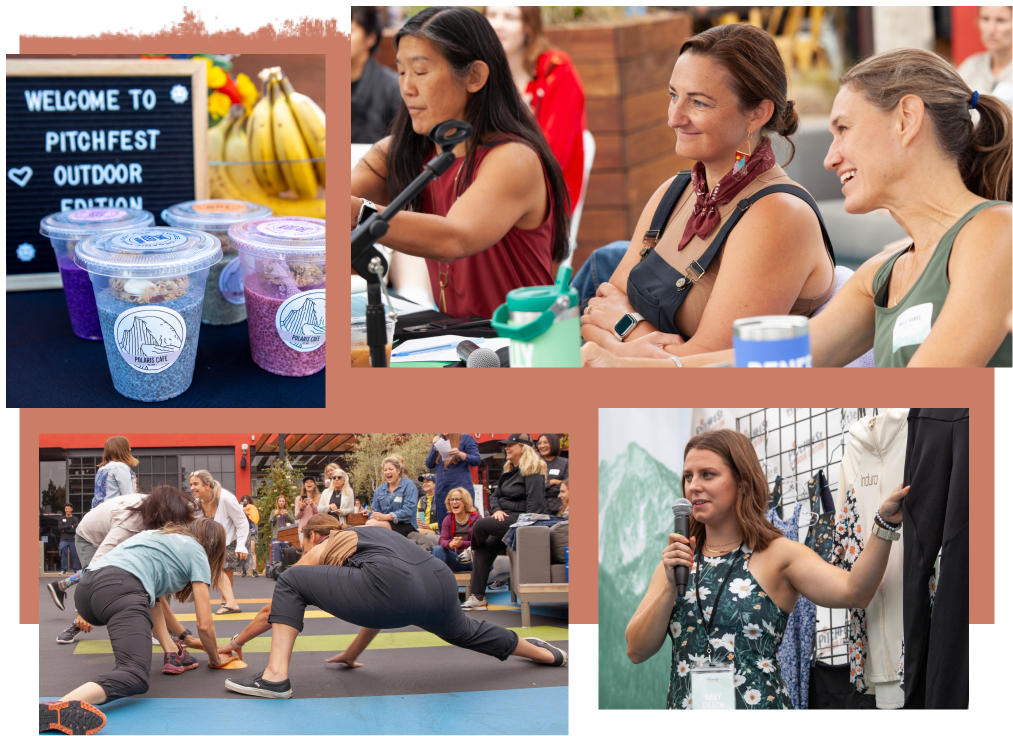 Our ears perked up during a panel discussion between Missy, Sally Bergesen (Oiselle Founder), Thayer Sylvester (Carve Co-founder and CEO), and Becky Worley (journalist and broadcaster) where they chatted about hits and misses of starting and leading a company. Big takeaway: We all have missteps in business but the learning happens from those moments as much as the successes.
We received a special visit from Karen Fultz-Robinson—founder of ObservaMé, a T9 Mover & Maker, and runner-up from our 2022 Pitchfest. The boss-lady shared how she's been growing her business in big ways. We're stoked to learn that ObservaMé will have a pop-up shop in Macy's (that's huge!). We're also pumped for ObservaMé gear to drop on the T9 website later this season. Check out our T9 Movers & Makers page to learn more about the other bold, determined, and wicked-smart women owning and leading some of the businesses we support.
To close out the day, we all gathered 'round one more time to hear who won big this year. Then, we celebrated everyone's achievements over drinks from our favorite female-powered teams at Brams Beer and Maker Wine, plus sweet treats from local fave Lexie's Frozen Custard. 
New this year, we added a community shopping element during the happy hour: a Makers Market, where finalists and T9 Movers & Makers sold products to event attendees. After getting fired up about so many apparel, bags, and outdoor products from female entrepreneurs throughout the day, we were able to show our support and excitement by getting our hands on some goods.
Now, meet the 2023 winners: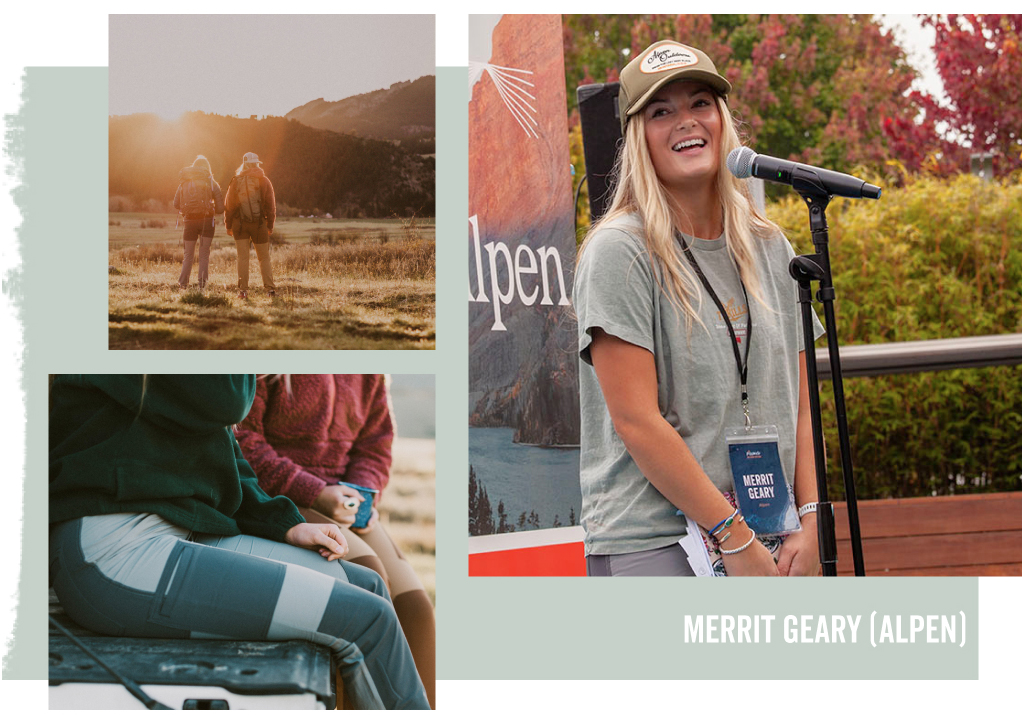 Alpen
Entrepreneur: Merrit Geary
What she said: "Alpen was born out of need. I wanted gear that matched my hustle. There was nothing available that made women feel as good as we wanted to in the backcountry. You could say that I decided to stop settling. Alpen would be real and tough. The gear would match our innate grittiness. No unnecessary frills, but still touches of femininity."
Why we're stoked: The Ridge pant is a workhorse for our off-the-grid adventures. Merrit and her team are dedicated to designing hiking pants that are as flattering as they are technical: tailored drawstring at ankle and waist, no-sag stretchy fabric that also wicks, Montana-tough durability, and oh-so-many pockets!
Keep an eye out for: Super rugged, incredibly wicking, fully-customizable pants for those of us who want to get lost on the trail or river.
Follow Alpen on Instagram @alpenoutdoors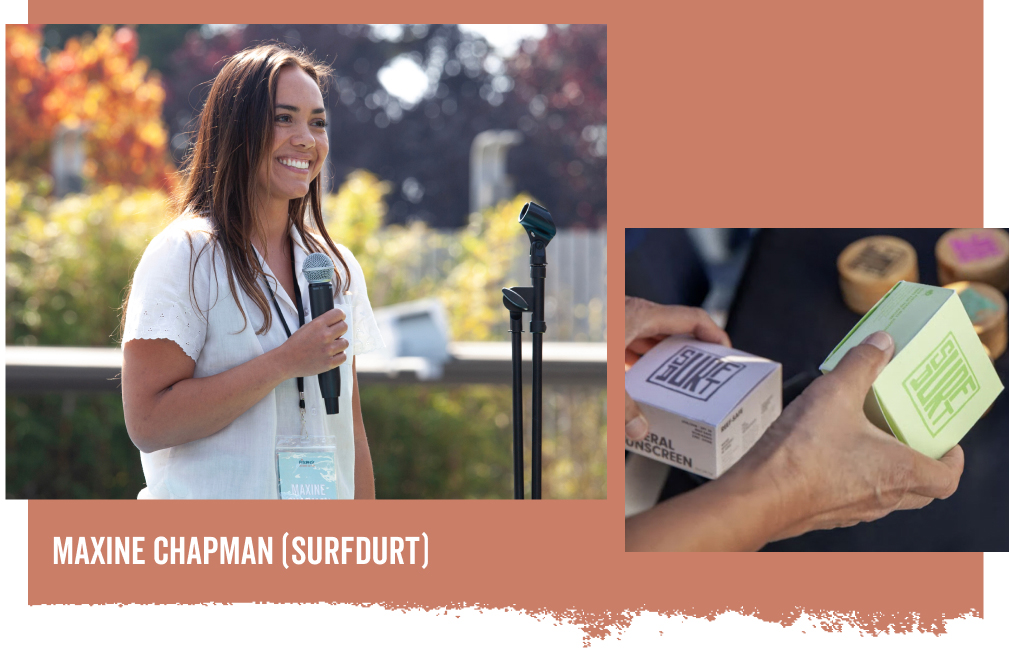 SurfDurt
Entrepreneur: Maxine Chapman
What she said: "Ninety percent of the sunscreen on the market today is actually toxic – for us and the planet. We make healthier sunscreen with minerals instead of synthetic chemicals for a sun protection with the lowest possible toxicity of any currently published formula."
Why we're stoked: The mineral-based, non-toxic, broad spectrum formula is better for our bodies and Mother Nature, plus stands up to wicked intense (read: hot and sweaty) activities without any greasy runoff or clogged pores. Maxine understands that both businesses and consumers can make change. She and her team have an innovative effort to support charitable organizations that uplift diversity or fight climate change through a "vote with your dollars" purchasing model. 
Keep an eye out for: All natural, reef-safe sunscreen for women who carry their own protection for life outdoors. The reusable container is not only friendly for the Earth, it also makes the sunscreen totally stashable in nearly any bag. Down the road, look for the formula in a refillable, stick applicator. 
Follow SurfDurt on Instagram @surfdurt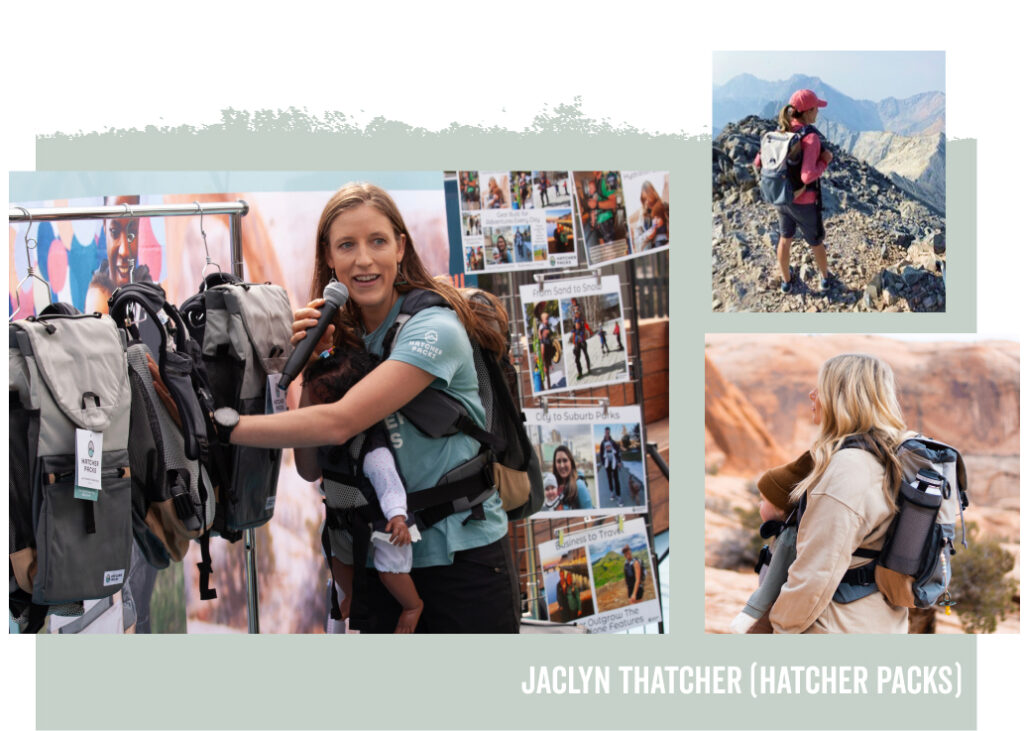 Hatcher Packs
Entrepreneur: Jaclyn Thatcher
What she said: "Adventures become even more awesome when you share them. When I was pregnant with my first daughter, I was like, 'She's coming with me! The adventures aren't going to stop.' I had to figure out how she was going to keep up with me and how I was going to keep up with her."
Why we're stoked: This combo baby carrier and day pack was inspired by the best features of Jaclyn's ultramarathon vests and hike packs: ergonomic straps, durable yet breathable fabrics, hydration storage, and easy-reach pockets. This mother of four, ultramarathoner, and nurse practitioner hasn't let becoming a mother stop her adventurous spirit or her belief that being out in Mother Nature heals. With the right gear, she hopes more parents will join in getting outside with their children at the baby stage and beyond.
Keep an eye out for: A child-carrier-meets-hiking-backpack design that's built to share any adventure and versatile across multiple stages in a parent's life.
Follow Hatcher Packs on Instagram @hatcherpacks
Wait, there's more! We're also stoked for our runner-up who will receive a mentorship and 1-1 support from T9's product development team…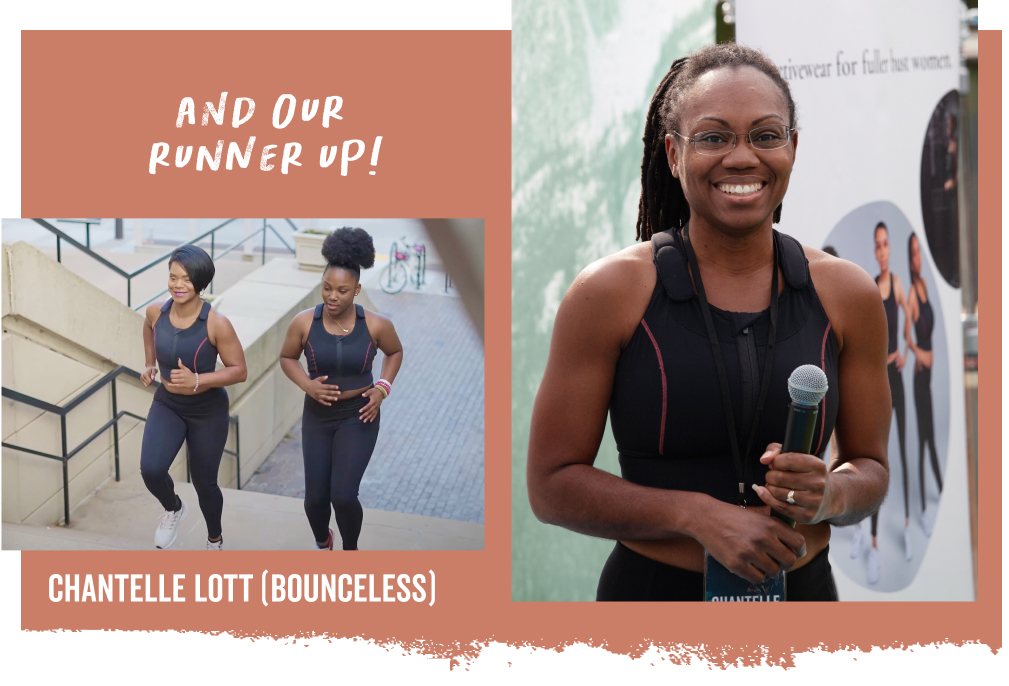 Bounceless
Entrepreneur: Chantelle Lott
What she said: "The struggle is real for full-bust women seeking to maintain a physically active lifestyle but don't want to be bothered by the embarrassing, annoying, and painful bounce. I thought there has to be a better sports bra that doesn't need to be supplemented…one that would allow me to run and jump freely."
Why we're stoked: As a record-setting track athlete, Chantelle has first-hand knowledge around the ups and down of breaking up with the bounce. With her team, she created a patented design that offers solutions to all the frustrations full-bust women encounter while exercising: full coverage for no spilling out, locking zipper to avoid a show, and adjustable padded straps for comfort.
Keep an eye out for: Multiple support styles and inclusive sizing to meet women where we're at in our fitness journey or mood for the day – from HIIT to low impact golf tee-offs.
Follow Bounceless on Instagram @livebounceless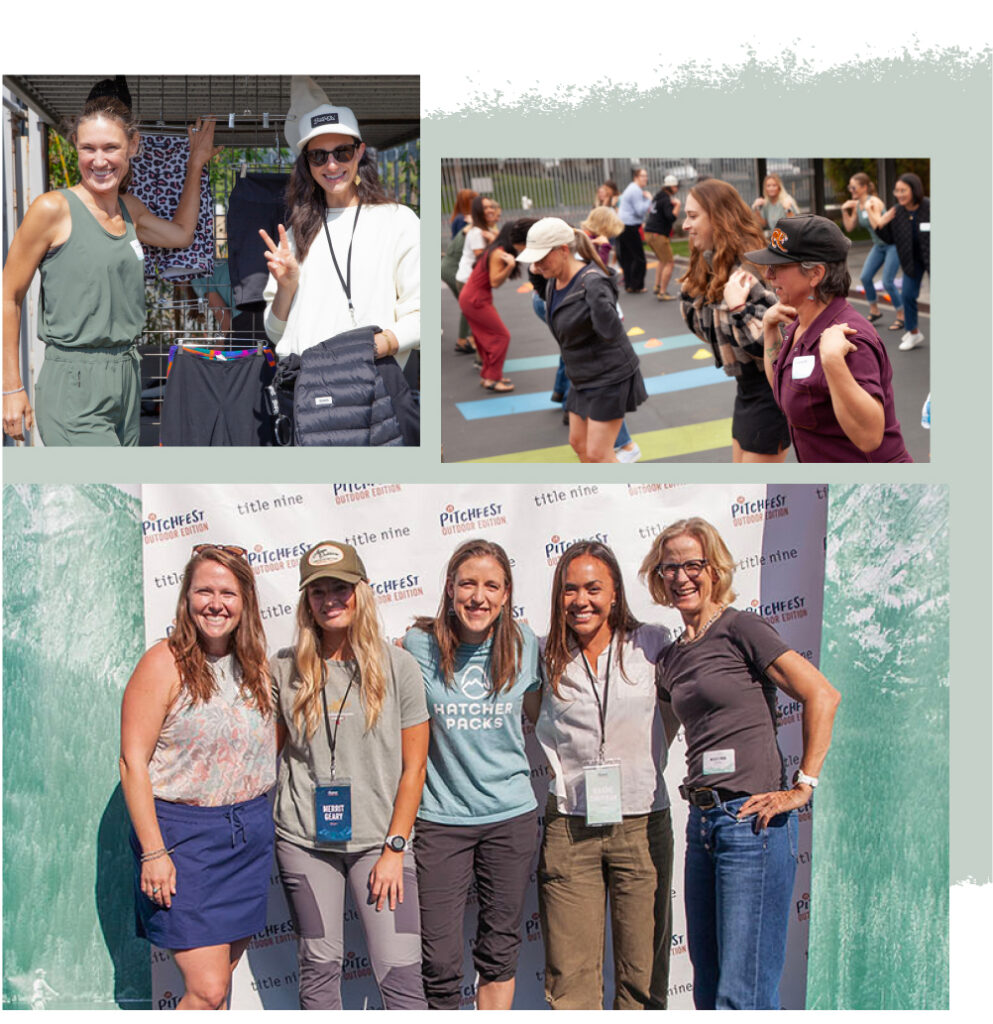 A huge thanks to
All the risk-taking women who showed up today (and who show up every damn day) to make a difference in getting women outdoors. Here's to everyone who made 2023 Pitchfest Outdoor Edition a success: 
Speakers:
Thayer Slyvester, Carve Designs Co-founder and CEO  
Sally Bergesen, Oiselle Founder
Missy Park, Title Nine Founder and CEO 
Becky Worley, journalist and broadcaster (conversation moderator)
Workshop Leaders:
Noelle Sadler 
Mark Francis 
Becky Worley 
Andie Pine
Steph Wood 
Amy Suits
The Title Nine product development team
Mentors:
Margaux Elliot, Founder of Lume Six
Alix Klein, Founder of ABD Culture
Erika Togashi, Founder of SEPTEMBER
Kim Hopkins & Lisa Carponelli, Co-Founders of Velorosa
Judges:
Renee Thomas Jacobs, Title Nine CFO and TEK Brands CEO
Cassie Abel, Wild Rye Founder
Noriko Morimoto, Title Nine CMO
Molly Hanks, Title Nine Merchandising Manager
We couldn't have this epic day without the generous support of our local women-led vendors. And since the best results come from properly fueled bodies, we had plenty of snacks and treats on hand. Breakfast bowls from Nana Joes Granola and Super Juiced, cold brew from Cafenated Coffee Co., and lunch from Mama Lamees with drinks by wildwonder. Thanks to our partners at Brooks for sponsoring our post-pitch happy hour that was filled with dessert from Lexie's Frozen Custard and beverages courtesy of BRAMs Beer and Maker Wine. 
Check back for the winners' gear on our site and see all our current T9 Movers & Makers to get your hands on some great women-owned gear. Get caught up on past Pitchfests here.