After months of prep and planning, hundreds of hours reviewing nearly 200 amazing stories, and testing out tons of killer gear, the wait is finally over. Title Nine is beyond stoked to announce the nine finalists for our first T9 Movers & Makers Pitchfest.
INTRODUCING OUR STARTING NINE: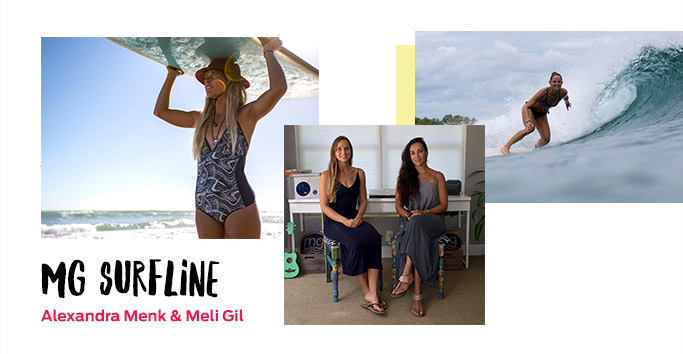 Alex, a diver and champion paddle boarder, and Meli, a marine biologist and professional kitesurfer, have spent more hours of their lives in or on the water than they have on dry land. Take their love for surfing, add their mission of sustainability, a lot of spunk, and even more hard work, and the end result is MG Surfline, "waterwear for a plastic free ocean." They turn would-be trash into fashion: recycled plastic bottles are transformed into fiber or thread that is used to knit their poly fabrics. Most pieces are reversible, making for bikinis, bottoms and more that get twice as much wear, and as many as 20 plastic bottles are kept out of the ocean per piece.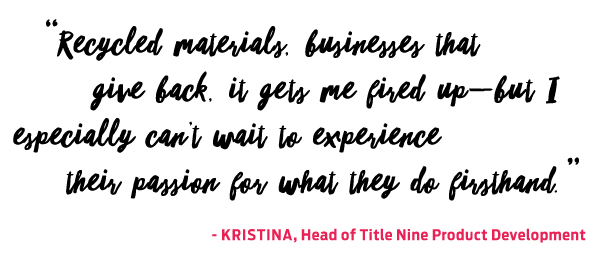 It didn't take ColoRADo native Alyssa long to become an active problem solver. At the age of 16, she determined that everyone has the right to adventure — and that a bad hair day should never stop us from getting out. Now 18 and still an avid explorer and mountain biker, Alyssa created Happi Headware to eliminate battle of curly, frizzy hair versus helmet. Designed for the active in mind, with wicking liners and fade-free sublimated prints, Happi Headware's headbands are not just an accessory, but rather "a tool much like hardware, that helps you get the job done."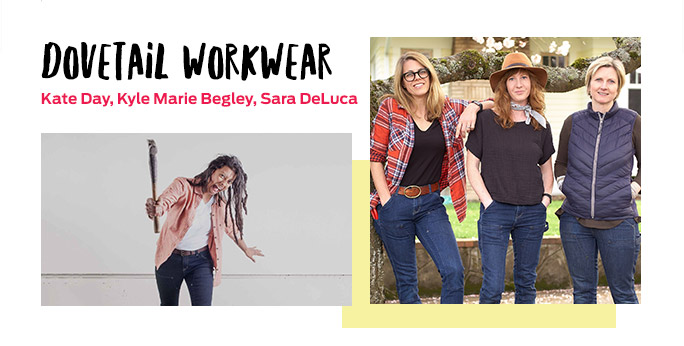 Fit for the job, capable of anything: both a fitting description of the Dovetail founders and what their gear accomplishes. Landscape entrepreneurs Kate and Kyle Marie were fed up of digging in the wet, Pacific NW soil in soggy everyday jeans, ill-fitting gear tailored to men's bodies, or being restricted to stereotypical prints and colors. Their client turned business partner Sara brought her apparel expertise to the table to create Dovetail's flagship pant. The Maven Slim lives up to its promise to "fill the fit, function and durability gap in women's workwear" for all women, from bike mechanics and construction workers to artists and firefighters. In line with their aim to provide tools that can change women's lives, Dovetail partners with the women and organizations in trades, physical, and outdoor occupations leading the women's workwear movement.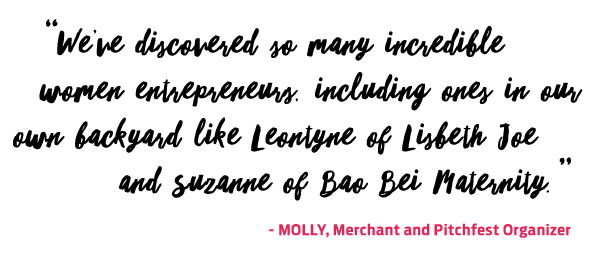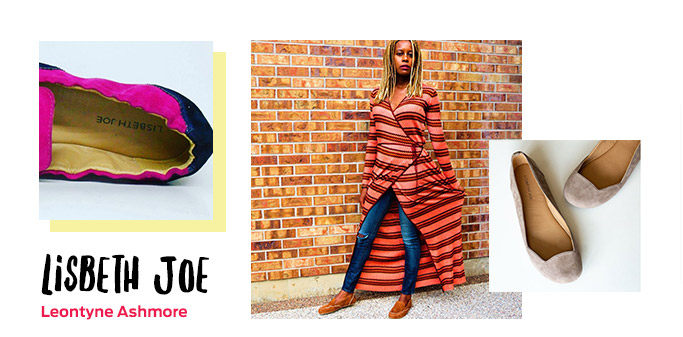 Corporate finance was all Leontyne knew before starting her family. Postpartum, she developed diastasis recti, a separation of the abs that is common, yet often not discussed. As part of her healing she went barefoot and wore minimalist shoes. This small change helped her get stronger and recover faster, but when returning to work her footwear choices were limited. Rather than compromise the health benefits she needed in the name of fashion, she decided to leave and make her own shoes. Named for her hard-working, generous mother, Lisbeth Joe offers minimalist shoes that are also "edgy, glamorous, fun, attention-grabbing. The kind of shoe that makes you feel fabulous because they look fabulous." In keeping with her mother's generous spirit, Leontyne plans on donating a portion of all proceeds to women entrepreneurs all over the world via KIVA.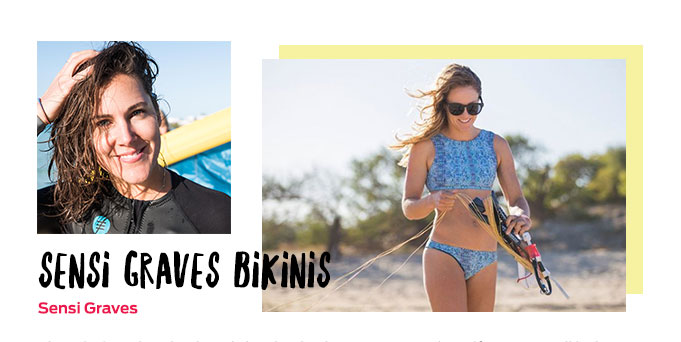 The only thing that shreds and plays harder than Sensi Graves herself may very well be her swimsuit. A professional kiteboarder who lives in bikinis, she designed herself a suit that could live up to her expectations. Under a wetsuit, at the farmer's market, out on a hike, Sensi believes "life is too short to worry about your bikini." Made from premium fabrics with designs tested by real women in motion, Sensi Graves creates pieces that empower women to live more confident, active lifestyles… and "when all else fails, we laugh and have a margarita." Recycled packaging and fabrics are just a couple of the ways they work to protect their playground and home: they also donate 1% of all sales to environmental causes via 1% For the Planet.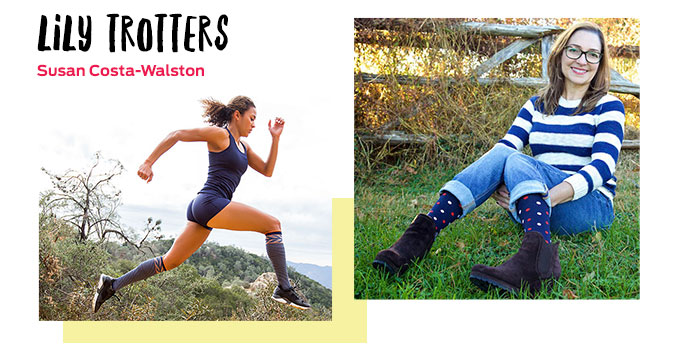 During a 2011 trip to Africa, founder Susan was worried about the risk to her legs on such a long flight, so she wore what were prototypical compression socks at the time: plain beige and boring, but functional. When they landed, she was tired, but her legs were energized. That firsthand experience of how wearing compression socks could change long journeys was the seed, her business Lily Trotter the fruition in bloom. Lily Trotter's offerings are both designer and "marathon-strong," offering women carefully-crafted and comfortable compression socks made here in the USA. From training for a major event to the daily grind, they are dedicated to showing women "how compression socks made just for them can help them feel better in all parts of their daily lives."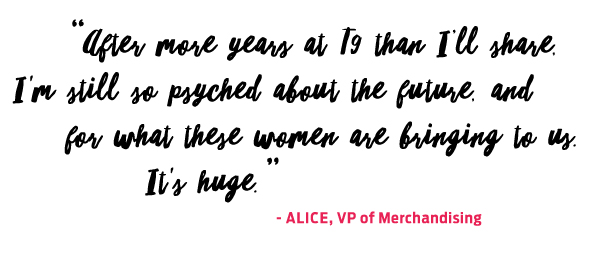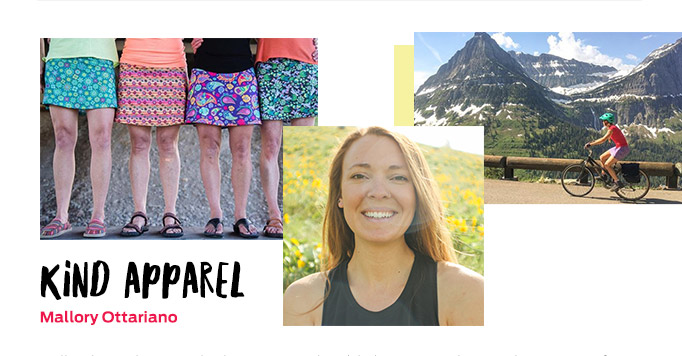 Mallory knew she wanted to be an artist "when (she) grew up–whatever that meant." After getting into both her top music school and top art school, Mallory chose the latter and graduated with a degree in architecture. However, clothing as a form of self expression has always been a part of her identity, learning to sew at a young age. In 2012, post grad and working a job that didn't fuel her creative needs, Mallory bought herself a serger for $100 on eBay. Her self-described "glamorous beginnings" were spent in her parent's basement storage closet. Sourcing fabric from thrift store finds allowed her to create truly unique creations, which paved the path for Kind Apparel's launch in 2015. Boldly colorful and thoughtfully designed, Kind Apparel's adventure-ready offerings now utilize fabrics made from recycled plastics, featuring the company's own artwork and prints.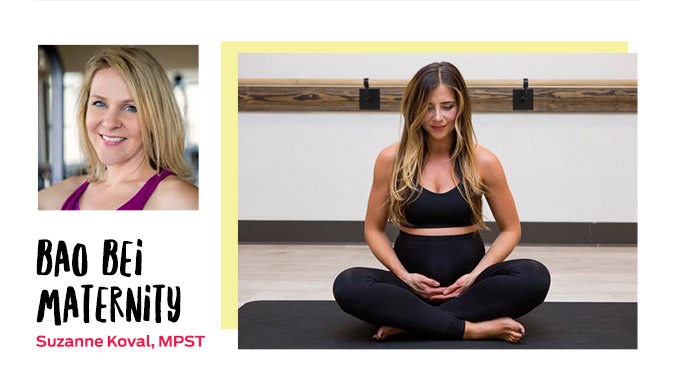 A seasoned physiotherapist, Suzanne has always been dedicated to pre and postnatal health, teaching classes and consulting with private clients during and after pregnancy. In her work she quickly discovered that active pregnancy support products for pregnant and postpartum moms were severely lacking, and didn't keep up with the needs of modern moms on the move. Combining her knowledge of being a women's health clinician and a unique eye for athletic fashion, Bao Bei was born of her belief that activity is a pregnancy necessity. From abdominal support and lower back relief to c-section and vaginal delivery recovery, to healing from diastasis recti, Bao Bei delivers designs and styles that serve the specific needs of pregnant and postpartum women alike. They say it best — it's "like a sports bra for your belly!™"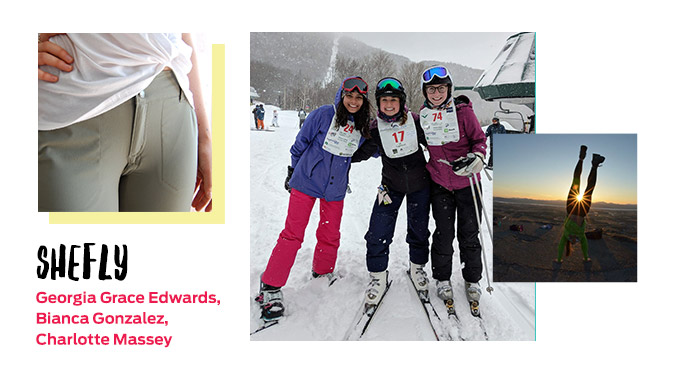 Why do the dudes always get to pull right over to the side, while we have to hike out into the wilderness? As one of few female glacier guides in Alaska, Georgia realized quickly that having to 'go' was a serious disadvantage out on the ice. A long trek, finding privacy, removing up to four layers in sub-zero temps, literally freezing her bum, putting the layers back on and hiking back… she knew something had to change. After an 18 mile hike and many awkward, exposed bathroom breaks, co-founders Georgia and Bianca begin to scheme up a new solution. Hiking dresses lacked fashion-forwardness (not to mention warmth in the cold,) and on-the-market female urination devices (FUDs) often overflowed, had sanitation issues and suggested there was something wrong with female anatomies to boot! With function as a priority, they created She Fly layerable outdoor bottoms so women can be "pee empowered," going when and where they need to without exposing themselves to others or the elements.
In less than month, these badass women will bring their passion in person to our HQ, pitch their brand, share their ready-to-rock products, and be mentored by experienced entrepreneurial women who know the mover and maker life firsthand. Let the final countdown to Pitchfest begin!
Stay tuned for our post-event recap… Until then checkout the Movers and Makers gear we've got right now!