They came, they pitched, they slayed. We all won.
The inaugural T9 Movers & Makers Pitchfest was such an experience that we're only now recovering… But really, the party has just begun. What started as a wild "go for it!" idea over dinner snowballed into an inspiration-fest of proportions none of us had imagined. We can only say we're proud to have been the catalysts for it. The magic? It was all them.
FIERCELY FEMININE TAKEOVER
When we say women made this event, we mean it: every Pitchfest finalist, every supporting vendor, all the mentors who helped make it happen. With an overwhelming number of women at the reins (and a handful of good men) Pitchfest took on a life of its own. From Lady Falcon Coffee Club and Nana Joe's Granola serving up morning sustenance to get things started, to Mamacita's Cafe dishing up lunch and empowerment, we had women entrepreneurs at every turn.
Icebreakers involving hula hoops and hand-eye-coordination set the tone, and the T9er-led lunchtime workout was a welcome endorphin booster after a morning of pitches. Of course, games are an everyday occurrence at T9… but add special guests to the mix and things can become "Instagram-worthy" quickly!
MENTORSHIPS WERE LAUNCHED
Behind the scenes, mentors and finalists put in hours together before and during the event. On pitch-day, teams received one-on-one coaching, and later in the afternoon, all attendees were lucky enough to hear the mentors speak. Bronwen Lodato of Bronwen Jewelry explored her own Pitchfest experience. Jenn Gurecki discussed founding Coalition Snow, women in business, and our power in taking up space. Founder and CEO of Handful Jennifer Ferguson dropped some knowledge on manufacturing, distribution and how to navigate new territory. Sally Bergesen recounted when she approached Title Nine with one of Oiselle's first pairs of shorts, and the journey we've been on together since. All mentors took the time to share truths, vulnerabilities, and big learnings. Post-Pitchfest chatter around the office says that the impact definitely went beyond the nine finalists.

THREE BIG WINNERS
From an applicant field of nearly 200, to nine finalists, we present to you the three winners.

1. Kind Apparel
Mallory's one-of-a-kind pitch literally took words from women's mouths to deliver a powerful message about what women want and need from their clothes, and how Kind Apparel's unique style delivers.
2. Lily Trotters
Susan proved that she and her socks are supporting women of every ilk, whether they're headed for a travel decathlon or gunning for the podium in an ultra-marathon.
3. Sensi Graves Bikinis
Professional kiteboarder Sensi Graves used her experience in and on the water to wow the judges when they tried on her swimwear.
AND A SURPRISE
Remember our youngest Pitchfest finalist, Alyssa Feinberg of Happi Headware? Not only did she (and her mother!) throw down at the group workout, the 17-year-old handled the hard questions after her pitch with poise, ease, and a healthy dose of humor. We know that if this is her version of 'just getting started,' she's capable of great things, so we're pleased to announce that her Happi Headware headbands will soon be found in all three of our stores in her home state of Colorado.
As our founder Missy says, "Wow! Y'all kicked some serious ass."
Our inaugural T9 Pitchfest wouldn't have succeeded without the amazing team who made it happen. We can't wait to see where this women-powered wave takes us all next!
HUGE THANKS TO all who participated:
Our speakers
– Sally Bergesen, Founder & CEO – Oiselle
– Jennifer Ferguson, Founder & CEO – Handful
– Jen Gurecki, Co-founder & CEO – Coalition Snow
– Bronwen Lodato, Founder – Bronwen Jewelry
– Missy Park, Founder – Title Nine
Our judges
– Kelly Cooper, Consultant, Founder – QOR, Former VP Merchandising – Athleta
– Kelli Jones, Founder – Noso Patches
– Alice Lee, Merchant – Title Nine
– Johnny Lin, President – Title Nine
– Monika Rose, Founder, Chief Creative – Kindred Creative Group, Co-Founder, CEO – Epic Sky
Our finalists
– Suzanne Koval – BaoBei Maternity
– Sara DeLuca – Dovetail Workwear
– Alyssa Feinberg – Happi Headware
– Mallory Ottariano – Kind Apparel
– Alex Menk & Meli Gil – MG Surfline
– Susan Costa-Walston & Casey Szesze – Lily Trotters
– Lee Ashmore – Lisbeth Joe
– Sensi Graves – Sensi Graves Bikinis
– Bianca Gonzales & Charlotte Massey – SheFly
Our event photographer Thomas Campitelli
And our sponsors
– Mamacita's Cafe
– Nana Joe's Granola
– Lady Falcon Coffee Club
– Doña Tomas Restaurant
– Hint Water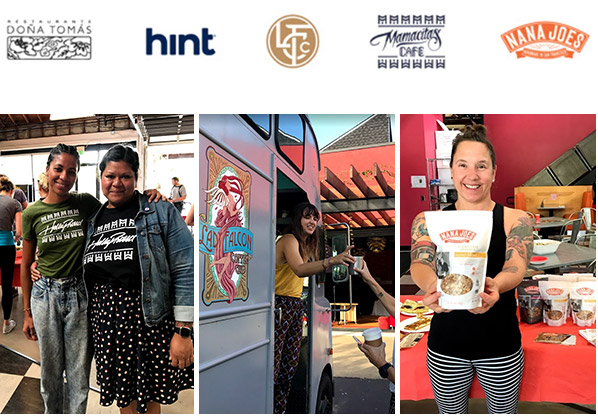 Want to be a future T9 Mover & Maker? Stay in the loop. Keep taking risks. Keep making mistakes. Never stop being a badass mover and maker. And, yup, don't be afraid to make some 'fast fails.' We're rooting for you.