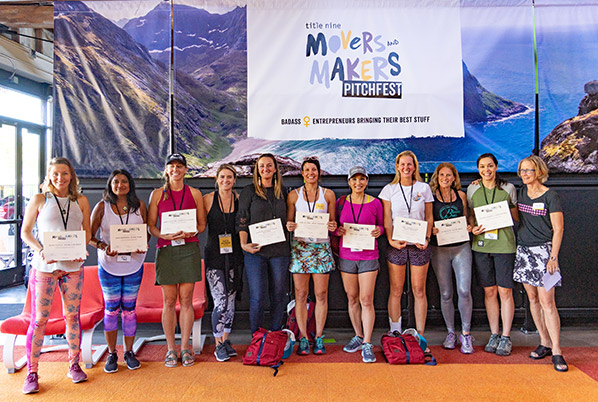 What do a wooden boat builder, a big mountain skier, and a "recovering" professor all have in common?
They, along with six other entrepreneurial women from across the country came to compete, commiserate, and connect at our second annual Movers and Makers Pitchfest. Together these women spent a day showing how women in the outdoor industry lead, risk, and own. Our "Pitchers" brought us skincare and base layers, yoga wear and sports bras, mountain biking apparel, and a much-needed "third hand." And though there were only four winners, entrepreneurial chutzpah was on full display in all nine of our Pitchfest contestants.
The dust is settling in the wake of the event, but the impact runs deep. Together we talked shop and collaborated. Together, for 24 hours, the next generation of T9 Movers and Makers moved women's movement forward.
This year Pitchfest finalists and attendees had the added benefit of some of our first Mover and Maker pitchers returning to impart their past – and current – experience. At the ripe old age of 18, Alyssa of Happi Headware returned and talked about the collision of college and business, and having her headbands at T9 retail stores. Naturally fresh on her feet, Susan of Lily Trotters spoke about the benefits of collaboration and on growing sales. Sensi Graves Bikinis' namesake discussed navigating business wipe-outs, and Mallory spoke openly about the significant changes Kind Apparel has navigated since their sewing-machine-in-a-basement-closet days. Those about to pitch themselves hung on every word, and the crackling anticipatory energy set the tone and momentum for what turned out to be a very impactful day.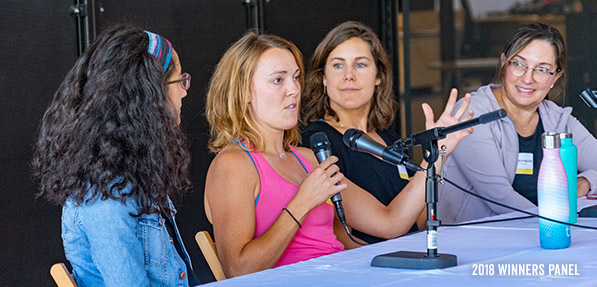 DROPPING REAL KNOWLEDGE
The mentors hand-chosen for Pitchfest embody what it means to be one's own soulmate, to step up, out, and sometimes against the grain, all in the name of what they believe in. The speaker panel stepped unafraid into honest truths about both business and self, with the ever-riveting Jen Gurecki of Coalition Snow and Jennifer Ferguson of Handful keeping the crowd rolling. Sally Bergesen of Oiselle and Bronwen Lodato of Bronwen Jewelry–two of our most seasoned Movers and Makers–fielded forthright discussion. Not one to solely chime in from the sidelines, our own Missy Park openly and candidly hosted an "In Conversation" panel with Monika Rose of Kindred.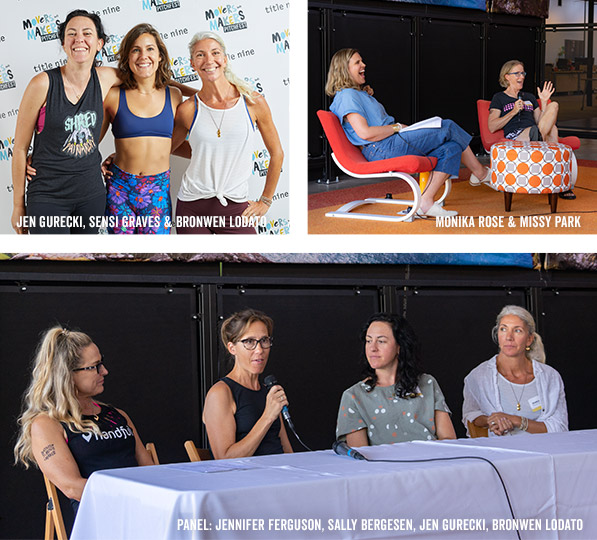 FUELING THE FEMME FIRE
Of course, it wasn't all just business. There was dinner hosted by local eatery Doña Tomas. Equator Coffee Roasters and Nana Joe's Granola got the morning started right. From refueling with Mamacitas Cafe's to Origin Brewer providing growlers for the social hour, it was a day fully fueled by women. Who wouldn't feel giddy, asking their deskmate, "If I go get another Lexie's Frozen Custard, will you come with me?" (The answer was 'yes.' We like seconds.) T9 product development team members hosted game breaks, and all T9ers and finalists alike were welcomed to a 'traditional' lunch hour workout.
With about 100 applicants and nine finalists, the task of choosing the winners was not an easy one. Here are our 2019 Mover & Maker Pitchfest winners.

Heroclip
Women with do-it-yourself attitudes can always use an extra hand or three, and Heroclip delivers that help everywhere and anywhere we need it thanks to the 360 swivel hook. Goes from camp biffy savior to date night purse clip, to wherever we're going and whatever we're doing next with ease. Heroclip is the more-than-handy companion we're constantly finding new uses for.

Mana Threads
There's a significant portion of the clothing industry that trashes tons of perfectly good fabric annually–and then there's Mana Threads. Using eco-friendly biodegradable fabric, in prints as vibrant and lively as the women who inhabit them, their performance gear lets us get lost in life, then simply rinse and repeat.

Wild Rye
Born to provide women the options they deserve, Wild Rye was built on the belief that better gear for women is both possible and essential. Building confidence and community, protecting the places we play, and empowering women from the back country to the boardroom all starts with feeling comfortable in our skin and gear.

Em & El Organics
Remember that boatbuilder we mentioned? She knows a thing or three about needing to heal raw skin. We're proud to say we will be carrying handcrafted Em & El Organics exclusively at our retail stores. Emily Trower-Young puts more than just quality ingredients into her goods, but her passion, too.
UNTIL NEXT TIME
As the last chair was folded and the final microphone cable was packed, we were already dreaming about the next one. The waves of momentum are building, and together, we're coming back bigger and stronger every time. We can't wait to see what kind of Movers and Makers tidal wave next year will bring, but we can't do it without you. So, keep dreaming, keep doing, keep kickin' through those glass ceilings, and keep on growing. We'll hear from you next year when it's 2020 Mover & Maker Pitchfest call time. Until then, check out last year's Pitchfest winners and the Movers and Makers gear we've got right now.
An event like this takes one hell of a team. HUGE THANKS to all who participated:
Speakers:
Alyssa Feinberg, Founder & Owner – Happi Headware
Susan Costa-Walston – Founder & Designer – Lily Trotters
Mallory Ottariano, Founder & Owner – Kind Apparel
Sensi Graves, Founder – Sensi Graves Bikinis
Dana Caraway, Principal – Caraway & Co.
Amy Johnson, National Sales Manager – Craft Sportswear
Amy Garrahan, Regional Sales Manager – Patagonia
Mentors/Expert Panel Speakers:
Bronwen Lodato, Founder & Owner – Bronwen Jewelry
Jen Gurecki, CEO – Coalition Snow
Jennifer Ferguson, Founder & CEO – Handful
Sally Bergesen, Founder & CEO – Oiselle
Judges:
Johnny Lin, President – Title Nine
Alice Lee, VP of Merch & PD – Title Nine
Monika Rose, Marketing and Creative Lead – Kindred
Kelli Jones, Founder and CEO – Noso Patches
Thayer Sylvester, Co-Founder and CEOe – Carve Designs
Finalists:
Elyse Kaye, Bloom Bras
Chelsea Camarata, Kaden Apparel
Darcy Conover, Corbeaux Clothing
Iwona Kapcia, Anowi Surfwear
Suni Gargaro, Sunia Yoga
Emily Trower-Young, Em & El Organics
Mina Yoo,HeroclipⓇ
Amelia Leme – Mana Threads
Cassie Abel – Wild Rye
Event videographer/photographer:
Christiane Gude @gudezone
Event sponsors:
Doña Tomas
Equator Coffee Roasters
Nana Joe's Granola
Lexie's Frozen Custard
Mamacitas Cafe
CC Made
A Girl Named Pinky
Origin Brewer
hint
Event donors:
Stasher Bag
Sherpa Adventure Gear
Handful
Bronwen Jewelry
NOSO Patches
Happi Headwear