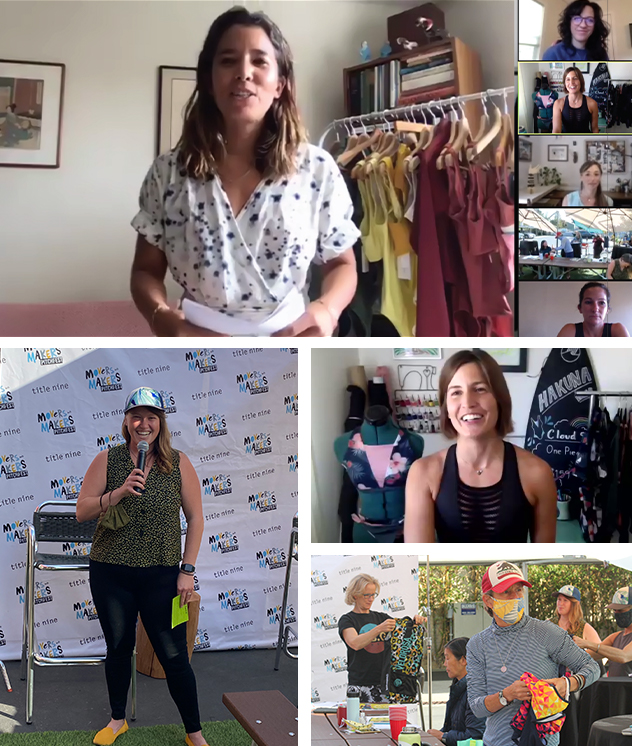 SURFERS AND TEFF-LERS AND CHEMISTS – OH MY!
It ain't hyperbole to say that 2020's Pitchfest was a beast. But would we cancel? Hell no! We knew it wouldn't be easy, but we counted on the one thing we knew we could: that none of the women involved know the meaning of retreat.
With a slew of talented organizers on our side and a group of incredibly badass, patient, and entrepreneurial women booked to attend, we took it on – and brought those pitches back – virtually.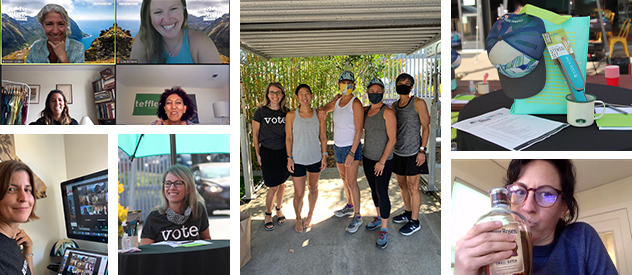 MORE THAN GIRL TALK
Title Nine's annual Pitchfest is the fulfillment of our quest to find the next-gen of entrepreneurial women to join our Movers and Makers program. We size up the best of what is out there, and we make bets on new small businesses run by women.
Though our two-day event climaxes in a pitching competition, it's first and foremost a great opportunity for these female entrepreneurs to connect and encourage each other.
This year Pitchfest finalists and attendees had the benefit of TWO years of Movers and Makers mentors returning to impart their past – and current – wisdom.
Our mentor panel included two of Title Nine's first official-unofficial Movers and Makers, Sally Bergesen of Oiselle and Bronwen Lodato of Bronwen Jewelry – both inherently unafraid to weigh in on their own experiences or to share the inner workings of their businesses. Joining them were some of our other favorite "difficult women," Handful founder Jennifer Ferguson and Jen Gurecki of Coalition Snow and Sisu Magazine, along with 2019 winners Emily Trower-Young (of Em & El Organics), Cassie Abel (of Wild Rye), and Amelia Leme (of Mana Threads). Together these bold business women spent two days showing our pitchers what it looks like to run the gamut and come out striding.


AND THERE WAS ROOM FOR ACTIVITIES
Despite the (well-known) challenges of an all-virtual event (we're sure you understand), our top-notch team took Pitchfest to a new tier of interactivity even without being able to gather in person. With pitchers from California to Vermont and T9ers and mentors tuning in nationwide, it could have been an impossible task… but creative means and a little USPS magic let us play like we normally would…ish. We'll let the pics speak for themselves.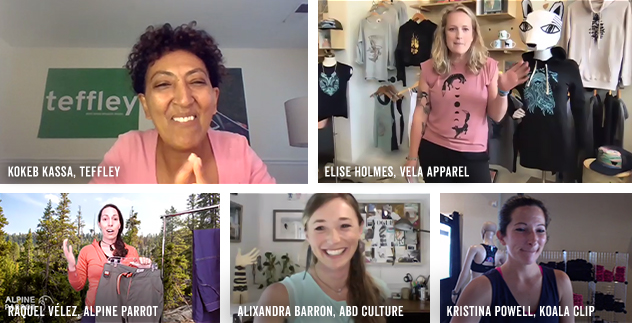 PITCH, PLEASE
It should go without saying that we packed the pitch schedule with a new crop of women who are leading, risking and owning. From tata-taming suits to Teffley's superfood fueled snacks, from Koala Clip's portable phone pocket to ABD Culture's wear-it-literally-anywhere upcycled jewelry –– every pitch was a display of ingenuity, problem solving, and, well… women getting sh*t done.
Boldly-clad women on bikes and reef-loving sunscreen scientists threw down for purchase orders, and pitchers shared past moments of grit (hell yeah!) alongside current numbers (less fun but important!). Though only some of our contestants could win, they. all. KILLED.
SOME TOUGH MOTHER RUNNERS… UP
HAKUNA WEAR
Jessica of Hakuna Wear revealed how her "no worries" swimsuit designs were spawned after having to use her husband for pockets – which gave all our pro-pockets post-purses pals a good laugh. Her suits sent the judges on a treasure hunt, searching feverishly for her hidden pockets and marveling at how, as much as we love pockets, we have yet to put 'em there. …Yet. We'll be giving you a call, Jessica. Hakuna La Tatas!
VELA APPAREL
When you see Elise's artwork, it's easy to understand why we knew we had to have Vela at our 2020 Pitchfest. Casting her creations across shirts, hoodies, hoodie dresses and gear, she makes her love of the outdoors apparent in every piece of apparel. If you're the type of woman prone to howling at the moon (like us) you will see yourself in these prints immediately. We recommend getting in them physically, too.
KOALA CLIP
A previous applicant to Pitchfest, Kristina of Koala Clip finally got to bring the fire. Pitching a killer idea for a hands-free, sweatproof, phone-and-sundries pocket that can move between sports bras, Kristina shared her development story and showed us all a thing or two about go-get-'em marketing. Curious? Check her out – she just might share her secrets!
ALPINE PARROT
Raquel's awesome fledgling company is named after the surprising kea, a parrot (yes you heard that right) best known for living and playing in the snow. While Alpine Parrot's software-and-mechanical-engineer-turned-designer founder is somewhat new to the outdoor industry, she isn't new to the challenge of finding great fitting and performing hiking pants for women of larger sizes – and it's how she arrived at her name. Just like the kea, plus-sized women are often treated like they don't belong in that environment – even though it's perfectly natural. She's off to a great start, and we can't wait to see her line (and company) develop!
AND THE WINNERS ARE…
It's scary how hard it was to choose, so we… kind of didn't? They were all exceptional candidates, and this year we picked FIVE 2020 Movers and Makers Pitchfest winners.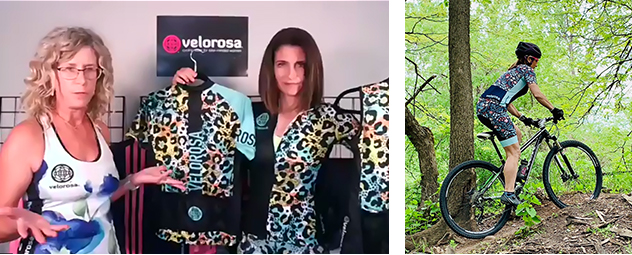 VELOROSA CYCLING
Every design by this two-woman brand is built upon the belief that women – and especially those on bikes – should do ANYTHING BUT blend in. When riding and out in the world, Velorosa kits are made to pop and get the rider noticed and their mix-and-match options deliver comfort that can't be matched by their shrink-and-pink competitors.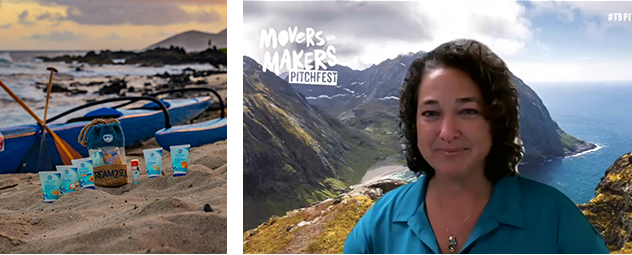 STREAM2SEA
"Coral safe" is more than a selling buzzword for Stream2Sea: it's one they take seriously. So seriously, in fact, that they took it further – making a mineral sunscreen safe not only for salt water, but for fresh water (thus the name) and for your SKIN too. You do NOT want to know what they told us about your skin's absorption rate… but you probably should. Their mineral sunscreen is the only one tested and PROVEN safe for fishes and coral larvae, making it genuinely eco-conscious and truly reef-safe.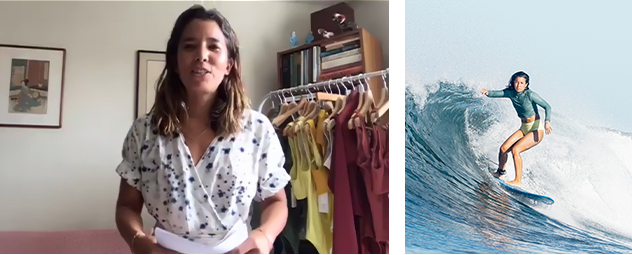 September the Line
With over fifteen years of design experience and a passion for surfing WITHOUT any "how do I wear this?" complications – Erika decided to take timeless, elegant, and sustainable surf-and-swimwear into her own hands. Focused on sustainable sources, fair wage production and modern simplicity, September the Line takes performance to a higher level – and road!
AND COMING SOON TO OUR RETAIL STORES…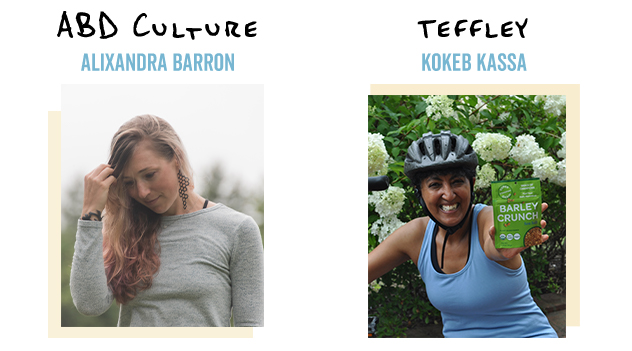 ABD Culture
What's both fit for adventure AND votes to bring the bike along – even if we're not on a ride? The wearable answer: Alixandra's delicate jewelry designs made from discarded bicycle inner tubes. Weightless, waterproof, sport-ready and (best of all) up-cycled, ABD Culture's pieces help us keep the girly in gritty.
Teffley
Kokeb grew up eating the superfood snacks she now sells, and we were definitely eager to join in. Proud to present the same ancient grains that have fueled the training of world-famous Ethiopian runners for decades, Kokeb's pitch inspired us, and frankly, the samples made us hungry for more. Teffley will be coming soon to a T9 store near you. Hope you like snacking as much as we do!
HEY 2021, WE'VE GOT OUR EYE ON YOU
Our third annual Movers and Makers Pitchfest proved that even in the face of the unforeseen, the unplannable, and even the downright well-that-just-freaking-stinks moments, the right group of people can band together, rise up, and still create a spark. The kindling fresh, the ideas and voices energized, we are already dreaming about what the coming year could bring. And, we won't be able to make those dreams come true without the next round of dreamers, schemers, and (you guessed it) movers and makers.
So keep dreaming, keep doing, keep kickin' through those glass ceilings, and keep on growing. We can't wait to hear from you next year when it's 2021 Movers and Makers Pitchfest time. Until then, check out last year's Pitchfest winners and the Movers and Makers gear we've got right now.
An event like this takes one hell of a team. HUGE THANKS to all who participated:
Finalists:
-Alixandra Barron, ABD Culture
-Autumn Blum, Stream2Sea
-Elise Holmes, Vela Apparel
-Erika Togashi, September the Line
-Jessica Boynton, Hakuna Wear
-Kokeb Kassa, Teffley
-Kristina Powell, Koala Clip
-Lisa Carponelli and Kim Hopkins, Velorosa Cycling
-Raquel Vélez, Alpine Parrot
Speakers & Mentors:
-Amelia Leme – Mana Threads
-Bronwen Lodato, Founder & Designer – Bronwen Jewelry
-Cassie Abel – Wild Rye
-Emily Trower-Young – Em & El Organics
-Jen Gurecki, CEO – Coalition Snow
-Jennifer Ferguson, Founder & CEO – Handful
-Michelle Pusateri – Nana Joes Granola
-Sally Bergesen, Founder & CEO – Oiselle
Judges:
-Alice Lee, Merch & Product Development – Title Nine
-Christie Dobson, Sales and Marketing, NorCal – Astral
-Noriko Morimoto, CMO – Title Nine
-Renee Thomas Jacobs, CEO – Buy Auto Parts
-Shannon Morgan Stearns, VP of Marketing – Stasher
Event Donors & Contributors:
–Bronwen Lodato Jewelry
–Em & El Organics
–Handful
–HeroClip
–Kind Apparel
–Katherine Homes
–Lily Trotters
–Mana Threads
–Nana Joes Granola
–Oiselle
–Sherpa Adventure Gear
–Simply Straws
–Sisu Magazine
–Stasher
–Wild Rye
Organizers:
We had a mighty T9 team working together to pull this off – too many to name or thank adequately. (You know who you are!) We do owe a SPECIAL thanks to Lisa from our Creative team, who stepped up not only as MC extraordinaire, but also to take the reigns mid-stream and mid-pandemic. Such a pro!