Hey T9ers! By popular demand we've gathered up the recipes from last weeks bake – off (well most of them!) and have them here for you to take home and try yourselves. Enjoy!
Quinoa Pasta with Tomatoes and Peppers (By Ruby)
Ingredients (You're going to have to eyeball these! Time to harness your inner Julia Child!):
Tomatoes
Anaheim Peppers
Red Onion
Minced Black Olives
Capers
Panko Bread Crumbs (for texture)
Green Onions
Cooked Pasta (Penne works!)
Directions:
Heat oven to 350.
Chop up the Tomatoes (leave a couple behind for your topping), Peppers, Red Onion, Olives and Capers.
Mix with the cooked pasta and place in 8 x 11 dish
Top with sliced tomatoes, green onions and bread crumbs and bake for 15 min until it's warm all through!
Coconut Lime Triple Berry Cake (By Jackie)
Ingredients:
3/4 cup (1 1/2 sticks) unsalted butter, room temperature, plus more for baking dish
1 3/4 cups plus 1 tablespoon all-purpose flour
2 teaspoons baking powder
1/2 teaspoon coarse salt
1 cup packed sweetened shredded coconut
1 cup plus 1 tablespoon sugar
3 large eggs
3/4 cup buttermilk
2 teaspoons finely grated lime zest, plus 2 tablespoons lime juice
3 cups mixed berries, such as raspberries, blackberries, and blueberries
Directions:
Preheat oven to 350 degrees. Butter and flour a 9-by-13-inch baking dish.
In a large bowl, whisk together 1 3/4 cups flour, baking powder, salt, and coconut; set aside.
In the bowl of a stand mixer fitted with the paddle attachment, beat butter and 1 cup sugar on high, scraping down bowl as needed, until light and fluffy, about 4 minutes. Add eggs, one at a time, and beat until combined. With mixer on low, add flour mixture in three additions, alternating with two additions buttermilk, and beat until combined. Stir in lime zest and juice. Spread batter into prepared dish. Smooth top with a small offset spatula.
In a medium bowl, toss together 1 tablespoon flour, 1 tablespoon sugar, and berries. Scatter berry mixture over batter. Bake until cake is golden at edges and a toothpick inserted in center comes out clean, about 35 minutes. Let cake cool in pan on a wire rack 20 minutes before slicing. Serve warm or at room temperature.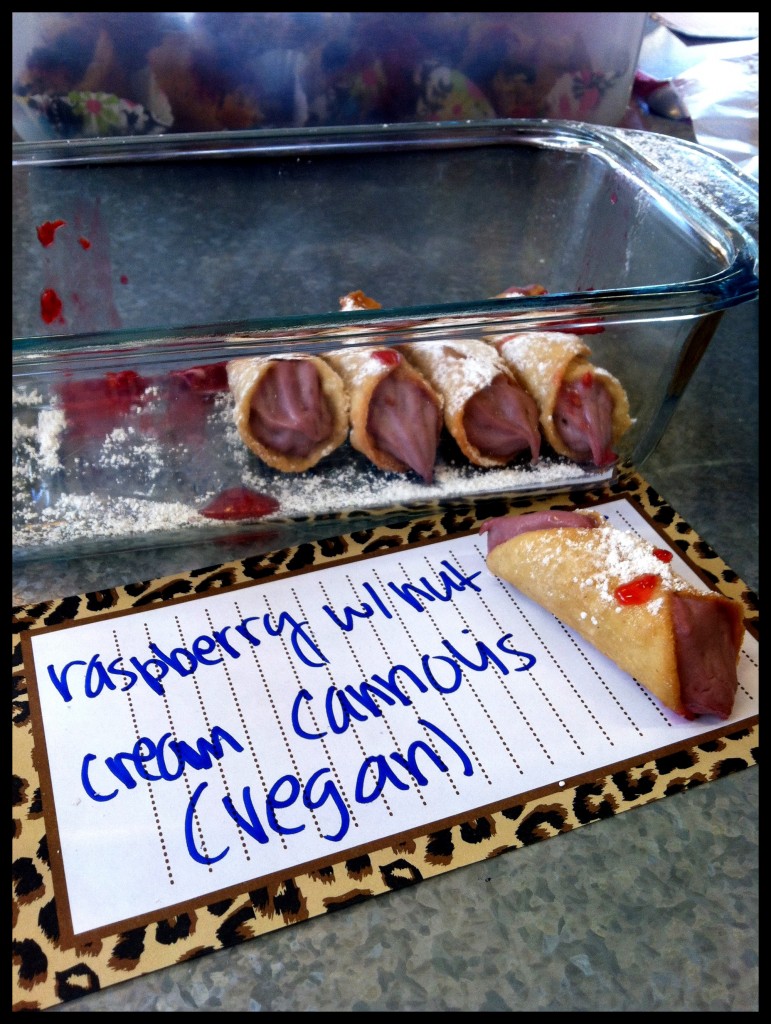 Raspberry with Nut Cream Cannolis (By Christine)
These Cannoli's aren't your average Cannoli. Our girl Christine makes them purely from scratch! From the cook herself:
I don't have a real set recipe for these because I kind of just made them up, but the shells are based off this:
1.25 cup all purpose flour
1 tablespoon sugar
1.5 tablespoon canola or safflower oil
0.25 to 0.33 cup soy or almond milk (or slightly more if needed)
2 teaspoon to 1 tablespoon tapioca starch or cornstarch
0.25 teaspoon salt
Mix all together to form a slightly firm but pliable dough, adding a bit more milk if needed to form the dough into a ball and knead a bit to incorporate completely. Let rest for about 15 minutes. | Roll out to about a 1/8th of an inch. Take a 4″ cookie cutter and cut out as many circles as you can.
To Bake:
Heat the oven to 375F and line a baking sheet with parchment paper. | Take a small dough round and wrap around the cannoli tube so the ends overlap. Seal it by pressing lightly, or sealing with a cornstarch slurry of 1 tablespoon cornstarch + a couple drops of water. Continue with the rest of the dough circles and cannoli tubes. | Bake for about 8 minutes, checking for the dough to be lightly golden brown. Remove from oven and let cool about 3 minutes. Slide the baked shells off the tubes and let cool before filling.
The Raspberry Nut Cream doesn't really have a recipe, but here's my guesstimate of how I made it:
2 pints of raspberries
1/4 cup sugar
1 cup blanched almonds
1 cup cashews
1-2 tbsp unscented coconut oil
1-2 tbsp cornstarch
1/2 tsp vanilla extract
Dash of Salt
Maple Syrup to taste (4 tbsp)
Purée about 1.75 pints of raspberries with about 0.25 cup of sugar. Strain to remove excess seeds. Set aside.
Mush about 1/4 pint of raspberries with a fork and set aside. | Blend almonds and cashews VERY WELL with about 1.5-2 cups of super hot-almost boiling water. After blended very well, add in coconut oil, cornstarch, vanilla, dash of salt, and maple syrup to taste. | Pour the mixture into a pot over low-medium heat and reduce/thicken while stirring until it reaches. DO NOT LET IT BURN! Take off heat and let set at room temperature for about 30 minutes. | Stir the raspberry puree and mush into the nut cream. Place cream into a piping bag fitted with a tip that will fit into your cannoli shells and pipe into the shells. | Sift powdered sugar over cannoli and serve.
The Winner!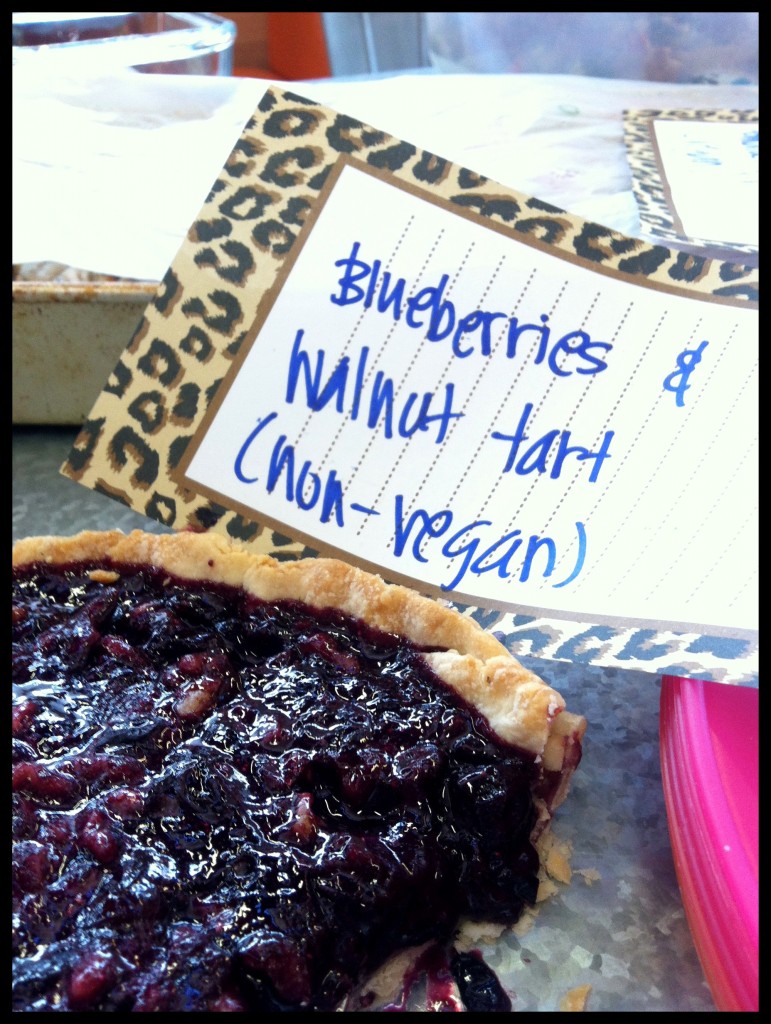 Our girl Ruby won bragging rights with her Blueberry & Walnut Tart but we're sorry to say that she's holding on to her secret recipe 😉