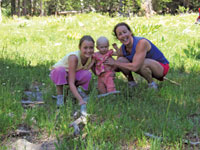 Hard-driving. Determined. Persistent. An accurate description of Title Nine customer Jenny Chatman, but far from complete. Fun-loving. Family-oriented. Outdoorsy. Energetic. These are all qualities that Jenny zestfully exudes, and they have served her well in pursuing her goals as a professor, consultant, wife, mother, and athlete. But if you had to choose just one word to describe Jenny, you just might settle on extraordinary. From giving birth at age 48 to running the Olympic torch across the Golden Gate Bridge, there is nothing ordinary about Jenny's life—not even her daily routine. In fact, the only thing routine about Jenny's day is that she works out.
A professor at Haas School of Business, nationwide business consultant, member of several boards and committees, and mother of two young girls—Ava (ten) and Sonya (one)—Jenny's schedule varies widely from season to season, month to month, and even day to day. Some mornings she is up and out the door early for a consulting meeting in San Francisco or to catch a flight east to present a research paper. Other days she sleeps in after a late night of writing at the computer.
The rest of Jenny's day is characterized by equally immense variety, which is just the way Jenny likes it. With variety comes challenges. And when presented with challenges, Jenny is at her best. That's when her innate drive for excellence kicks into high gear.
The Making of an Elite Athlete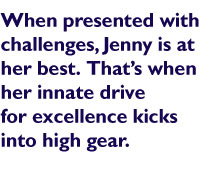 Sometimes responding to one challenge begets another. Take the birth of Jenny's running career, for example. Not much of an athlete in high school, Jenny picked up running her first year of college at UC San Diego. Why? To combat a bout of insomnia brought on by a case of academic perfectionism. She started running around the quad to expend pent up energy. At first, she could barely make it, but soon her circle was expanding. Then she transferred to UC Berkeley and started running around the track—bit by bit, a little faster, a little farther. She never timed herself, so initially she had no idea how fast she was. "I knew that I didn't like people to pass me," she says. "So I ran fast enough that they didn't."
Soon some friends talked Jenny into running the Bridge to Bridge race in San Francisco, which boasted a field of about 1000 runners. Jenny placed fifth among all women. That's when she started getting serious about her running. Serious enough that she chose to attend graduate school in Boulder in large part to train with a club run by legendary long distance runner Frank Shorter. That marked the beginning of a competitive racing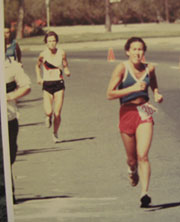 career that saw Jenny consistently placing in the top three women overall and usually winning her age category. Her fastest 10K? About 33 minutes, at altitude in the mountains. Her fastest marathon? Just a hair under three hours. Nothing ordinary about that.
But Jenny's days as a competitive runner came to an abrupt end when she tore her Achilles tendon due to overuse. Suddenly unable to run, the injury marked a pivotal moment in Jenny's fitness career. "It led me to realize that I loved this—running, and the feeling that it gave me—so much that I wanted to figure out how I could do it for the long run," Jenny says. "In the stock market they say broaden your portfolio. That was exactly the metaphor for what I did. I got good at swimming. I got good at biking. And not just good at them. I figured out how to make them comfortable and fun for me."
Fitting in Fitness
Now 49 years old and just over a year past giving birth to her second child, Jenny is back running full steam—if not quite full speed—but she also cross-trains and rarely races anymore. In the summertime, which she spends with her family in Tahoe, Jenny does a 60 to 75-minute trail run with her dogs everyday, along with a more than refreshing swim in frigid Lake Tahoe. Some days, she substitutes a 2-plus-hour mountain bike ride for her run, or occasionally she'll do a road bike ride instead.
During the school year in Berkeley, Jenny runs for 50 to 60 minutes every other day. On days she doesn't run, she goes to the gym and works out using the Bosu, medicine ball, pullies, and other equipment. Then she does about a mile of lap swimming. On the weekends and some weekday mornings, Jenny goes for a 1 to 2-hour mountain bike ride with a friend.
How does Jenny fit all this physical activity into her busy day? It isn't easy, but she makes working out a top priority. In fact, she rarely takes a day off. "It just doesn't feel good to me," Jenny says. She's been known to change meeting times with colleagues or clients in order to squeeze in a run or gym workout. But the main reason Jenny is able to jam so much into a typical workday is her substantial network of support, which includes her husband Russell, a part-time building contractor and a highly involved dad to their two girls, and a rotation of three part-time nannies, all graduate students at various universities. It also doesn't hurt that Jenny is the master of her own schedule, which tends to be quite flexible. Even still, fitting in a workout often means getting up early after a late night of traveling to run before a morning meeting or working at the computer for a few hours after the girls go to bed to accommodate an afternoon bike ride. If all this sounds tiring to you, you're not alone. "Sometimes I say to myself, 'God, you exhaust me,'" Jenny laughs. "Sometimes I wish I were less ambitious."
Fit for Life
Jenny's aggressive fitness regimen has paid dividends not just on the running trails, but also in the classroom and on the homefront. She credits competitive running with teaching her to "work hard and stay focused" and giving her the confidence required to succeed in the competitive world of academia, where choice faculty slots are in short supply. On a more practical level, her physical fitness gives her the stamina to stand for hours in front of a classroom full of super-smart MBA students and the energy to intellectually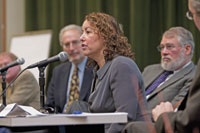 challenge them. Competitive running also developed Jenny's endurance and taught her a bit about how to pace herself. "That endurance has served me well as a 49-year-old mother of a toddler," she says.
Not surprisingly, it's important to Jenny that her daughters value and pursue fitness as well, and she works hard to make that happen. "My challenge has been to figure out how to make sports really joyful for them—not like it's a big challenge." So far it seems Jenny is succeeding. Afraid to put her head under water until age 7, Jenny's 10-year-old daughter Ava now regularly accompanies her mother to the pool and swims 30 laps. Now that's extraordinary. You go girl!
What has your athletic experience contributed to other areas of your life?