We run, we jump, we dance, we play. We are women. Active women, many who need some support to keep 'the girls' in place. But let's be honest, finding the right sports bra for your fitness needs is no easy task.
That's why Title Nine recently held its Bra Fit Fest Event at our retail stores across the country. Women of all shapes and sizes came together for an evening of fun, fit and function with bra-fit expert, June Fox, from Moving Comfort.
Having June visit was just like having our own Title Nine Bra Genie come to life. We rolled out the racks to help our customers find bras that would be comfortable and supportive.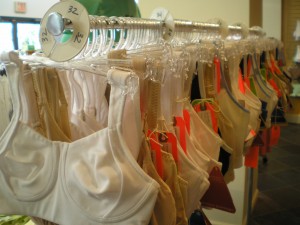 The evening reminded us of the importance of getting the perfect fit. We're all real women with real bodies and finding the bra that will work for us – whether it's a one barbell or five barbell bra – gives us confidence in who we are, motivates us to get moving, and empowers us to achieve our goals in both sports and life.
Need more support? Our Bra Coaches are always standing by to help you find the right fit! If you have any questions about sizing or fit troubleshooting give our Bra Coaches a call at 800-342-4448. Or send us an email.