In 2003, when the inaugural Title 9K starting gun rang out in the clear blue Boulder sky, we did not yet know what sort of evolution was to take place. We did not know that first Mother's Day would spawn a run series that would grace lives in different cities, or that it would become such a big part of who we are as a company. While our races have grown over time, the root of why of we Title 9K has always remained the same.
WHAT IS THE TITLE 9K?
Fun runs with colored dust or costume themes did not yet grace every weekend as a commonplace affair when the our run series was born. The Title 9K was created as a celebration of women and girls in sport, a pavement party in honor of active living. We wanted to have an event that welcomed women of every pace, one that celebrated the new mother walking with her baby jogger with as grand a cheer as the gal who broke the finish line tape.
OUR RACE IS DIFFERENT – AND WE LIKE IT THAT WAY.
While it is a run event, no Boston Qualifier times will come from our courses, and we are okay with that. The Title 9K series is different, and here are some of the reasons why:
9K distance: At not 5K or 10K but 9K long, our events are an automatic personal best for the more competitive runner, or a great challenge for she who is making the move to get off the couch and over the finish line.
A place for

every

pace: The minimum pace to keep in order to finish is around 35 minutes per mile (or about 26 minutes per kilometer.) This means that even most recreational walkers can enjoy the entirety of our event.

Stroller divisions: Roll on, mother runner! You and your single, double or even triple-wide baby jogger are welcome. (Yes, we've seen them out there!) All Title 9Ks offer two categories just

for baby joggers, one each for walkers and runners.
the Ragamuffin Run: Why not get the kids in on the action too? Our free pre-race Ragamuffin Run offers kids a chance to take part in the action! Three divisions with age-appropriate distances are offered: the Rumbling Reds (ages 2-3,) Blazing Blues (ages 4-5,) and Yahoo Yellows (ages 6-8).

Prize divisions: While every finisher comes away with a finisher's prize, we offer four big main prizes for our events. The first woman, girl under 18, and baby jogger runner over the finish line each receive a great prize bundle. Speed isn't the only way to win at the Title 9K: the fourth prize bundle is awarded to the winner of 'most inspirational story,' written on why they run.

Race expo and goodie bag: The back of every Title 9K race tee is

not

a billboard, and there is no entry fee for our expo. Expo vendors offer up educational information, free samples and schwag. Our reusable goodie bags, popular at T9HQ as lunch totes, are stuffed with snacks and other goodies contributed by vendors with a local focus. No paper coupons or flyers here – just the good stuff, like samples of our favorite sunscreens, run fuels, snacks and the like.

Picture proof: All course photographs are posted after the race free of charge, and every race expo features a backdrop, complete with photo booth props, so participants can take a Title Nine catalog cover photo.
WHY WE TITLE 9K
Ultimately, the Title 9K is about celebrating the participants: YOU!

Of course, we also have a lot of fun, too.
Plus, who could say no to some of the greatest fans and cheerleaders out there?

The question now: when are you joining us?
Why do YOU Title 9K? Share with us below!
Ready to run? Register now and get training with our 9 Weeks Till T9K training plan!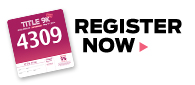 View additional photos from past Title 9K events here.