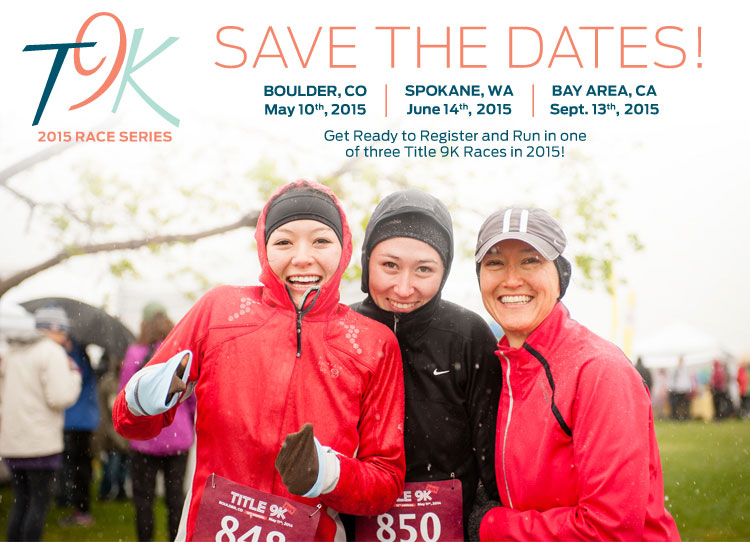 For the last 13 years, it has been our honor to put on Title 9Ks. Our events are different, and we like it that way! Over time, our run series has grown a fan base, visited different cities and become one of the only run events to continually celebrate dedicated stroller divisions. This year, it is with great excitement that we announce we have added even more fun to our series.
Join us for:
– the original T9K event, the 13th annual Mother's Day Title 9K+ Run on May 10th at the Boulder Reservoir
– the 2nd Spokane Title 9K Run on June 14th at Riverfront Park — YES, IT'S BACK!
– the 6th annual Bay Area Title 9K Run on September 13th at Quarry Lakes Park
Edit March 2015: the 2015 Bay Area Title 9K has unfortunately been canceled.

WHAT IS THE TITLE 9K?
Fun runs with colored dust or costume themes did not yet grace every weekend as a commonplace affair when the our run series was born. The Title 9K was created as a celebration of women and girls in sport, a pavement party in honor of active living. We wanted to have an event that welcomed women of every pace, one that celebrated the new mother walking with her baby jogger with as grand a cheer as the gal who broke the finish line tape. Team T9ers from both our home office and various retail locations can be found volunteering at every event, cheering themselves hoarse, full of endless high-fives and excitement: ultimately, every Title 9K is about celebrating the participants – like YOU!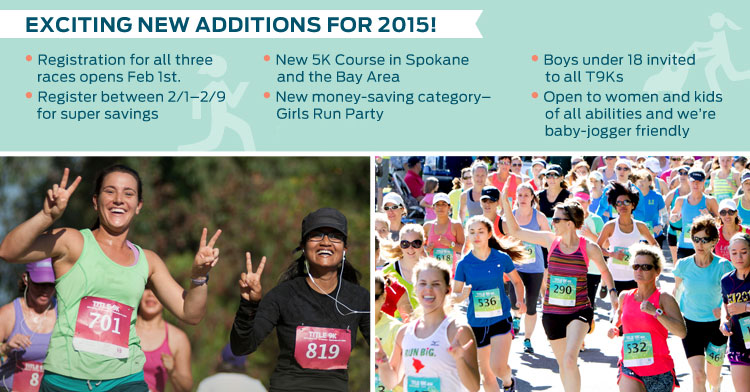 *NEW* HELLO, 5K!
This year, not only will we be returning to Spokane, both our Spokane and Bay Area events will include a never-before-offered 5K option, excellent for those who are new to run events or for those who have the need for speed. Whether the 5K or 9K is your distance of choice, you won't find a place on our registration form asking for a recent event time: every race is self-corralled, and we have a place for every pace.
*NEW* GIRLS RUN PARTY
Have some best running friends you don't want to leave behind? Register your group of 3 or more as a "Girls Run Party," and save a bit of cash for lunch together after the race. (Download the Girls Run Party form here.)
And, we are happy to also share that this isn't a "no boys allowed" affair: is your best running friend your son or nephew? Invite him! Boys under 18 are welcome to all of our Title 9K events.
ROLL ON, MOTHER RUNNER
Where other races say "no," we say "YES!" Since its inception, we have proudly furnished two dedicated divisions at our Title 9Ks solely for those who wish to participate with their run stroller, one each for walkers and runners.
RAGAMUFFIN RUN
An annual favorite, there is a free pre-race event just for the little speedsters in your life. Three heats with age-appropriate distances are offered: the Rumbling Reds (ages 2-3,) Blazing Blues (ages 4-5,) and Yahoo Yellows (ages 6-8). Simply bring your Ragamuffin to the registration table the day of the event to get them signed up!

With a free expo and event photos, a catalog-cover photo booth, ad-free race tees, a finishers prize for every participant and activities for the kids while you're on the course, we can't think of a reason why not to join us.
What are you waiting for? Let's Title 9K!