It's no secret that at our events, we do things differently. At our upcoming 2015 Title 9K+ Boulder, the top three fastest women across the line, the fastest mom with stroller, and the first girl and boy under 18 will receive prize bags filled with great items contributed by our vendors.
It's not just our two dedicated stroller divisions that make our events different: the three best inspirational stories will also receive awards.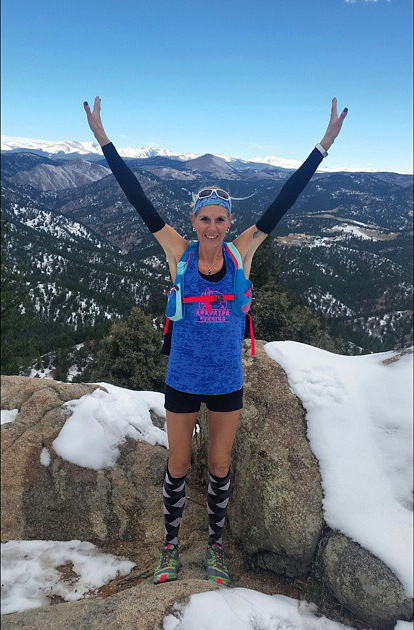 A Boulder ultrarunner, Jenn (above) had the unthinkable happen during a training run, an experience which she shared with the world via Zelle. Her experience this past summer will certainly make crossing the finish line with her four kids this year on Mother's Day – a day that she did not necessarily think she would live to see – even more memorable.
We invited Jenn to celebrate her Mother's Day with us at the Title 9K+ this year, and in turn, she asked to share a few words with you all on race day. We're sharing what she had to say in advance, and how to share an inspirational story of your own with us.
Dear Fellow Runners…fellow Mothers….and beautiful women,
When my T9 friend Christina reached out to me about participating in this event, with my children, it was a no-brainer. She joked with me that since I am an ultrarunner, with a 50 mile race the weekend before, maybe it wouldn't be "big enough" for me. I laughed because this type of thing brings a huge smile to my face… I can remember my first 10k like it was yesterday. Again, it was an easy decision, but I did ask if I could share a message, with all of you.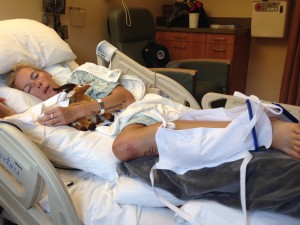 Some of you may have heard the story of my rattlesnake bite. The highly condensed version being that on August 18 I was laid off from my job as a hospice nurse. One week later, I was bitten twice by a rattlesnake on the trails in Boulder. I had a large amount of venom taken on, and quickly circulated, since I was running. I spent quite a few days trying to die, and quite a few weeks… and months… battling the horrific side effects, many of which are still with me today. 
As a single mother of four children, this was kind of a show stopper. It rapidly took me into a world of medicaid, unemployment, and a struggle to even put my foot on the ground. I was in the middle of training for my second of three 100 mile races in quick succession. And I found myself unable to walk… or pay my bills. In a short week's time, I had gone from a thriving ultrarunner, nurse and mother, to saying good bye to my family via phone on the side of the trail, and now, living in a tornado of pain medication just to be able to survive.
I share this with all of you for one big reason… it's my gift. My legacy. The only possible way to make sunshine out of darkness. Every one of you toeing the line for this race is a beautiful woman. Many of you are mothers, raising precious lives. I know many of the struggles you all have faced, and how hard many of them are to overcome. I want you to know that you are more beautiful than you think you are. More capable than you could ever give yourself credit for. More powerful than anyone will ever tell you. More resilient than anyone could demonstrate to you. And if no one has ever told you that you can cross over any line placed in front of you, let me be the first. Yes.You.Freaking.Can.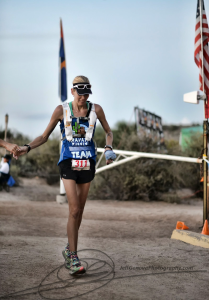 On November 1, just a couple of weeks after first putting my leg on the ground to walk, I ran the Javelina Jundred 100k. I had what felt more like a wall as opposed to a line in front of me, but regardless, I did it. Life is for living. Celebrating. Growing. Learning. And the best, awesomest, juiciest, most wondrous details of you, lie just within your reach. So as you step out today, put your chin up. There is someone out there with you, who is going to cross a finish line with all four of her children in hand, and she's going to be looking backward and forward just as she crosses. Never forget where you came from… and never forget where you can get to if you believe you can. I do. You are NOT what happened to you. You are what you choose to do with it. I promise.
#QuitYourWhining
#DoWork
#SherpaOn
Now it's YOUR turn to share!
If you are running the Title 9K+ Boulder, you don't have to be the fastest to win: you could be one of our three inspirational story winners. Submit your "Why I Run" inspirational story in three easy steps:
Send your story in doc form to t9k@titlenine.com.
Double check that your full name is on the document.
Stick around at the awards ceremony @

10:30am on race day

to see if you've won!
Want to submit your story, but still not registered for the big day?
Click here to sign up for the Title 9K+ Boulder.
We'll see you at the start line on May 10th!