See what our in-house style experts have to say about this spring's must have items.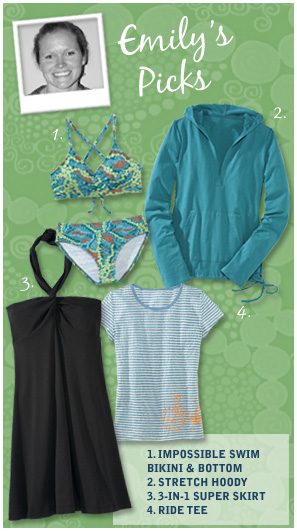 Emily's Picks
1) Impossible Swim Bikini & Bottom: I LOVE this suit. Great support without the pain-in-the-neck of a halter top. Plus, it's cute as can be!
2) Stretch Hoodie: Easy wear, easy care hoody that I'll be wearing all year long with jeans, skirts, as a swim cover up and on chilly nights.
3) 3-in-1 Super-Skirt: This is my favorite item for traveling. It's a swim cover up, a skirt, a dress and a changing room all in one. What more could you want?
4) Ride Tee: This lightweight burnout tee is my new favorite as a layering piece that can go fashiony or playful. The fit? Perfect.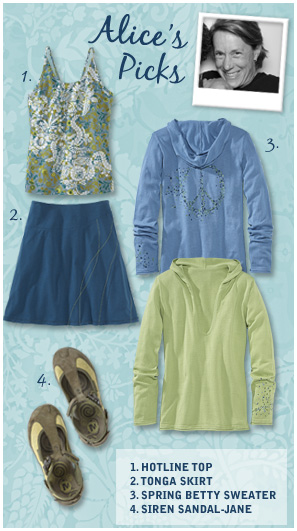 Alice's Picks
1) Hotline Top: Nice layering piece with built in shelf bra.
2) Tonga Skirt: Not too plain and not too fancy – easy fit and cute details.
3) Spring Betty Sweater: I love the graphic and this cotton sweater is the perfect weight for Spring & Summer.
4) Siren Sandal-Jane: Cool, functional and comfy. What more could a girl want from her shoes?
More