We love this "Do It In a Dress" customer submission from Lisa F. of Oakland, CA. Thank you again Lisa for sharing how you spin!
Here's the story straight from Lisa:
"DO IT IN A DRESS IS MY NEW MANTRA: Hi. My name is Lisa F. I was reading your catalog after work yesterday and loved your "Do it in a Dress" photo and slogan. It prompted me to tell you this story that happened to me on March 28th.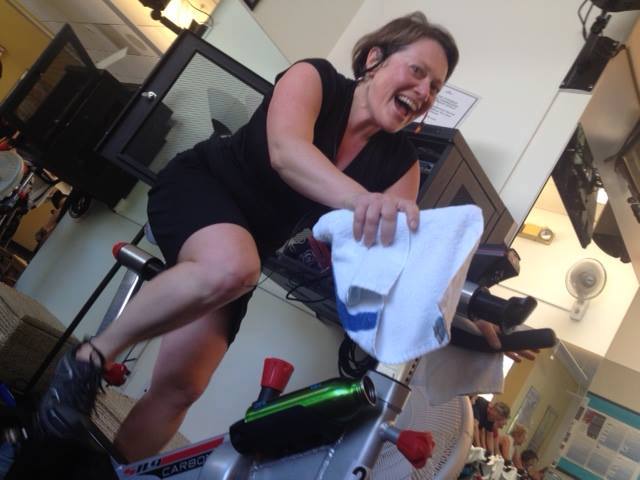 I had just finished teaching an 8 a.m. spin class at the Club at the Claremont in Oakland, Calif. I had showered and changed into a black, sporty dress, on my way out to a bar mitzvah. I was almost out the door when the club manager told me that the 9 a.m. teacher was a no show. I popped my head in. About 25 club members were already on their bikes, waiting for class to begin and the teacher was not answering her phone. I sprung into action. (There's nothing worse than not having your teacher not show up for class.) I strapped on my cycling shoes and taught the entire class in my dress. The class was super happy and grateful. One even took pictures. I had a blast – the dress was actually quite comfortable, minus the skirt part getting caught on the seat once or twice! I raced home, (didn't shower) and threw on a purple version of the same dress. Made it to the bar mitzvah a bit late, but not so bad. I still heard the important part of the service."
Is there anything that can't be done in a dress? We don't think so.
Want to share your own "Do It In a Dress" tale? Send us a Facebook message, tag us using #myT9 and #doitinadress, or send an email to socialmedia@titlenine.com with "Do It In a Dress" in the subject line.
More