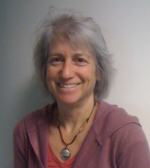 Roberta knows how to bounce back. A decade after thyroid disease left her with a "grocery list" of health problems and an out-of-whack metabolism, she made a New Year's resolution to turn things around.
We all know the poor success rate of such resolutions, but Roberta was determined. She started with a "healthy workplace" plan at her job. "I decided I was going to do it no matter what," she says. "It helped that there were about 20 of us doing some sort of program." She wanted to take things further, but how does a 44-year-old mom with a demanding career as a network engineer squeeze an exercise regime into her busy life?
As Roberta puts it, "I can be a little obsessive about things… I like to troubleshoot and problem solve." Evenings were family time. Lunch breaks weren't dependable. That left early mornings…VERY early mornings. She started rising at 3:00am, six days a week, and hitting her rowing machine for two hours. She does 100,000 meters weekly, with at least one row being the equivalent of a half marathon. Once a season, she rows a full marathon.
It's taken a bit of sacrifice. She's given up long morning baths and watching TV at night (but records her favorite shows to watch while rowing). Sleeping in your workout clothes seems to help. And using two alarm clocks. "I keep telling myself that it's not a destination, but a journey."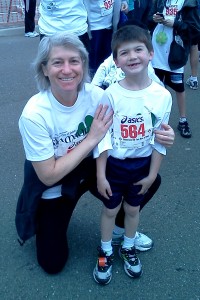 And it's worth the trip. "I have more energy to interact with my children," she says. "If I am feeling stressed or upset with other aspects of my life, exercise helps bring me back in focus." And the physical changes are pretty cool too: "I love how it is re-shaping my body with some incredible muscles in my arms, quads, back, shoulders. Now, I love showing off those new muscles."
She also loves sharing the love. "I have convinced 2 co-workers to get a rowing machine and have given training tips to about 5 other co-workers. I get a natural high from being an inspiration to others and sharing my story. I never thought I could be come a role-model for other people."
Home: Dublin, CA
Occupation: Network engineer (former scientist)
Education: BS Cum Laude Biology Tulane University & University of Bristol, England
Partner: Glenn
Children: Henry 7 and Etta 4
Age: 44
Height: 5'2"
Weight: 128 (approx. 16% body fat). I have lost about 65 lbs since I started keeping track.
Sports, past and present: Swimming, running, Shotokan Karate, American kickboxing, Muy Thai kickboxing, Concept2 rowing, aerobics, weight training, bike riding, hiking, sailing
Athletic accomplishments: My first 10 K race in college. Completing my first marathon on the rowing machine, completing 5MM lifetime on the rower. And being in the top 100 people (in terms of meters rowed for people who log them) this season on the Concept2 online Logbook. Last I checked, I was #59.
Little known fact about you: Once, when I was hosting a party, a professional photographer saw my photographs hanging in my house and complimented me. He wanted me to enter some of them in the photography show he was hosting.
Environmentally incorrect preference: Pre-packaged treats that are in the correct or small or single serving size so I am not tempted to eat more. And, I admit I like some frozen pre-packaged meals.
Guilty pleasure: Eating free cookie and cake samples at the local bakery café while I wait to order my healthy lunch/breakfast (fully leaded, if you know what I mean). I love Skinny Cow ice cream, but does that really count as a guilty pleasure?
Most embarrassing moment: Do I really have to share one?
Greatest triumph: Completing my first marathon on the rower. And going from a BMI of obese to athletic.
Favorite thing to do when not working or working out: Photography – taking pictures and editing them on Photoshop. And reading. And of course, spending time with my family.
Moment of Inspiration: I don't know if I have a moment of inspiration, other than what I have already said. I did have a moment of disgust with myself in December 2009, when I finally said, "Enough!"
Favorite Quote: "Just do it!"


6 days a week, shooting for 13,000-15,000 meters/day on weekdays (3:30 am) and 21,000M on weekends (starting 5 am). Trying for a total of 100,000 M/week and 5Million Meters this season which ends April, 30 2011.
More