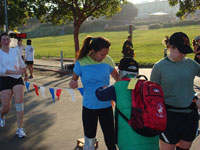 Now, let me clarify something: Yes, in junior high that one time I ran the Turkey Trot in my PE shoes. When I came out to the car with the frozen turkey I'd won, the first thing I saw was my mother pantomiming "Where is your saxophone?" not "Why are you carrying a frozen 12lb turkey?"
Yes, I did run track. But this was a real non-scholastic race – I'm talking about my first real race where it was me versus Little Father Time (oh do excuse my Thomas Hardy reference – but papa would be proud!) and not an awkward, gangly junior high/early high school me with bushy hair, bad skin and braces against girls who would beat me on sprints by full seconds. My events were the 100, 440 relay, 880 relay, and for a brief and fanciful time after much provocation from the coach, 440 hurdles.) In the end I suppose I was quick, but I wasn't necessarily fast, depending on where you base your comparisons. I was a soccer player, a mid-fielder, conditioned to endure 90 plus minutes of sprinting, quick bursts, ball handling and sheer power behind shots (not that I took any, always the assist-er, never the assist-ee;) I was no runner.
Then the company challenge rolled around. The 2009 challenge culminates in a half-Ironman triathalon in September 2009. For whatever reason, my mind was made up; this was the year. I decided to do it.
Then I remembered I'm not a cyclist or much of a swimmer (unless you give me a wetsuit, board and some fins, I'm golden then!) Also?
Okay, I admit it. Over a decade of playing soccer and no, I'm not a runner.
Really, I'm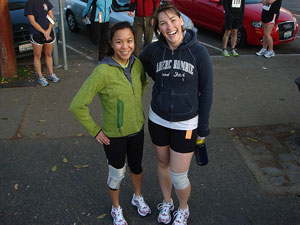 not ashamed; they're just truly two very different things. Being the good little monkey I am, I tried to educate myself some via Runner's World (and not just because we've worked with them, thanks, I knew they were reputable prior to my employment.) Over pronation, under pronation, what the nation, I had no idea. After reading up some and consulting vendor catalogs, I prodealt some shoes for myself. Quickly I realized that utilizing my discount was not the fastest way to get shoes, so I stopped by my local Fleet Feet. The gal that helped me knew me to a T; lucky for me, she was a soccer player herself and understood that my concept of running shoe =cleats. I had no idea what good running shoes should feel like! I expected them to be hard, to feel the ground and anything near my foot, form fitted, tight, all the way to my toes. After comparison testing, I chose a cushiony pair of Sauconys. Little did I know my race partner Jenni would buy the same pair – having never seen mine – a few days later! (We've dubbed ourselves Team Bad-Ass Shoes. Well, "Shoes" is optional.)
Running with a buddy helped me loads! Sadly I lost a furry, feline little brother the day before the race. Thirteen years is pretty old for a one-kidney'd cat, but it still hurt and I felt almost like maybe I wouldn't make it. However, I had paid for the race, talked about it, Houdini was busy chasing endless lizards in kitty heaven and my partner and I had committed to crossing that line just to cross it. The down-and-back course was great for morale; every time I heard a small cheer go up, I knew that it was my co-workers passing more co-workers, and while we were all racing the clock truly we were running as a team.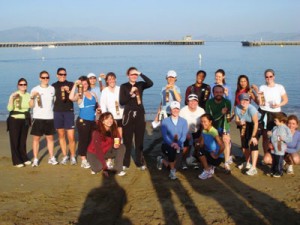 At any rate, my first 5K is done and I can already say I think I am hooked! The race times cannot be posted fast enough (I was too busy "finishing strong," hearing my boss yelling encouragement, to see my time,) and I am already looking to the next one.
[EDIT: Race times have been posted – 30:44 for a 5K they said was too long by almost 100 yards. Not too shabby!…but I can beat that. Till next time!]
More