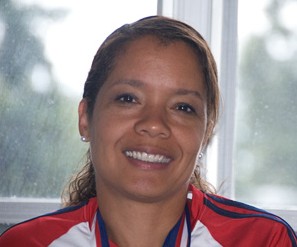 "Lose your head and gain control of your senses."  That's one thing that six years of competitive dragon boating has taught Michelle Rudd.  Another is "When the water gets rough, don't pull your paddle out of the water.  Paddle through it."
These lessons began innocently enough.  After a great, women-only weekend of kayaking in 2003, Michelle wanted to find a way to stay on the water.  So, she joined a dragon boat team.  By 2007, she was paddling with the Masters Women's Crew of Team USA in Sydney Australia…and is currently training to do the same in Prague this year.
Mastering a new sport isn't easy.  In Michelle's case, she had to work it into the busy life of a land use lawyer in Portland Oregon's largest law firm: office work, meetings, court appearances, the works.  She's also a member of the Portland Planning Commission–working to make a "great city even greater for all segments of the community."  Still, she pulls off 75-minute workouts on 6 mornings per week, and 3 evenings of paddling practice.  It's not easy, but "it's become such a habit that I just do it."  Her sense of responsibility can't hurt either: "knowing your teammates are counting on you and that races are won based on the commitment made well before the actual race."
Or maybe it's just the fact that she's a "hopeless (hopeful?) optimist who, regardless of what the 'facts' suggest never quite buys the idea that something may be impossible."
At first, the pay-off was the adrenaline rush at the starting line, the thrill of the race. These days, she says, "I love the sense of calm at the start line, knowing we were born to do this and if anyone beats us, it won't be because we gave it away.  I feel more me in the boat than anywhere.  There's a sense of power and purpose that's amazing."
Amazing indeed!
Home: Portland, Oregon
Occupation: Attorney
Education: J.D., Masters in City and Regional Planning, BS Civil Engineering
Partner: Kevin
Children: Kassia and Cameron
Age/Height/Weight: Only my coach and captains know for sure.
Sports, past and present: Dragon boating, bicycling
Athletic accomplishments: Paddled on Masters Women's Crew of Team USA in Sydney Australia in 2007 and will do so again in Prague in 2009
Little known fact about you: When I was nine I wanted to be a police officer. I think I've always liked rules.
Environmentally incorrect preference: Trash cans
Guilty pleasure: Frozen yogurt
Most embarrassing moment: My first OC1 time trial was really long because I took the scenic route.  Trying to steer AND paddle hard is a challenge.
Favorite thing to do when not working or working out: Playing board games, watching old movies.
Any funny moments to share? I'm not sure it's funny, but one of the fun things about international racing is the trading of jerseys that tends to happen at some point.  When my regular team, Wasabi, was paddling in Penang last year, someone started trading shirts with a Malaysian team.  It became a flurry of Wasabi green swapping for Malaysian orange shirts with huge grins all around.  As long as you bring a spare to race in, it's a great tradition.
Moment of Inspiration: One of the great things about paddling is that there are so many moments of inspiration.  So much of what we learn in the boat is transferable to life outside the boat.  For example, keep the paddle in the water when things get rough.  The boat's more stable if you're paddling.  You can't control the outcome, only the process. Trust the process.  And that voice in your head is yours.  You decide if it's positive or negative.
Favorite Quote: "There are no excuses only priorities."

• Monday through Saturday I do 75 minutes of cardio and weights in the mornings.
• Monday and Wednesday I'm at dragon boat practice for an hour and a half, and paddling a six-person outrigger canoe for an additional hour and a half.
• Saturday is a light paddling day of only an hour.
• Sunday is yoga.
More