The Iditarod is a thousand mile dog sledding race in which human and animal athletes team together to survive more than 10 days through Alaska's cold AF tundra, a desolate wilderness of leading, risking, and owning every turn. It's one of the few races where women and men compete alongside each other for the exact same distance, at the exact same time, with… you guessed it… the exact same rules.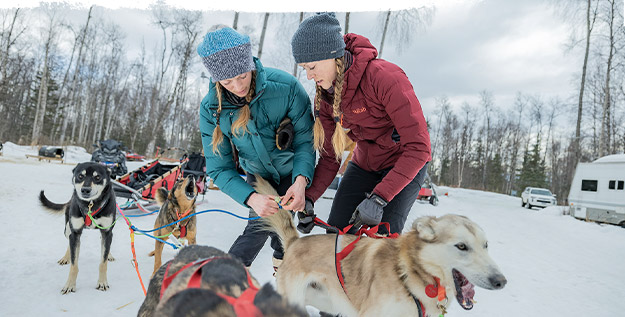 So, who are the badass women who step up to the sled every year to run a team of dogs across 1,000 miles of wild isolation alongside – and often in front of – the guys? Well, this winter we got to know a couple of them…
Kristy and Anna Berington
AKA: The Big Dogs
Kristy and Anna Berington are twins, professional dog mushers, and some of the toughest women we've ever seen in action. Together they train at their very own facility, Seeing Double Dog Sled Racing in Knik, Alaska, two in the great sisterhood of Iditarod mushers.
We caught up with them for a T9 photoshoot recently, and got to know what inspired their start in mushing, what sort of Type B training is involved in their dogged pursuit of the finish line, and how they care for forty — yes 4-0 — sled dogs, day in and day out.
T9: We're curious about the beginning of your relationship with sled dog racing. Have you always had dogs?
Anna: We grew up on a small farm, and we had a border collie and a Great Pyrenees, and they thought that they were doing their jobs. When we asked them to play games with us and pretend that we were mushing across the wilderness of Alaska, and those were our lead dogs.
Kristy: And then our neighbor had two (pet) Siberian Huskies. So eventually we went over there and asked if we could walk them. So we'd take these two Siberian Huskies for a walk and that upped the game, you know. Here we had two real 'sled' dogs.
T9: Any chance your love of mushing was inspired by the movie Iron Will?
Anna: Well, that was our favorite movie! We got to go see it as a late birthday present growing up. The movie theater was like 60 or 65 miles away, we got there kind of late, and got to the theater when it was all dark, and the movie was already going. Right away, we were hooked. And then everything from there just kind of trailed from that, I guess.
I think we might have been on that path toward mushing, regardless. But, as a kid, seeing Iron Will was awesome.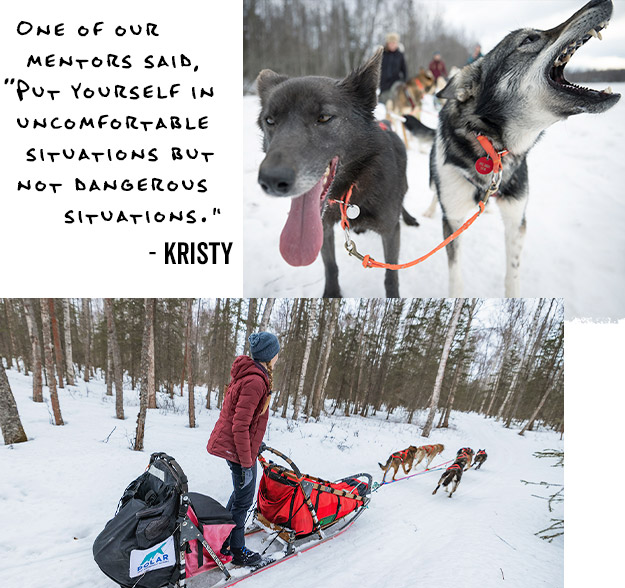 T9: So you've been mushing since you were 9 or 10 years old. When did you decide to pursue competitive long-distance dog sledding?
Anna: We were first in the National Guard. Then we did a few semesters of university work, but we kept feeling that calling to be out in the wilderness with the dogs. So our first gig was leading tourist rides at Palisades Tahoe and Sugar Bowl ski resorts.
Leading tourist sled rides at the resorts was fun, and it was a great way to share the sport with people, but it wasn't fulfilling enough for people as adventurous as us.
Kristy: Ultimately, Alaska is the best environment to be if you want to pursue a competitive racing lifestyle with dogs.
T9: Iditarod racing looks absolutely treacherous. You're competing at the pinnacle of the sport! Is it dangerous?
Kristy: One of our mentors said, "Put yourself in uncomfortable situations but not dangerous situations."
So if the wind is howling and there's a storm, we don't sit inside next to the fire and remark how it sucks outside. We go outside, test our gear, test our dogs, and see what we need to improve.
T9: It's hard to fathom just how vast the landscape is in Alaska until you've experienced it in person. How does the Iditarod compare?
Kristy: With the Iditarod, you can't get to the race roads in the summertime without an airplane. So we have to wait until all the rivers and the lakes freeze so you can drive your dog team there so you can mush a dog team there.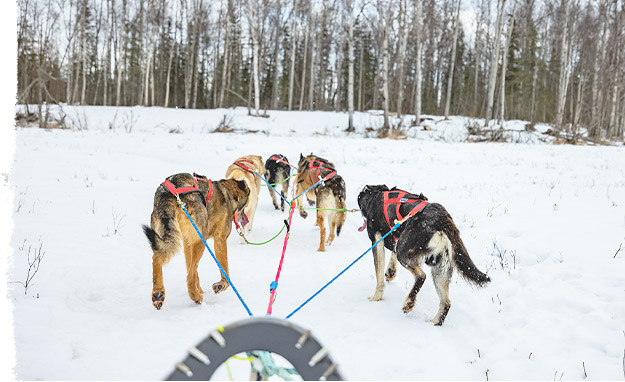 T9: So tell us about your sled dogs. What sort of relationship do you have with a collective team of forty working dogs?
Anna: As a musher, you kind of absorb all different kinds of roles as far as what you are to them. They're our best friends, but we're also their coach, their teacher, their nutritionist, their first source of veterinary care before you go to the doctor.
T9: Is there a pack mentality?
Anna: I guess we're pack leaders. Because we have to make the decisions — when they eat, what they eat, who gets to breed, who doesn't get to breed, who runs, and in what position.
But I don't like to say that we're like the alpha dogs or anything like that. Because we're a team.
T9: Do you each have your own dogs?
Kristy: There are a few core dogs that are Anna's leaders, and a few that are my leaders. But for the most part, we both train everyone and we roshambo the whole group of dogs.
T9: How and what do you feed that many dogs?
Anna: They eat a lot of raw meat. We get a lot of salmon, because it's a natural resource up here. We also process a lot of livestock for them. And we feed them a high quality commercial kibble.
In the summertime (off-season), the dogs only eat twice a day. When they're starting to train, their calorie intake goes way up, so they'll eat every two to six hours.
Kristy: When we're doing chores here at home, feeding is really easy, because we have running water and that kind of thing. But when we're out on the trail cooking for them, it's a huge effort. We're stopping to melt snow, to get the cooker started, and to get a hot meal and liquid into them.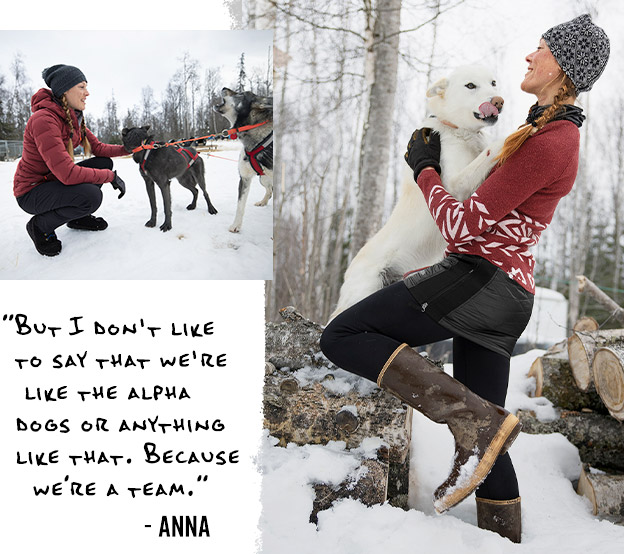 T9: When does your 'season' begin?
Anna: We usually aren't able to get on a sled till November.
Kristy: But then we ride that sled until we're on dirt."
Stacking up with stats
While women make up only a third of the mushers on the starting line every March, the top ten finishers are usually split evenly between men and women.

started at Iditarod starting line in 2020