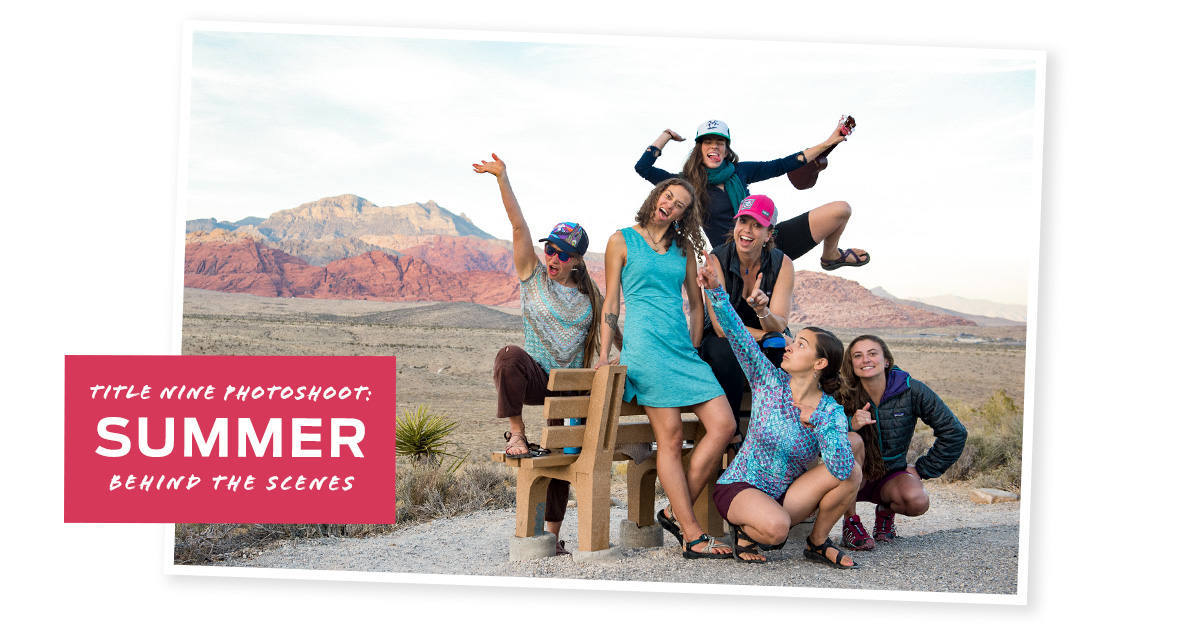 Neither desert winds, nor tropical rainstorms, nor mudslides could stop us from getting that perfect shot on our summer photoshoots. Mother Nature's got nothin' on Title Nine "models" and photographers.
It seems every time we head to Hawaii we head right into a monsoon, but when the sun does break through, it's magic. The newest bit of magic we discovered on Oahu? SUPzilla! Four "models" on one giant paddleboard. Throw in some yoga moves and gymnastics and you've got photo gold.
Not so magic: heading to our house on the Big Island after a long day of shooting – frozen pizzas in hand – only to discover that the house doesn't have an oven. What?! But we couldn't be mad in Hawaii for long, not when we got to swim with sea turtles and make friends with monk seals.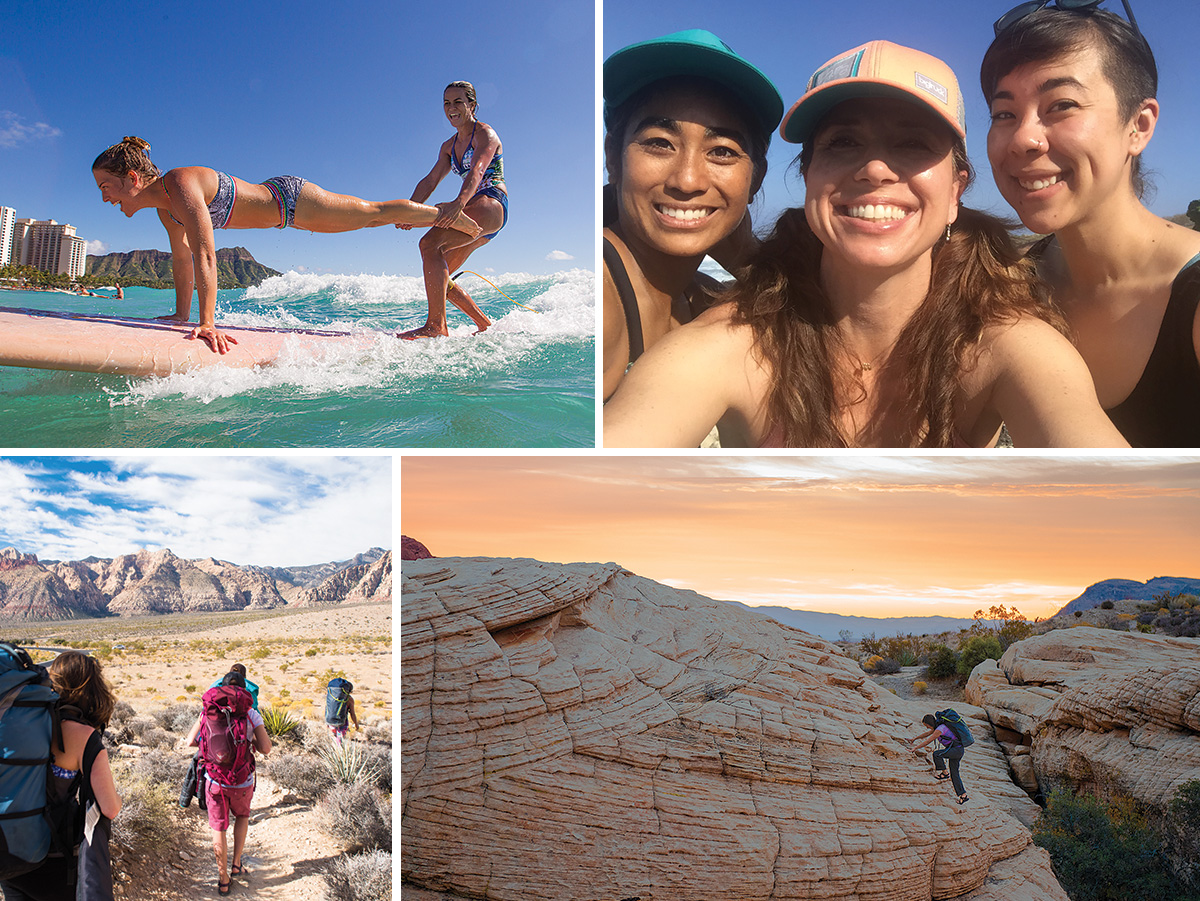 Catching those sunrise shots in Nevada's Valley of Fire meant rising before dawn, driving through the Nevada desert, singing along loudly to the radio (yep, there's a reason we call our "model" Lizzy "The Voice"). Then it was off to the spectacular Red Rocks Canyon, where the 40 mph winds had us thanking our lucky stars that we have "models" and photographers who are expert rock climbers and certified daredevils!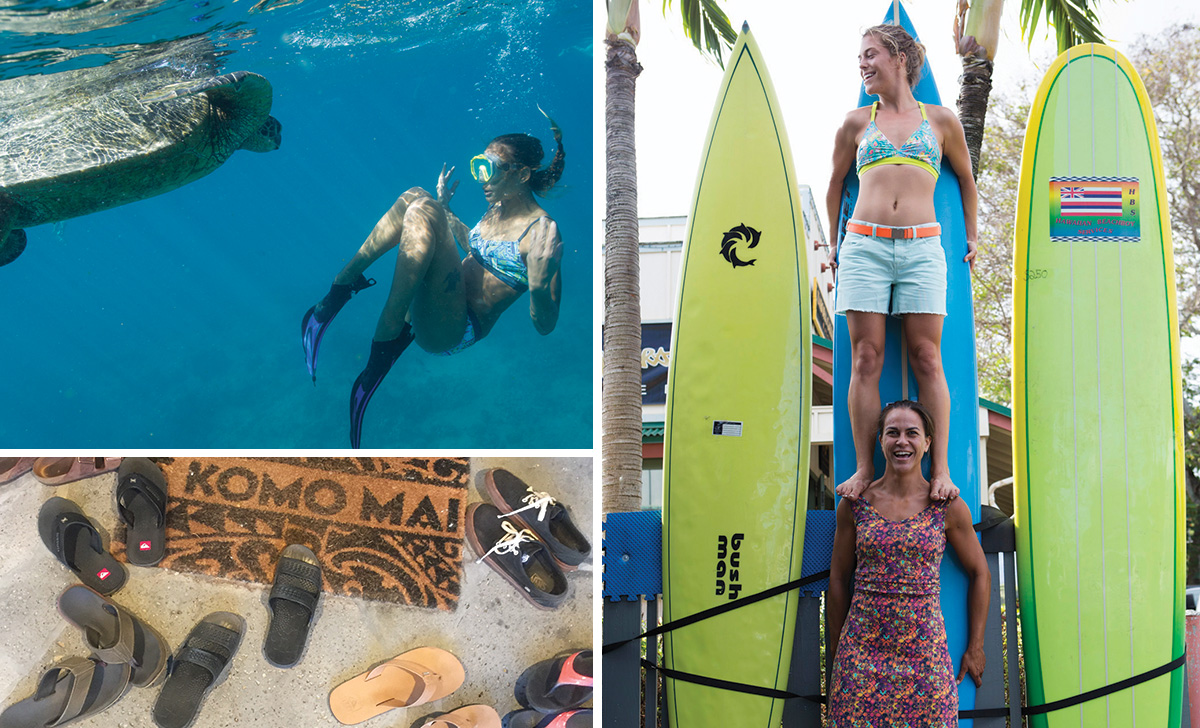 And yes, you guessed it, we happened to be in Santa Barbara during the mudslides that destroyed much of Montecito, CA (including our rental home). It was quite serious detour from our plans, but we were honored to witness the strength and resilience of this small community.
After the rains let up, we got back to work supporting one of our favorite places while shooting some of our favorite locals. Santa Barbara "model" Natalie fit us in from 6:00 a.m. to 7:15 a.m., between surfing and heading off to her research job. Shooting real-women, with their own careers and athletic passions, means you make it work!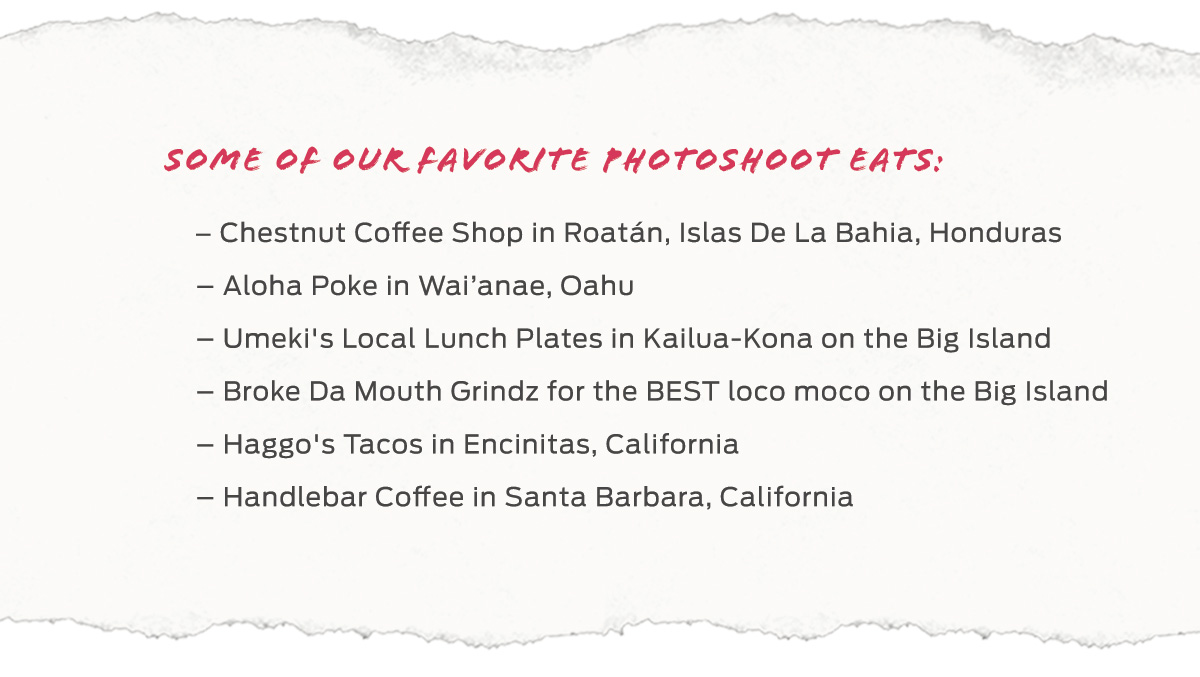 Though we don't usually travel so far afield, we even got to shoot in Roatan, Honduras this season. Or, at least our clothes did. When one of your photographers and one of your "models" are BFFs who vacation together, why not send sent some Title Nine clothes to tag along on the adventure? Now our Photo Art Director just needs to find a way to get invited herself next time…
Big Thanks to our Scrappy Crew!
Red Rocks and Valley of Fire: Freya Fennwood (special thanks to assistant Anne Coneway)
Oahu: JOSS (special thanks to "model" and assistant Tyneski Quintel)
Big Island: Caydie McCumber and Joss (special thanks to assistant and "mayor" of the Big Island, Shawn Pila)
Santa Barbara: Martin Sundberg (special thanks to assistant Brett Bollier)
San Diego: Trevor Clark (special thanks to right-hand Laurel Winterborne)
Roatan, Honduras: Sarah Renee Photography
A huge shout out to our incredible "models": Alex, Rachel, Lizzy, Tyneski, Maggie, Tina, Estelle, Greta, Caitlin, Natalie, Kristine, Kelly, Cindy, Chris, Allie, Dana, Byanna, Chelsea, Val, Casey, Jamie and Makenna (and that's only a few!).