There's another skate revolution brewing. And this time the ladies are in charge.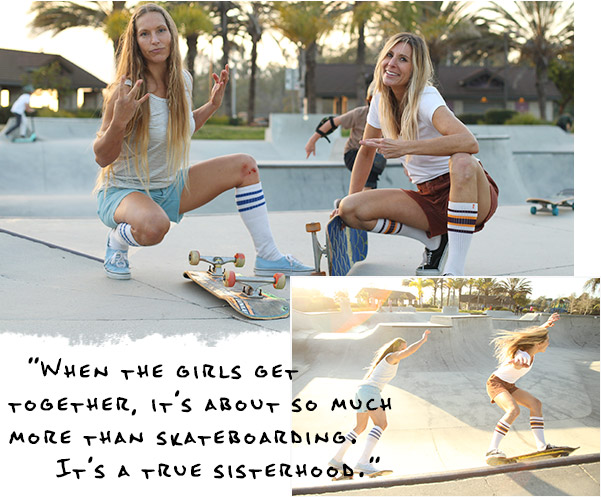 You know the story: it was 1975 and Southern California skate culture was about to get turned upside down. The Zephyr Team (known as the Z-Boys, even though Peggy Oki, the team's only girl skater, was the one all of us T9ers worshiped) showed up at the Del Mar Nationals and blew everyone's minds with a never-before-seen low, aggressive skate style…40-something years later, a new revolution is brewing in the SoCal streets and skate parks; more women than ever are grabbing a board and dropping in, bringing a whole new vibe to a historically guys' sport.
A New Breed of Z Girls
These girls and their crews are hitting the pavement to challenge each other—and themselves. We sat down with two of our favorite Z Girls (and T9 models) to get the DL on the new SoCal skate scene.
Kaelie, 36
Oceanside, CA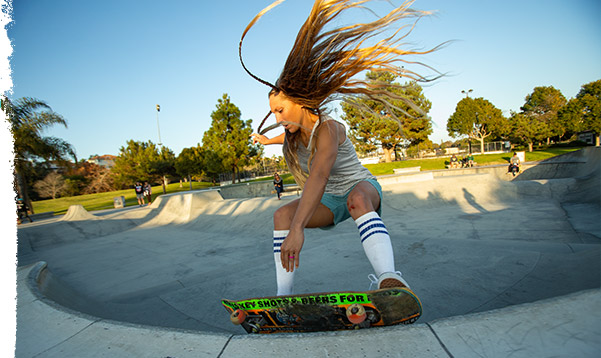 Kaelie learned to skate in the pools of foreclosed homes in Fresno with an all-guy crew, where the name of the game was to go hard, all day, every day. With no choice but to keep up or go home, Kaelie learned how to skate super aggressively; most days she'd end up hobbling home with a busted knee or elbow.
She moved to Oceanside (just north of San Diego) a few years ago and was super intimidated by its skate mecca reputation. But the first time she grabbed her board and headed out to her neighborhood skate park, the only other girl there came straight up and introduced herself. Her new girl skate crew only grew from there—now she loves skating with girls, who've taught her that skating can be fun, not just a competition. The name of the game these days? Cruising, having a good time, and not taking life too seriously.

Stephanie, 43
Encinitas, CA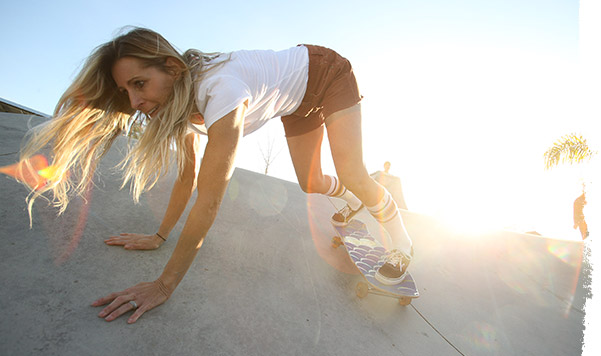 Lifelong surfer Stephanie didn't start seriously skating until she was 39, after a lupus diagnosis kept her out of the ocean. To say she was devastated was an understatement—surfing was her way to connect, meditate, and get into her flow state. For her, losing access to that wasn't really an option.
A few weeks into recovery after her initial diagnosis, Stephanie happened to catch an all-female skate contest in Encinitas. She watched 40-something skater Jean Rusen drop into a bowl and was blown away.
Right then and there, she decided she was going to enter next year's skate contest. She told her husband and he was totally psyched; they grabbed their boards, headed out to the neighborhood skate park, and started practicing. The next year, she was the oldest entrant in the skate contest—and got 17th out of 60 participants.

Was it scary learning to skate at 39? You bet. But for Stephanie, she'd already gone through hell and come out the other side. Her view? "These bodies are impermanent. Life is impermanent. Maybe I'll get hurt, but that's a chance I'm willing to take." (Spoiler alert, she did: a broken leg.)
Now she skates bowls and is venturing out into the streets—the organic, raw environment of old ditches and curbs give her new challenges to overcome.
Her husband is still skating, too. The two of them even have skate date nights: they spend the evening skating parking lots and curbs, then grab burritos and beers and snag a cliff-side spot for sunset over the beach.
She Skates Here
Both Stephanie and Kaelie skate as part of She Skates Here—an all-girl skate meetup based in SoCal. What started as a way to get the word out about where to find girl skaters is now a tight-knit community that meets up every other week to chat, vent, and celebrate life. (And do some seriously badass skating while they're at it.) You can follow along with their adventures on Instagram @sheskateshere.