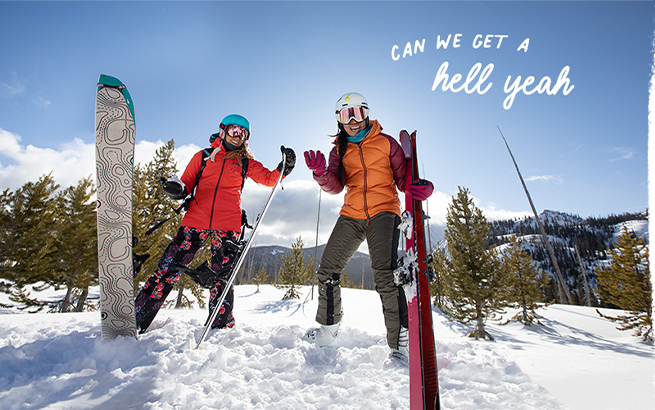 We admit it. Not every adventure that we go on is 100% authentic. Sometimes we gotta plant some seeds along the way.
Like, not every incredible ski run at sunrise happens organically. And sometimes the bigger picture of a hot springs shoot reveals the photographer's on someone else's shoulders. Sometimes the gear just doesn't fit…and sometimes the weather just doesn't cooperate. Often we've gotta switch gears, gotta improvise. But we've always done things a little differently on set, and that's where our authenticity lies: in our unrelenting drive to try to keep it real.
Luckily, we can always count on the women on our team — photographers, producers, and our "models": women with day jobs, and athletes who can switch sports as quickly as their outfits and still be at the top of their game. THEY are the reason why we continue to move forward instead of getting stuck, even when plagues shut down parties and holidays and borders.
OUR DESTINATION? BOISE. OUR HOST? KYLIE FLY.
YUP, that's the real name of this fast paced, rock-climbing, backcountry skiing, force-to-be-reckoned-with outdoor adventure photographer who does whatever it takes to get the shot. Yeah, we'd seen her killer photos of badass backcountry skiing all across Canada, Alaska and other parts of the US, but we hadn't actually met in person yet. Suddenly this stranger we knew only by phone wanted to take us way WAY off the grid — to a place she'd never shot before. "There's a hot spring!" we were told. "There's also no electricity, no heat, no kitchen, no beds, no bathrooms!" we don't remember hearing ahead of time.

But badass female photographer/adventurers don't grow on trees, and this one came with her own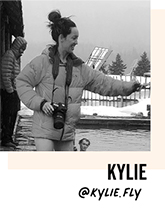 incredible crew. "I wanted to bring my closest friends," she knew without hesitation, "accomplished skiers and snowboarders who I knew could safely accomplish our mountain objectives and also have a good time when we weren't on the slopes."
And Kylie's crew for the trip checked all the boxes: closest friends, backcountry accomplished, AND champions of type II fun. Badassery amplified rapidly as the handpicked core crew assembled.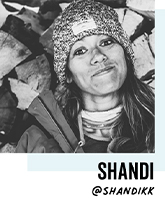 Top of the list was Shandi Kano, snowboarder by choice, runner by nature, extreme sports producer. "Shandi is my best friend," said Kylie. "Fiercely herself, you know you'll get the truth with Shan. She is incredibly self aware and has a good read on others' energy, quirks, and a keen eye on recognizing others' gifts and talents. She's there to lift you up and help you see your own greatness."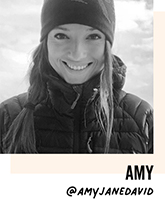 Next came Amy David, who was up front about being both a producer AND backpacking guide but who buried the pro-skier-and-snowmobiler lede. Kylie is spot on when she says that Amy is immediately and visibly someone who "could hold her own. She is dedicated to the mountains and pursues everything at full speed. While she can crush at anything she sets her mind and body to, she is also beautiful and feminine in a way that embraces who she is as a woman and not just an athlete." That definitely deserves a hell yeah.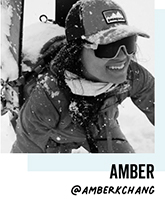 Last, but anything but least, Amber Chang, a backcountry diversity and education advocate and self-described "sucker for sufferfests." As Kylie put it: "Amber is calculated, smart, thoughtful and analytical. She's never without a plan and always with a backup plan (or two). You can call her at any time of the night…and she will always whip up an incredible meal when you tell her you're hungry."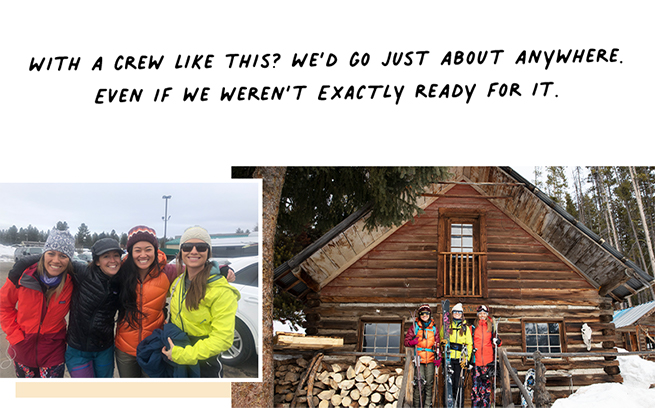 INITIATION INTO SNOW SISTERHOOD
"Snow is like another planet to me," laughed Ann, our photo director, when she reported in after the trip. Sure, she agrees that women's place is on the mountain…she just isn't sure that has to mean her, specifically. "Snow people are just so happy when they're in the snow," she continued, her voice fond but still a little baffled. "They'll be fully working, or fully driving a snowmobile — and they'll just stop to start planning a new route."
"I'll never forget the snowmobile ride into the hot springs," agreed Amy later. "Amber and I strapped our skis to the MoPros rack on my sled and rode together for twenty-plus miles. We stopped NUMEROUS times to drool over the pillowy ski lines and laugh at WHO KNOWS WHAT."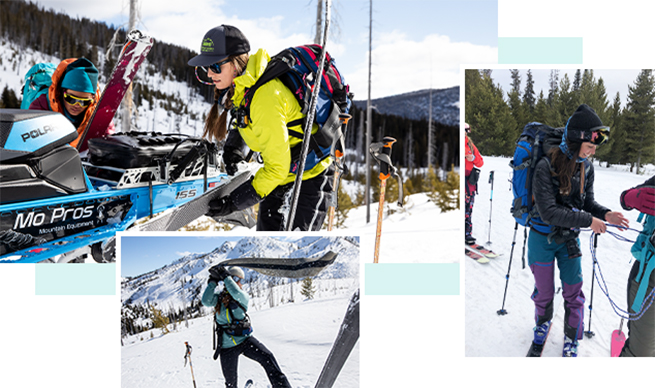 Ann, on the other hand, would mainly stop her snowmobile by accident. (You know how on a motorcycle you're supposed to counterbalance the driver by leaning the opposite way as your turn? Apparently this is NOT something you want to do on a snowmobile. Don't say we didn't warn you.)
But staying on the snowmobile was only the FIRST challenge. The cabin may or may not have electricity, heat, kitchen, or a bathroom? Try "definitely did not." In fact, everyone would be sleeping together in one room (on the floor) and tramping through the snow to an outhouse (even in the middle of the night). And did we mention getting up at 4 AM?
BUT WOMEN'S PLACE IS ON THE MOUNTAIN
But the truth is, we all loved every second of it. (Yes, even the cold*ss outhouse.) These incredible women cut fresh lines across the mountainside while Kylie shot them, capturing the joy of them doing what they love — and doing it on their own terms. They hooted and hollered as they whipped among the trees together, the snow deep and the sky blue, and very little has ever felt as real as these adventure seekers, heeding the too-strong call of the wild.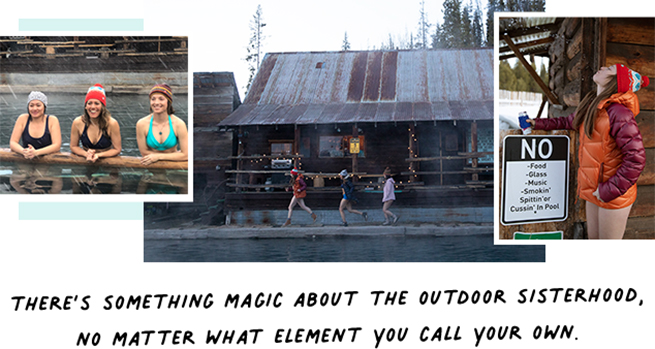 If you've been a part of one, you know: there's something magic about the outdoor sisterhood, no matter what element you call your own. It's a community where speaking up and speaking out are readily invited, where women can see and share the best parts of themselves with each other. Whether they're at-home in tundras or sea floors or crags, they ignore those that tell them they don't belong, and they continually challenge everyone to take it outside. They're the reason why, even in the face of significant adversity, social distancing, or stranger danger, we will never give it up.
So, when mom asks if we'd do it all again? You already know what we're going to say.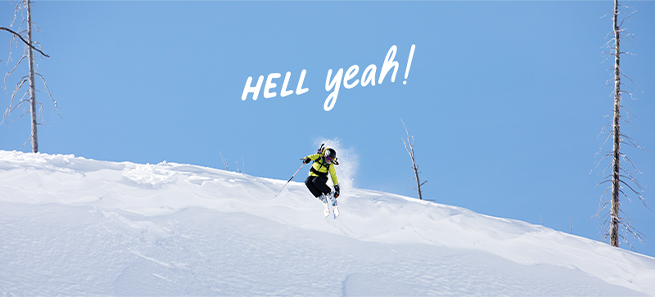 When we sit at the holiday table this year (or, quite possibly, on the "holiday sofa"), this trip — which introduced us to these inspiring women — is going to be one of the things we are most grateful for.
Now it's your turn. What women have inspired you lately? Share their stories with us in the comments!

DON'T TRY THIS AT HOME
We promised the gals we'd hit you with a little last disclaimer/inspiration, separate 'cuz it's just that important. To reach this location and to safely participate in our shoot, we needed highly knowledgeable, trained, big-mountain skiiers. Every woman pictured crushing powder (as well as the one taking the pics) is avalanche safety certified and trained in snow science. If you're interested in getting out into the backcountry (which we totally recommend) — make sure you "know before you go!" You can find more information and classes at The American Institute for Avalanche Research and Education.