Color the Water is changing the surf narrative in southern California — from the territorial and exclusive Blue Crush-esque scene to an inclusive community where people of color are stoked to paddle out, catch waves, and connect with their power in the ocean.
Lizelle Jackson is the force behind that change. A former collegiate athlete, it wasn't until her 20's that she dove into the sport. Often the sole Black woman surfer on the coast of southern California fighting for every wave, she faced head-on the lack of representation and safe space for people of color in the sport.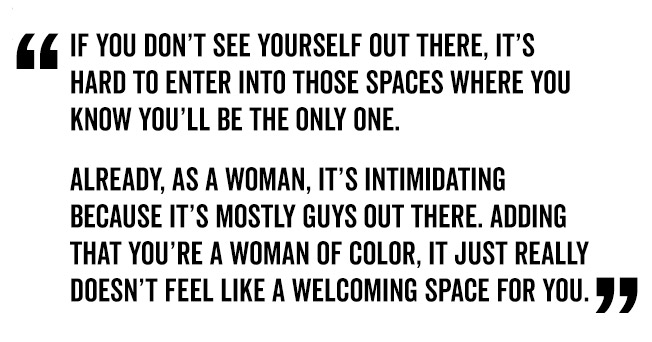 So she journeyed to Costa Rica where she amped up her wave-catching skills, surrounded — and welcomed by — a community of fellow Brown and Black surfers.
The problem? When she came back to the states, she found herself again as one of the only women in the water, and certainly the only woman of color out there.
Flash forward to 2020. Lizelle and her now nonprofit partner, David Malana, met at apaddle-out just after the murder of George Floyd. The goal of the surf session was to get more people of color in the water. "But when we showed up, we realized we were the only surfers of color in the water. And the women that went out there didn't have the skill to actually get out to the waves."
So they set out to change those numbers.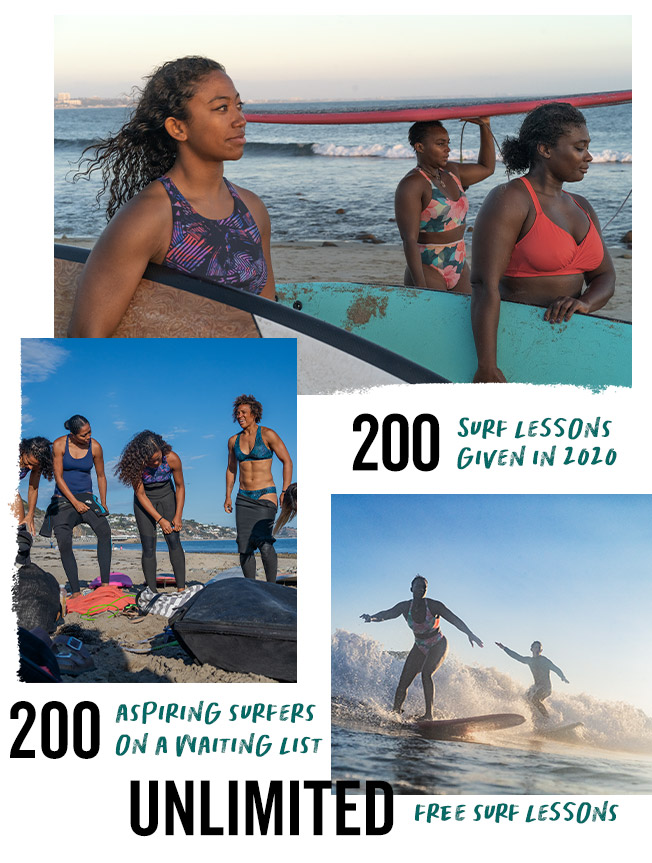 With skill comes confidence. Confidence to eventually venture out into more territorial breaks (popular beaches surfed by locals). And that's the whole idea. Autonomous surfers of color, out there catching waves — showing up for themselves and showing up so others can see themselves getting after it, set after set.
The ultimate goal: Autonomous surfers of color by the thousands, representing the sport at every coastline in the country.
One by one, Lizelle and David gave more than 200 individual lessons in just one summer. By the end of 2020, they had another 200 aspiring surfers of color on a waiting list. Free lessons are unlimited. Folks can get out there as often as they can. Boards and wetsuits are included, always.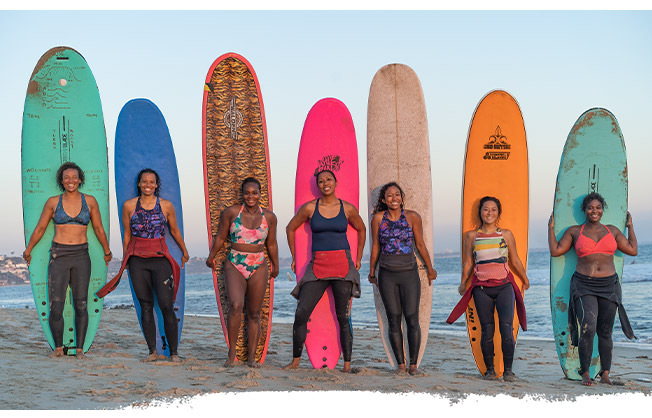 Lizelle is no stranger to being the only woman of color adventuring in the front and backcountry. Her mother was a full-blown outdoorswoman who'd take Lizelle cycling, hiking and camping. Those experiences stoked Lizelle's drive for learning, getting out there (way) beyond her comfort zone, and clearly, for changing narrative in sport and the outdoors.
"But my dad didn't know how to swim," Lizelle says. She goes deep on a personal level, real quick. "When I went to the beach as a kid, my dad told me not to go past the white wash because he wouldn't be able to come after me."
This is her story. It's a history she shares with generations in the BIPOC community who never had access or resources to get out there and learn. "There's this huge group of adults that were skipped over. Surfing is something they've wanted to try for years — for their whole life — and they've never had the opportunity. They don't know what gear they need. Just getting into a wetsuit that fits can be a barrier."
That's why free surf lessons are so important for what Color the Water is doing.
"It's huge. If we can eliminate those barriers — those risks and investments required to try something out of a person's comfort zone — we can get people in the door. Well, we can get them in the water."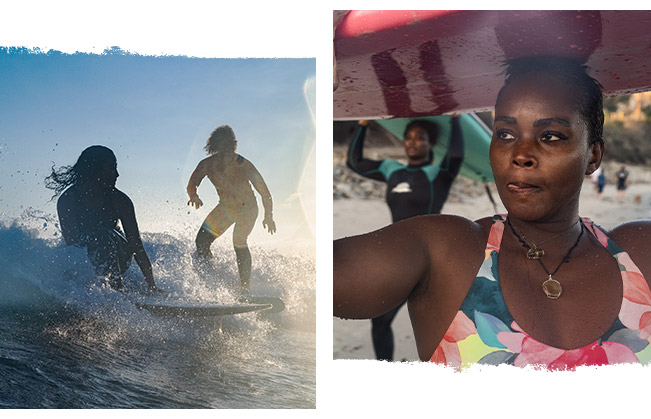 Lizelle and David approach lessons with balance. Understand the mechanics of how things work. Get comfortable in the waves. But it can't be all work.
"There has to be play. You want people to be able to stand up. To hook them. To get them to the point where they're experiencing joy."
By the way, it doesn't take a miracle to stand up when you've got Lizelle out there with you. "Most people are standing up on the second lesson," she grins.
Check out more on Color the Water right here, and keep an eye out for Lizelle in T9 photography everywhere.