It started as a dream, and today it's a force that is impacting the lives of girls and women every day. However, it took more than Hawaiian sunshine and saltwater to make Maui Surfer Girls (MSG) into a reality.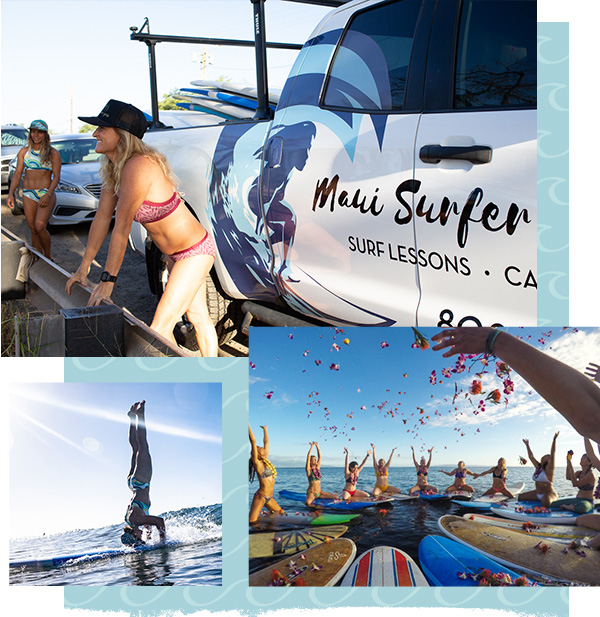 FROM TYKE TO TEACHER
A third-generation Mauian, founder Dustin Tester's reputation precedes her. A humble surfing pioneer, she was part of the first all-women tow-team to surf Peahi, a legendary Maui surf break better known worldwide as "Jaws." After being whipped into a 25 foot monster on her first wave, Dustin embraced what she calls "the Mount Everest of big wave surfing" and was forever changed. She credits that all-women team for amplifying the confidence already instilled in her. Eye-opening and scary, riding Jaws reaffirmed for her the transformative power of surfing and of the undeniable power of women raising one another up.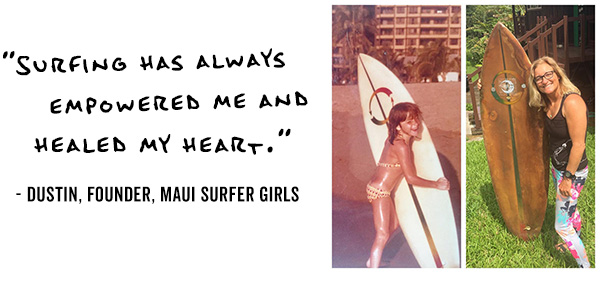 At age nine, two years into her surf obsession, Dustin was uprooted and moved to California with her mother. She lost not only the life she knew but the sense of identity she had. Her return to Maui in high school was a testament to the hardwired truth that she was an athlete, an ocean woman: a surfer. This affirmation stayed with her through college where her senior thesis, "creating a rite of passage for teen girls using a wilderness setting and storytelling to build self-esteem," laid the groundwork for the first Maui Surfer Girls summer camp in 2001. Dustin spent her life savings renting the same cabins she stayed in as a child—the cabins her grandfather helped build—and it was there that Maui Surfer Girls was born.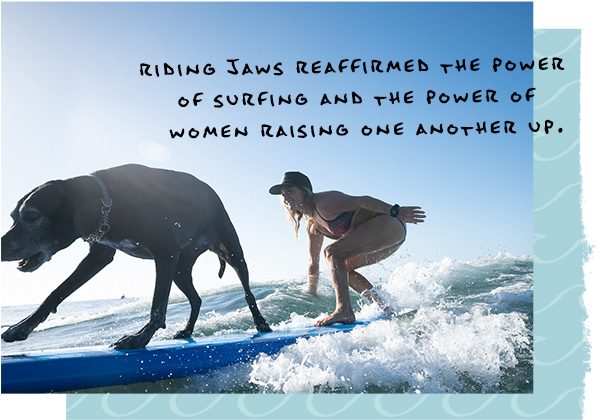 MEET THE TEAM
The MSG ohana (family) strives to not just be instructors but role models, ensuring every camper has a personalized experience that feeds and builds her person inside and out. It is these staff members bringing their own flair that truly sets them apart.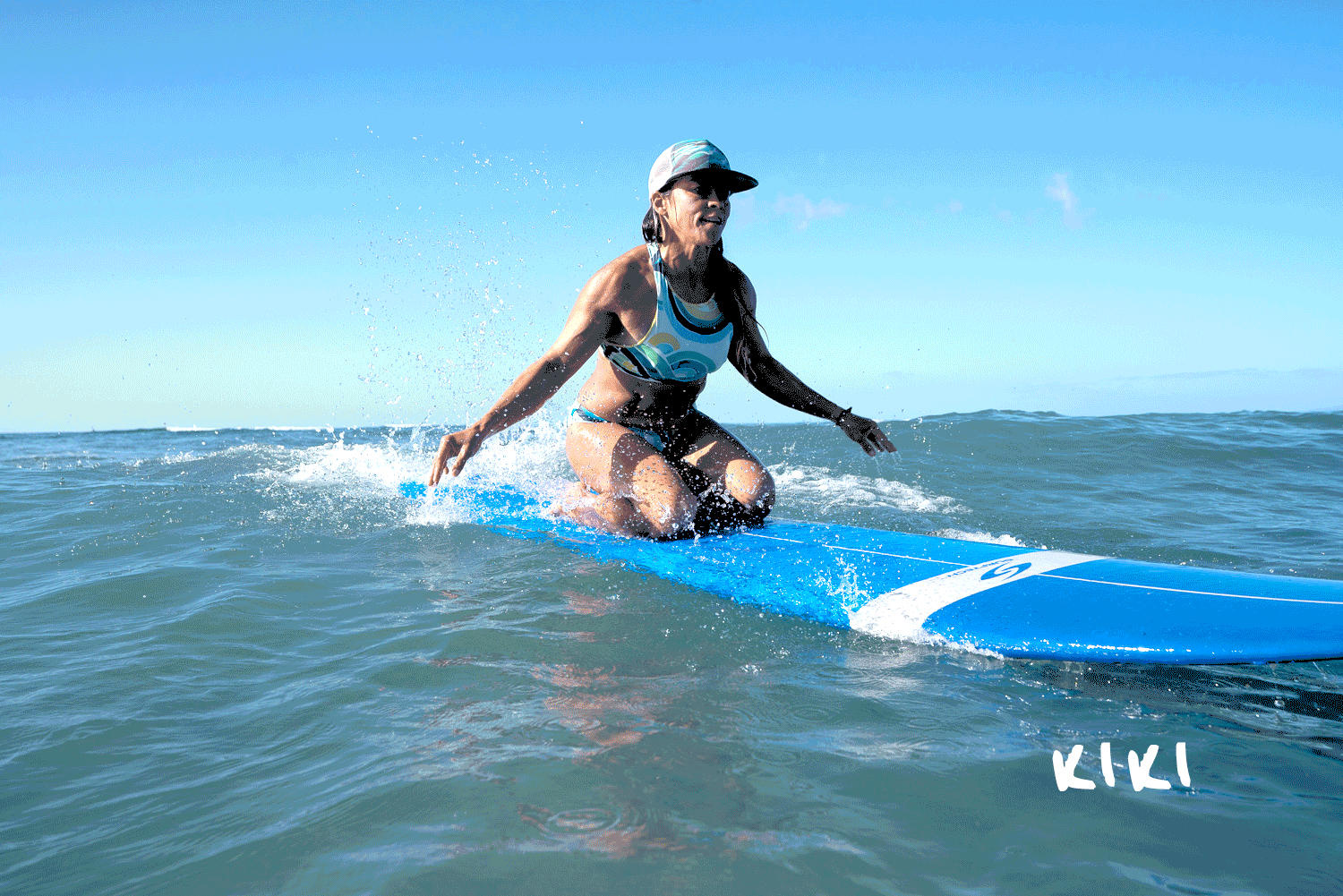 KIKI is often referred to as "the Brazilian dynamo," a powerhouse of a woman whose passion for and wisdom about life, longboarding, and nutrition are practically unparalleled. She lives the belief that there is no room for yesterday or tomorrow when you're present on the water.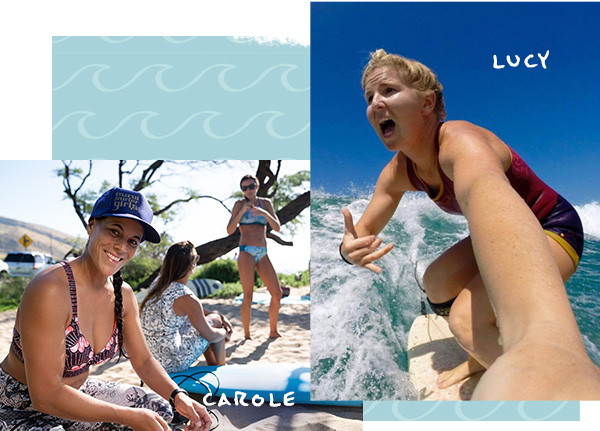 CAROLE, a marine biologist returned to Maui after running her own surf school in South Carolina, bringing with her 23 years of surf experience (including in competition.)
LUCY has been with MSG since the beginning, attending first as a camper at age 14, now serving as the logistics coordinator for all the camp programs.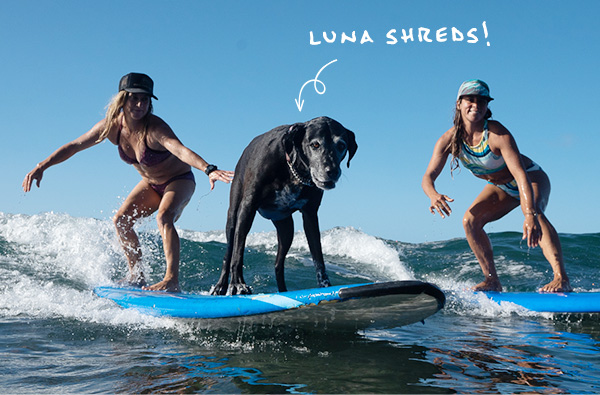 LUNA THE SURF DOG, who may list her status as officially "retired," still knows how to whine her way onto a board–and into a photo shoot.
Sure, Maui Surfer Girls is the only overnight surf school on the island. The woman-dominated staff are all CPR and first-aid certified. They're also one of too-few surf schools who is fully permitted, but that's not all that sets them apart. Female owned and operated with women as the majority of instructors, their main focus isn't on getting folks upright for the sake of a selfie. With smaller, personalized instruction sessions and an education emphasis on respecting and caring for the ocean and native land, surfing may be the basis but their programs but building up strong, confident women and girls is their goal and greatest reward–and that gets us stoked every time.