We believe in working hard and playing hard – perhaps even harder! Every year, a company challenge is issued. We've taken on century bike rides, triathlons, 24 hour running relays, obstacle races and more. Last year, we instead debuted the first ever T9 Challenge: an event for T9ers, by T9ers, where teams of (you guessed it!) even more T9ers would take one another on out on the course. The inaugural event was a great success, and this year's follow up was another banner affair.


QUICK T9 CHALLENGE STATS
Event Location: Lake Chabot
Start time: 9:07am
Elevation gain: 1,500 ft
Teams of 4: 8
Teams of 3: 1
Teams of 2: 8
Run-only teams of 2: 9
Teams from retail: 3
Teams from our distribution center: 7
Total volunteers: 60
Total challengers: 45 runners, 28 cyclists
Miles biked: 420mi
Miles run: 269.5mi
Waaaambulances called: 0

OTHER NOTABLES
Athletes who ran and rode: 12
Multi-team athletes: 1
Intrepid kayakers: 13
Algae rashes contracted: 0
Last-minute discipline changes: 1
First time ever endurance athletes: 15
Last minute dropouts: 1
Only team with full costumes: Walice & Gillies (at left, below)
Only team with matching shirts: Ladies, Man (at right, below)
Sparkle skirts on course: 1
NOTABLE MOMENTS AND T9ERS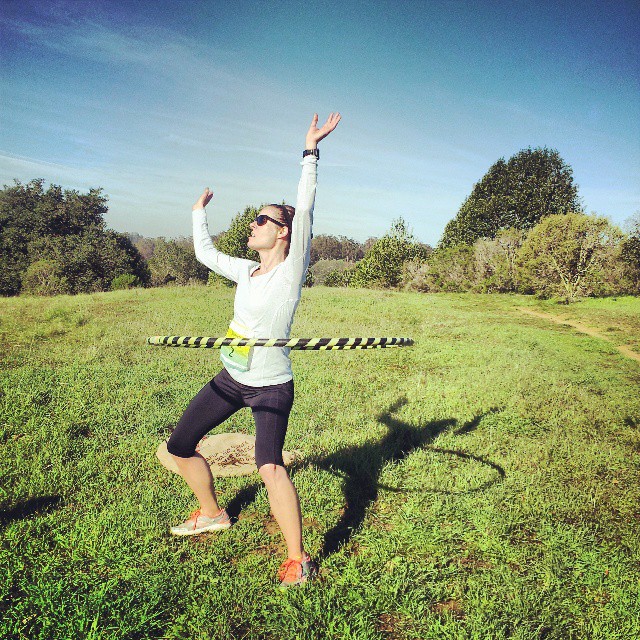 Every runner had to stop about 2 miles into their loop at the Feats of Strength station to earn a sticker (via planking, potato sack racing and a number of other 'feats,') that would allow them passage through the finish. Any team who finished without them was to be disqualified.
A few of our favorite tidbits straight from the mouths of the team who manned the Feats of Strength station:
"RENEE was the first one in. Duh.
People were surprisingly better at hula hooping than they claimed to be.
If you ever want to tick off people, make them wait for a runner who is a minute away from them to do a challenge together.
Holding plank pose is hard. Holding plank pose after running in 80 degree heat is harder.
JANIS is the only one who could spin a basketball on her finger."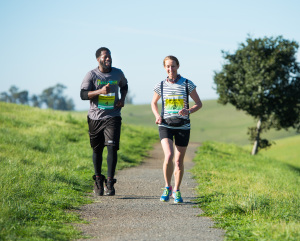 LINK went from zero to 11 miles – yes, hitting the run loop twice – after a pre-challenge neck injury kept her from training. She also ran her second loop with one shoe orthodic in and the other out, but we won't ask about that.
GREG not only found out the day of the challenge he was to be running, not riding, he completed the run in laceless basketball shoes (as shown at left.) He even sprinted in at the finish!
NICQUIE wasn't on one team, but two! She did a run leg for one team, then turned around and did a bike leg for another. Now that's a team player.
MARSHA (below) may have been the last person to finish the course, but not without having a bit of adventure. A 10 minute wrong-direction start put her off the radar of the bike sag team, who had begun to shut down aid stations till they received word that she was still out on the course! Happily, she rode into the finish accompanied by said sag bike team to much fanfare (and some set-aside Chipotle.)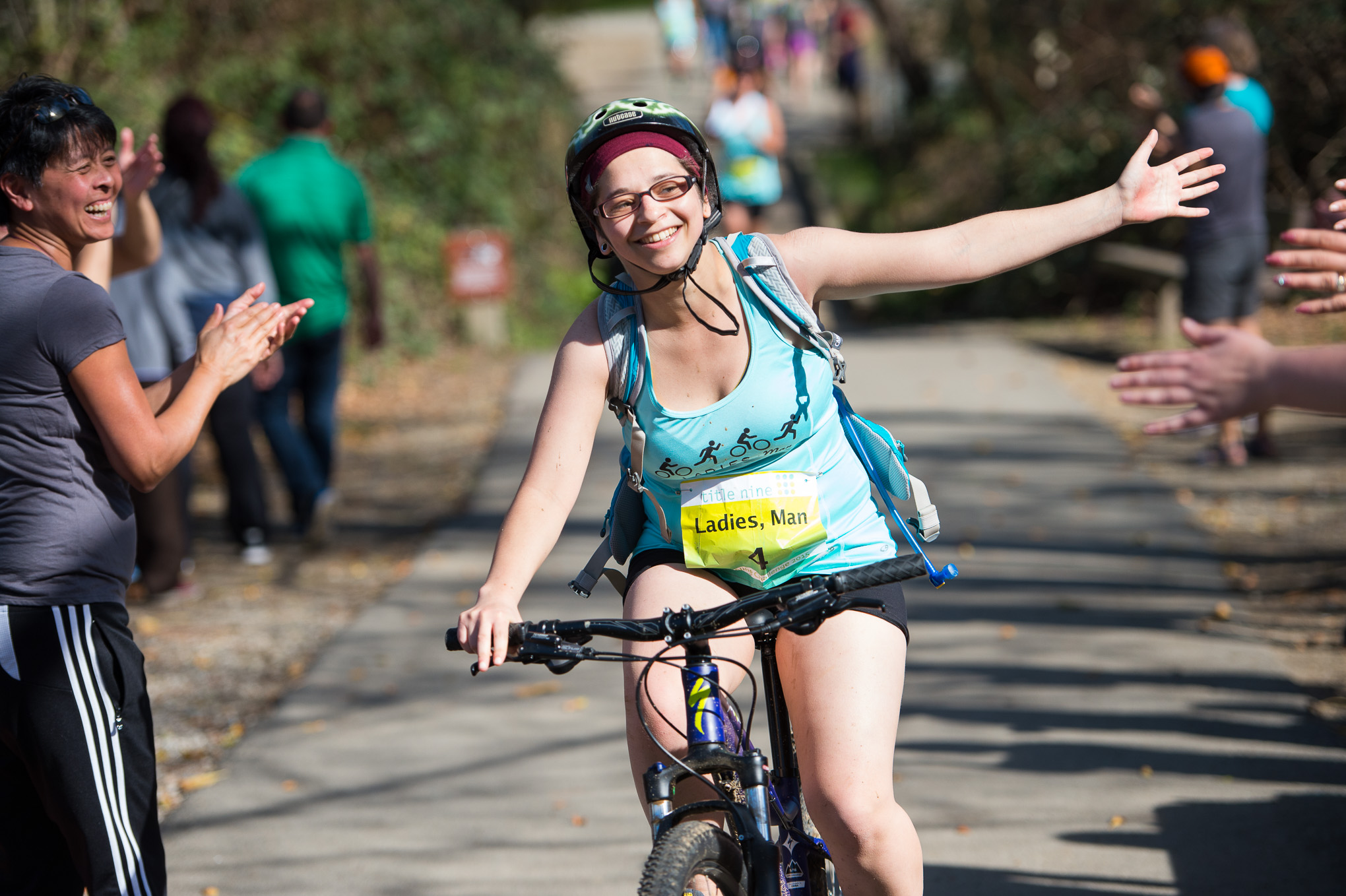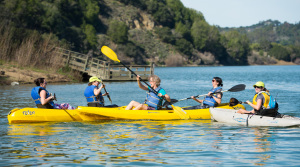 Volunteer EVIE (far right) wasn't fazed at all by the algae bloom and led just under a dozen T9ers around the lake during the optional kayak event.
To finish notables on a very happy and healthy note, the number of runners could technically be bumped to 47 from 45, all puns intended. We won't name names, but there were not one, but two secretly pregnant runners to hit the challenge course, who happen to also be due a week apart. She who was at 12 weeks pregnant at challenge time finished in 1:35, with her 11 weeks counterpart finishing in 1:01. We're happy to report everyone is doing well!
MORE T9 CHALLENGE STATS
Fastest run loop: 0:46 by Renee (at left – hence, why she was the first one through Feats of Strength)
Fastest bike loop: 0:55 by Anthony (at right – he completed both loops for a combined 1:53)
Challengers by age group:
20-29: 13
30-39: 20
40-49: 21
50 and up: 10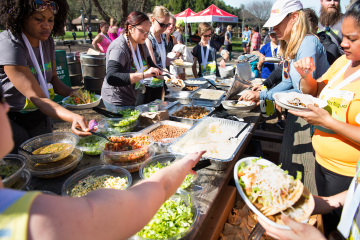 Chipotle eaten: $1830 worth
Injuries sustained: ZERO!
ALL of us here at Title Nine would like to thank:

Mike's Bikes in Berkeley for hosting pre-event training clinics.

Specialized Bikes for providing gear, and both for fittings and endless cheering day-of.
Coach Aaron Castillo, lovingly known as Coach Evil, of CFO Endurance for every preparatory track, trail and conditioning workout.
The park rangers of Lake Chabot and the folks of East Bay Parks and Rec (and the incredibly enthusiastic park goers who happily cheered us on and even joined in on bits of the fun.)
Our incredible volunteer cycling support and sag team –Jaclyn Applegate, Heather Pugh, Brian Poppelwell, Dana Martin, Lisa Young, and Tree – who did so much more than just ride with us.
Our volunteer run sag duo, Susie Cohen and Maryann Acterberg, for sweeping the trail and being ready to corral any stragglers.
Our favorite local event photographer Tom Campitelli, who not only has yet to bat a lash at our antics, trekked all over the course and then some to capture it all.
(Click to view our complete T9 Challenge photo gallery.)
And who could forget our T9 challenge leaders? Thank you to our ever-fearless race director Melanie, volunteer coordinators Michele and Lisa P., and event manager Carla.
WE COULDN'T HAVE DONE IT WITHOUT YOU!
Want to join in on some fun with the team here at Title Nine? Find us at one of our upcoming events!