It's no secret that here at Title Nine we believe in working hard and playing even harder. Every winter, the company challenge for the coming year is announced. We've tackled century rides, a Ragnar Relay, a Vineman Sprint Triathlon, and last year took on Tough Mudder.
This year, we decided it was time to do something different, really different: we built an event for T9ers, by T9ers, to take on teams of – you guessed it – more T9ers.
And thus, in September 2013, the first ever T9 Challenge was born.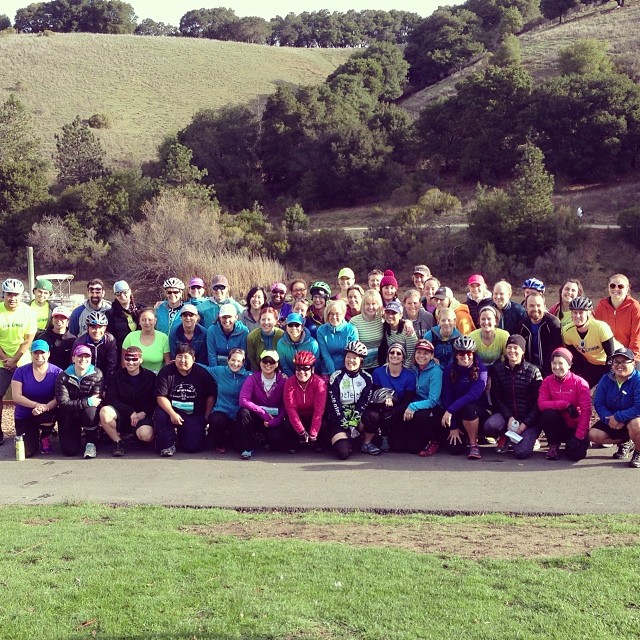 And now, as the dust settles, we can say that it was a great success!
QUICK T9 CHALLENGE STATS
Event Location: Lake Chabot
Start time: 9:07am
Elevation gain: 1,500 ft
Teams of 4: 9
Teams of 3: 1
Teams of 2: 7
Total challengers: 56
Total volunteers: 57
Miles biked: 396
Miles run: 210
Waaaambulances called: 0
NOTABLE T9ERS
When it comes to talking about Title Nine company culture, there is a misconception that we only hire 'hardcore jocks.' We often hear that folks think our staff is essentially its own Olympic squad. While we are absolutely flattered, our team here is a true melting pot of athletic abilities, experiences and levels.
We come from all walks of life and backgrounds to ban together in the face of these challenges, together.
This tearful embrace is a reminder of why we really do these challenges: it isn't about who won, bragging rights or earning a new medal to go with a new t-shirt. The challenges we embark on as a company are about embracing the struggle and turning it into strength, about reaching outside of our comfort zones to where the magic happens. The inaugural T9 Challenge was absolutely no exception.
Team Flawless' Tangy (second from right) as one of our participants who had never participated in such an event. Biking and running on flat land was foreign enough, let alone on hilly dirt trails! However, she refused to give up, knowing that as long as she kept moving, she was winning. Said Tangy, "Once I found my comfort zone, it was on. I wanted to give up when I was out there alone, to call somebody, say 'Come and get me,' but I didn't. I thought about my kids and I just never stopped."
Anthony from Team Slower Than You gave his team a bad name: not only did Anthony ride his bike from home to the event itself, he stopped on his first loop to assist folks, smiled like a Cheshire Cat while cranking up hills, completed both laps in the exact same amount of time (56 minutes) and then rode home. All in a day's work!
Missy from three-person team Scrambled Legs came in second on the bike loop, proving that older is not only wiser, it's faster too!
Two-person team Chaotic Chabotic (with medals) crushed with Katy taking on bike loop and Will on the run loop. He ran his entire 12 miles wearing Elvis shades. They went on to become the first two-person team to finish.
Nicquie from Are We There Yet? had a little talk with herself out on the course which pretty well sums up the power of the T9 Challenge:
Hey Self…
Yes?
Remember when you started at Title Nine and you couldn't run whole a 200 meters!!??
Yes I do!
Hey Self…
Yes?
How long ago was that?
About 3 years. And now I ran 5.5 miles and mountain biked 12 miles.
Really? How long have you been mountain biking?
Today was my second time. I have been riding the hills by my house training for a little while but today was my second time actually mountain biking. But we did it.
YES WE DID!! Amazing how far we have come!!!!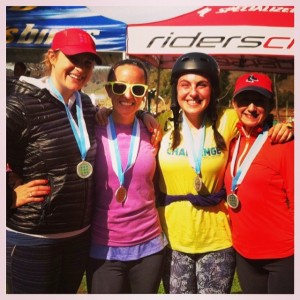 The team of T9ers in Paradise's had a lot going on! Niki (second from left) started out running the wrong direction, through a parking lot, doubled back around to start over, took time to answer many-a concerned text message regarding her whereabouts and still had the fastest time on the run loop (about 6 miles on the trail in 45 minutes.) Gabriella (in yellow) has been working for T9 for a little bit over a week; in true T9 fashion, she said "Oh heck yes!" to filling in for a teammate who was unable to do a biking leg. Earning the nickname 'the Little Engine That Could' was Elyse (in red.)
In her own words:
I'm not a cyclist. Many would say I am not coordinated and I would have to agree. I've worked here for 7+ years, and I've never done a challenge.  So, I told myself that I had to sign up for this challenge no matter what. I somehow got myself signed up for the cycling portion. I was too lazy and decided not to attend the training sessions. That was stupid. I went out riding once with some amazing mountain bikers (KC, Katy, Lucy, Alice) and nearly killed myself in the process. I can still hear Alice yelling from behind as I'm speeding downhill, my back tire fishtailing like crazy, "EASE UP ON THE BRAKE!!!"

It didn't hit me until the morning of the challenge what I signed up to do. I was scared out of my mind. I cycled with the sweep pretty much from mile 1 on. While I struggled the entire way with the idea of how long I had to actually cycle, it was amazing how my body stepped up to the plate and got me through the course. I think I walked more than I cycled (or at least it felt that way), but in the end I'm so grateful that I made it. I'm even more grateful that I hadn't seen the course beforehand, or else I never would have done it. Because of Title Nine, I've realized I need to get out more and try new things, even if I don't think I can do it. This company rocks!!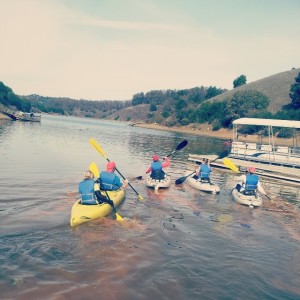 MORE T9 CHALLENGE STATS
First overall: Scrambled Legs
First 4-person team: Victorious Secret
First 2-person team: Chaotic Chabotic
Ties: 1 (Team X Factor and Team REKT tied for 9th)
Fastest run loop: 0:45
Fastest bike loop: 0:56
Challengers by age group:
20-24 (3)
25-29 (7)
30-34 (8)
35-39 (13)
40-44 (5)
45-49 (6)
50-54 (5)
55 and up (5)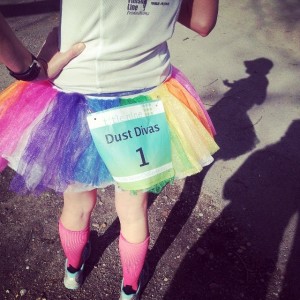 OTHER NOTABLES
Only costumes on course: Dust Divas
Strava Loop QOM rankings earned: 1
Mountain bikers who had never ridden a bike pre-challenge: 2
Complete strangers who utilized the aid station: 2 (+ a dog)
Breast milk pumped between events: 4oz
Chipotle eaten: $1635 worth
Injuries sustained: 0!
All of us here at Title Nine would like to thank: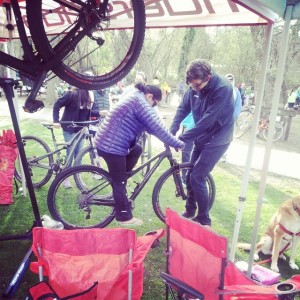 – Mike's Bikes in Berkeley for hosting pre-event training clinics, Specialized Bikes for providing gear, and both for fittings and endless cheering day-of.
– Coach Aaron Castillo, lovingly known as Coach Evil, of CFO Endurance for every track and trail conditioning workout
– The park rangers of Lake Chabot and the folks of East Bay Parks and Rec.
– Our incredible volunteer cycling support and sag team – David, Barb, Jeff and Cheung – who did so much more than just ride with us
– Event photographer Thomas Campitelli, who trekked all over the 18 mile course and then some to capture it all
– And who could forget our T9 challenge leaders: fearless race director Melanie, volunteer coordinators Michele and Jackie, and event manager Ann
We couldn't have done it without you!
Want to come out and play with the T9 team? Please join us at the 12th annual Mother's Day T9k in Boulder or come out to the 5th annual Bay Area T9k in September!
For official event images from the T9 Challenge, please visit our photo albums on Facebook.