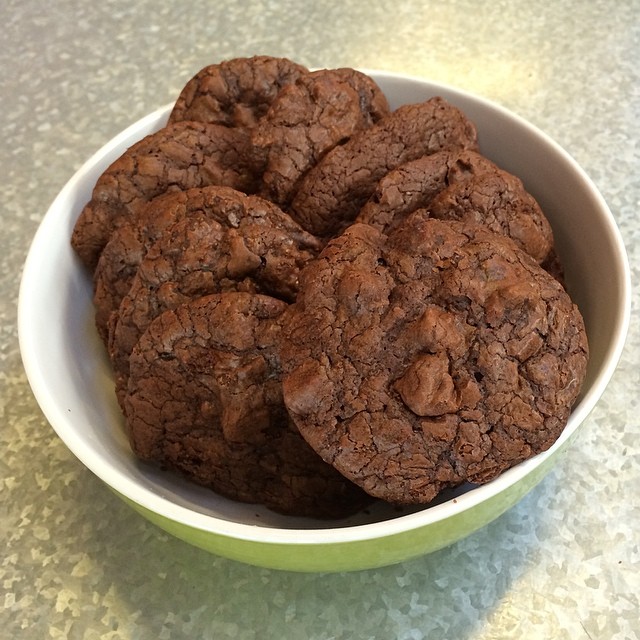 It's no secret that Peter, one of the three resident gents at T9HQ, has quickly grown a fan club. The explanation comes easily in three simple words: TRIPLE. CHOCOLATE. COOKIES.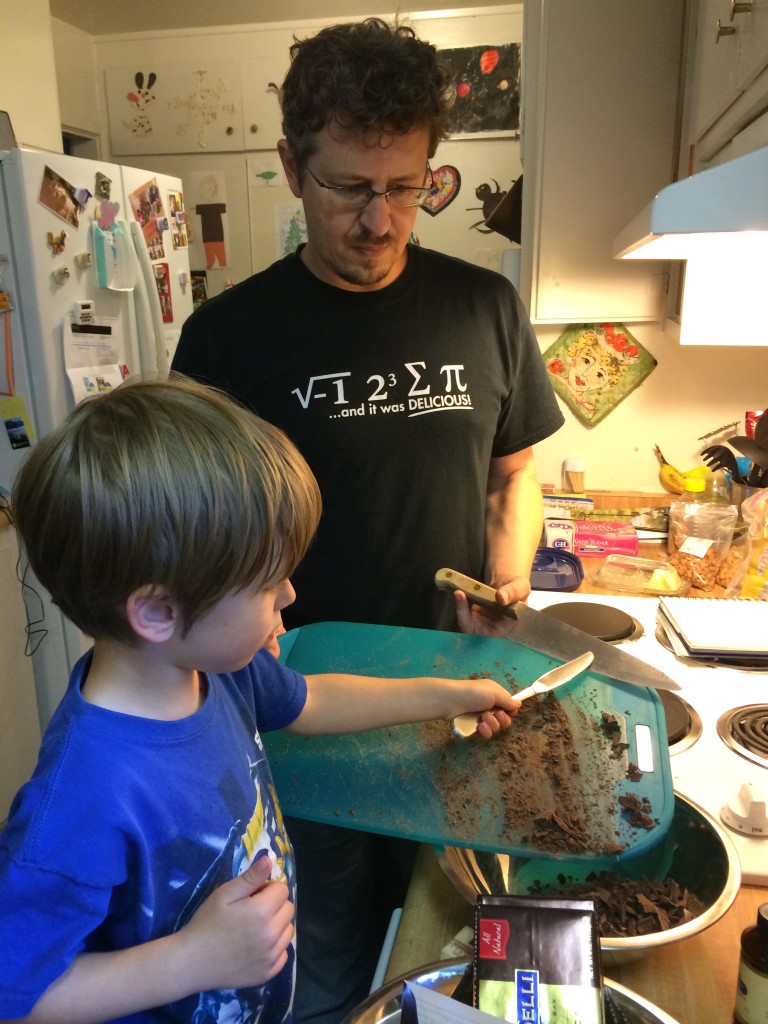 Batches of both regular and gluten-free cookies show up in the kitchen at T9HQ and disappear faster than word can get out about them: they're that good!
We knew we couldn't dare post a picture of such cookies online without being prepared to share the recipe, so keep scrolling and get your chocolate prepped; the complete recipe is at the bottom of this post.
Thank you Peter and Kaleb (pictured at left) for baking up little gooey rounds of happiness for us here in the home office — and for agreeing to share your recipe with the T9 community.
PETER'S TRIPLE CHOCOLATE COOKIES
The key to maintaining a perfectly fudgy cookie is twofold: allowing them to cool directly on the baking sheet, and avoiding the use of bittersweet chocolate sold in bar form. The excess fat in the bar chocolate will make the cookies too rich and unable to hold their shape.
Says Peter: "For the gluten-free cookies, we used 1/2 cup oat flour, 1/8 teaspoon xanthan gum, and an extra 2 tablespoons of butter. They cooked an extra 2 minutes."
Makes 24 cookies
Ingredients:
1 1/2 cups (9 ounces) bittersweet chocolate chips
3 ounces unsweetened chocolate, chopped
7 tablespoons unsalted butter, cut into 7 pieces
2 tablespoons instant coffee powder
2 teaspoons vanilla extract
3 large eggs, room temperature
1 cup (7 ounces) sugar
1/2 cup ( 2 1/2 ounces) all-purpose flour
1/2 teaspoon baking powder
1/2 teaspoon salt
1 1/2 cups (9 ounces) semisweet chocolate chips)
1. Melt bittersweet chips, unsweetened chocolate, and butter in a heatproof bowl set over saucepan of simmering water, stirring frequently, until chocolates have melted and become completely smooth and glossy. Remove bowl from pan and set aside to cool slightly.
2. Stir coffee powder and vanilla together in small bowl until dissolved. Using stand mixer fitted with paddle, beat eggs and sugar on medium-high speed until mixture is very thick and pale, about 4 minutes. Add coffee mixture and beat until full incorporated, 20 seconds. Reduce speed to low, add chocolate mixture, and mix until thoroughly combined, about 30 seconds.
3. Whisk flour, baking powder, and salt together in medium bowl. Using large rubber spatula, fold flour mixture and semisweet chips into batter. Cover bowl with plastic wrap and let stand at room temperature for 20 to 30 minutes until batter firms up (it will more closely resemble thick brownie batter than cookie dough.)
4. Meanwhile, adjust oven racks to upper-middle and lower-middle positions and heat oven to 350 degrees. Line 2 large baking sheets with parchment paper. Using 1 heaping tablespoon batter per cookie, place cookies 2 inches apart on prepared baking sheets. Bake until cookies are shiny and cracked on top, 11 to 14 minutes, switching and rotating baking sheets halfway through baking. Transfer baking sheets to wire racks and let cookies cool completely on baking sheets before serving. (Cookies can be stored in airtight container for up to 3 days… if they last that long.)