#T9FitFest
Has your #1 training partner – your sports bra – celebrated a birthday? Can't remember the last time you were fitted for an everyday or sports bra? Need more support for your newest sport?
Fear not: our expert bravangelists can help!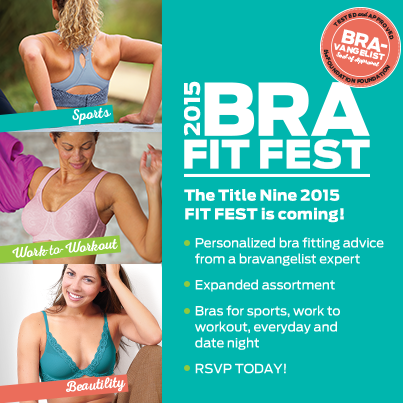 We don't just sell sports bras and everyday bras: we try on and test them ourselves by the hundreds. From AA to DD+, we have bravangelists who can tell you all about their personal favorites and help you find the right size and style for your endeavors.
Our traveling T9 Fit Fest is held at retail locations all over the country. Grab your sister, your friends, your daughter, your workout partner and join us for a night of personalized bra fittings, expert advise, snacks – of course, laughs and more. You can even put your selected style to the test at our "bounceathlon" to ensure it passes your bounce test before you even leave the store. We can guarantee it's unlike any experience you've had at any other bra retailer!
To find a T9 Fit Fest near you, click here.
Still not convinced? What better way to find out about the T9 Fit Fest experience than straight from the mouths of our blogger friends? They're sharing about their bra fittings, what styles worked for them and offering up a chance to WIN a sports bra of your choosing.
Reviews and giveaways from bloggers: Washington
Fresh Jess – Sports Bra Fresh at Title Nine FitFest (+ Giveaway!)
the Demure Muse – GIVEAWAY: Title Nine sports bra of your choice
I am Style-ish – The Perfect Sports Bra + Giveaway!

Reviews  from bloggers and media coverage: Colorado (giveaway now complete)
5280, the Denver Magazine – Female Sportswear Store Hosts Local Bra "FitFests"
Eat Play Love – Take Home a Bra Giveaway at Title Nine's 2015 Fit Fest
Barefoot Colorado – TITLE NINE FIT FEST: GIVEAWAY
Bhodi Bear – TITLE NINE #T9FITFEST – COLORADO AND BEYOND + GIVEAWAY
Colorado Moms – Let's Talk About Ta-Tas: You Deserve a Great Bra!
Monika Runstrom – A Sports Bra That Fits – FINALLY!
Chickadee Says – Sports Bras That Actually Fit: Title Nine #T9FitFest +Giveaway!
Just a Colorado Gal – TITLE NINE FITFEST: GIVEAWAY