Our Most Important Gear
What's the first thing we tell a friend who wants to start running, hiking, or cycling? We tell her to go to a specialty shoe store to get her shoes. Why? To get an individualized fit, great customer service, and knowledgeable staff, most of whom probably do the sports we do. But what about our other most essential piece of gear? We go to the experts for our shoes, why not for our sports bras?
Here at Title Nine, we know a thing or two about bras. Shopping for a sports bra can be daunting, so we do the hard work for you. We don't just sell bras, we try them on and test them by the hundreds. We ourselves cover the gamut from "built for speed" to "dangerous curves ahead." We run, spin, climb, and stretch in every bra, and only the ones that meet the discerning standards of our Bravangelists make the cut. Think of us as your expert team of bra-fitting fairy godmothers. We'll talk to you about what sports you do, help you determine your bra size, and get you shopping faster than you can say bippity-boppity-bra!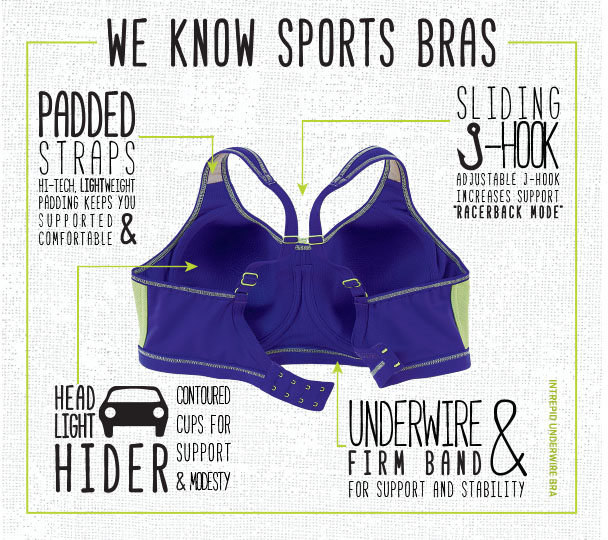 We've Been There
Wearing two bras on a run, straps digging into our shoulders on a hike, the band riding up while we stretch; being in the wrong bra can make us want to give up on being active altogether. It's not exactly something we heard from mom at puberty, but a woman's bra size can change nine times over the course of a lifetime, yet most women rarely update their measurements.
Additionally, our Cooper's ligaments can be stretched out permanently without proper support – i.e. a well-fitted, supportive bra. Because of this, just like your running shoes, we highly recommend you never let any sports bra celebrate a birthday. Get a new rotation of bras every year (at least enough to have one up next, in the wash, and on deck), and get remeasured at least every couple of years.
How to Determine Bra Size
Bra sizing is not an exact science, more of a good solid starting block. Have a flexible tape measure handy and wear a shelf camisole or a good everyday bra (padding, push-up cups and "major masher" styles will skew results). You're ready to get started!
There are three basic measurements that are needed in order to determine bra size: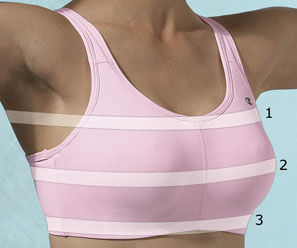 Step 1, Band Size: Measure around your chest, just under the arms and above the bust. Relax! Make sure that the measuring tape is straight across your back. The tape should be taut but NOT tight. If your measurement is an odd number, round up to the next even number. This is the numeric part of your bra size, also known as the band size.
Step 2, Cup Size: Measure around the fullest part of your bust, making sure the tape is straight and taut, but not pinching. This is one of the two measurements needed to determine cup size. Note: the measurement should be through the fullest, most projecting portion of the breast, not necessarily at a specific line, such as at the nipple. Every body is different!
Step 3, Cup Size: Measure around your rib cage just under the bust line, again making sure that the measuring tape is straight across your back and not too tight.
Step 4, Putting It All Together: You have your band size (measurement #1), now calculate the cup size by subtracting measurement #3 from measurement #2. Use the chart below to determine the lettered size. (We've shown AA-G here, but the general rule is for every additional inch, add a cup size – so 9″ would be H, etc.)
| | |
| --- | --- |
| Difference in Inches | Cup Size |
| 1" | AA |
| 2" | A |
| 3" | B |
| 4" | C |
| 5" | D |
| 6" | DD/E |
| 7" | DDD/F |
| 8" | G |
Ready to Find Your Bra?
Head to our Bra Genie to discover which sports bras are right for you, based on comfort, style preferences, and even how much you sweat! Our barbell system helps you hone in on the right level of support for your sport.

To get an even more personalized fit, stop by your local Title Nine store, RSVP for one of our traveling Bra Fit Fests, or contact our awesome customer service team. They can help get you fitted and select the right styles for your sport, right over the phone.
You've got your favorite shoe experts. Let our Bravangelists be your bra fit experts. What sports bra questions can we answer for you? Come on, try to stump us!