We want to take a moment to talk about something really important: holiday weight gain.
Sure, this time of year it's as easy to lay a couple of pounds across the midriff as it is to lose your footing in a snow drift, but that's not what we're talking about. We're not worried about how many slices of pie you'll have or whether you take a nap after turkey. We're talking about the sheer density of everything else: the hefty to-do lists, the fat stacks of gifts, the overstuffed grocery carts and suitcases and winter jackets.
So how will we cut back this holiday season? We know we'll still buy the gifts, make the trips, eat the pie. But maybe we can take some of the other weight off of your shoulders, literally.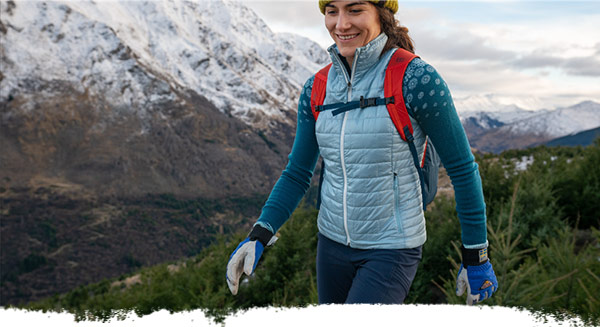 If you're the type of person who stresses over packing, over being prepared, over being dressed appropriately, we're here for you. Whether you're out running or running out for milk, making time for friends or taking time for yourself, we can suggest layering clothes for winter that can help you lighten up.
Browse our recommended layers for total temperature control, whether you're jogging, hiking, wandering or entertaining.
Outfit 1: For Warm Jogs in Cold Climates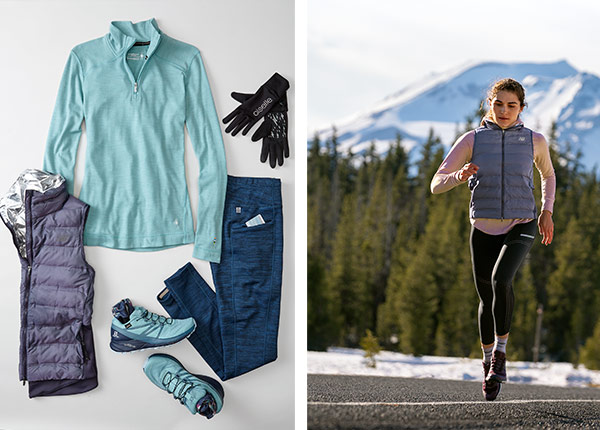 Base Layer: Kick it off with our Happy Hiker Socks, which feature blister-beating and breathable warmth to keep your toes toasty.
Mid Layer Top: Reach for our Wonder Woman ¼ Zip Top: made of super heroic, itch free, water-wicking Smartwool®.
Mid Layer Bottom: Slide into solid or striated Crash 2.0 Tights, which combine fleece-level warmth with a wind-resistant weave.
Outer Layer: Top off your top with our Radiant Heat Vest, to trap the heat where you want it, not where you don't.
Footwear: Lace up our Waterproof Single Track Running Shoe to stay dry even in wet, wintry weather.
Accessories: If it's really cold out, pull on a pair of Runagade Running Gloves. (They're touch screen and nose-wipe compatible.)
Outfit 2: For Chilly Walks or Pub Stops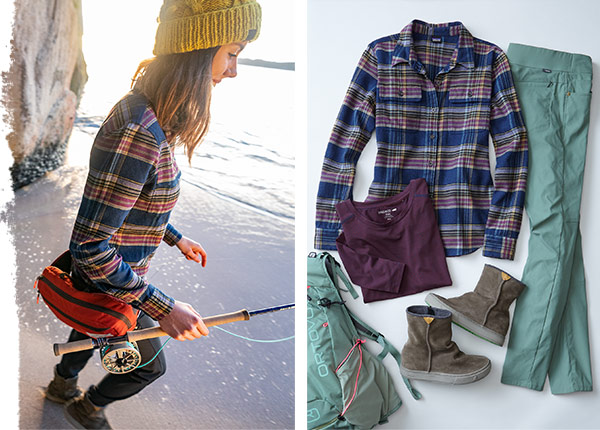 Base Layer: Skip it!
Mid Layer Top: Pull on the Aviatrix Long Sleeve Top for a soft, breathable foundation.
Mid Layer Bottom: Pick out pants as flexible as you are about your plans. Miraculous Flex Pants are rugged, pocketed, hike-ready and pub presentable.
Outer Layer: Button up into a Timeless Flannel Long Sleeve Top for heavyweight warmth when you need it.
Footwear: Slip into a pair of Elefantino Boots for all-day colorfast comfort, no matter your environment.
Accessories: Strap on our adjustable Alpine Ace Backpack, capable of holding all your extra layers, extra trail mix and extra drink tickets.
 Outfit 3: To Keep Toasty on Low Temp Trails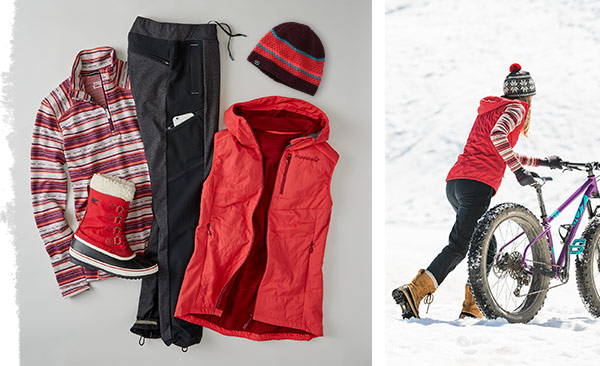 Base Layer: Skip it!
Mid Layer Top: Wear the Wonder Woman 1/4 Zip Top. Itch-free, odor-free, warm and wicking.
Mid Layer Bottom: Get your a** into Ascent Pants, tough enough for climbing but capable in all types of climates. Breathable, flexible, unbeatable.
Outer Layer: Enter the almost-weightless Expeditionist Vest, a breathable, wind-blocking, unbelievable wallop of warmth.
Footwear: Go with the Betty Boot. They're as cute as the character they're (almost) named after, but far more capable.
Accessories: Heat smarter, not harder with a 100% Merino wool Racer Beanie.
Outfit 4: For Winter. Any Day and Every Day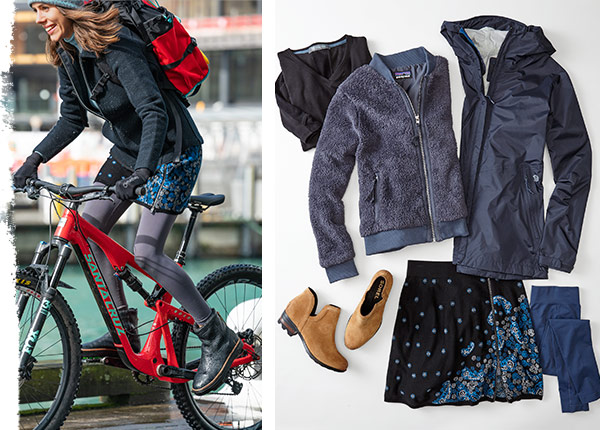 Base Layer: Skip it!
Mid Layer Top: Trust a top that is tops. The Alpha-Omega Long Sleeve Top is both super breathable and super strong. No base layer required!
Mid Layer Bottom: Embrace the fire with our wintrified Winter Spark Legging, still wicking but now warmer than ever.
Outer Layer Top: Zip up the wind-stopping and jaw dropping Force Bomber Jacket: stylish, poly-lined double fleece.
Outer Layer Bottom: Pull over the Swagger Sweater Skirt to keep your cross buns hot. 100% Merino wool, and pocketed!
Footwear: Slip into the Jacinda Slip-On Bootie when you're not sure what you'll get up to. You can wear them anywhere, trusting their no-slip rubber-treaded soles to carry you through.
Accessories: Bring along the Noaa Rain Jacket, just in case. It's lightweight and breathable enough to throw on over an outer layer, for climates that are both cold and wet.
To learn more, check out Layering Clothes: The T9 Guide to Staying Warm When the Temps Get Low