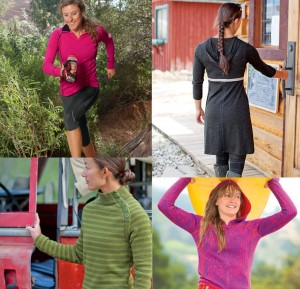 We love product reviews as much as you do. And we thought it's high time to take the conversations had over mixing our oatmeal here in the kitchen, zooming around on scooters, and waiting for the next workout and put them down on "paper" for you. Rebecca, our Director of Retail, is always waiting for next years Regulator, and Alice, of Alice's Picks, is lovin' the Woolicious this year. Here's their take.
Take it, or leave it 😉
Why do I love my Regulators? Let me count the ways. First and foremost, they are like wearing a "fleecey" blanket but one that I can walk, run and cross-country ski in. Secondly, they just fit so darn great. It's that pant that you wear well – 360 degrees well (I mean front, sides and backside!). And most importantly, they really do what they say the do – regulate my temperature. Now only if they could regulate my mood – that would be something!

Woolicious – Alice, the Captain of Creative

Totally delectable, our new Woolicious is hands down our most 'yummy' wool blend that even sensitive skin can eat right up! My favorite piece is the Down the Line Hoody: the best of both worlds, it is body skimming without squeezing and is sporty yet svelte. The soft, smooth, angora-like interior slides over bare arms without any prickles and fun textured exterior elevates it from super basic to subtle bombshell… or at least that's how it makes me feel when I wear it! Bonus: everything made from Woolicious is machine washable, which means that the only special care my laundry requires is sorting by color… maybe.