Alice, our VP of Merch, is used to combing through endless rows of products and gear at trade shows. She has piles of skirts on her desk. Racks of jackets stashed around the office. Frankly, there isn't much she hasn't seen before.
So when she stumbled across the Satorisan 20K Sandal in a local San Anselmo shoe store during a weekend shopping trip, she had to know more. (But first, she bought a pair. Because, as we all know, you should never pass up a great shoe.)
She'd never heard of Satorisan before, but after a week of wearing them, she was sold. They were hip, felt kinda euro, and were comfy as all get out.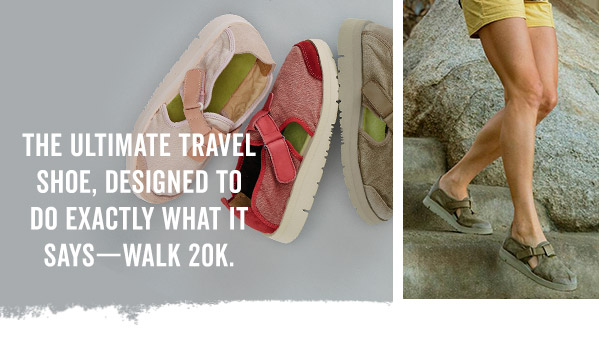 Cut to a couple weeks later at a trade show, and low and behold, there they were, in the area reserved for new, small vendors—Satorisan, in town all the way from Spain. Never one to miss a chance to connect, she marched straight up and introduced herself to the rep.
The more they talked, the more jazzed she got—the company was a small Spanish shoemaker who believed that a quality shoe should become more beautiful and more comfortable over time. They believed shoes have the power to help you appreciate every experience in life. Their authenticity showed in everything they did.
And so, their shoes became our shoes.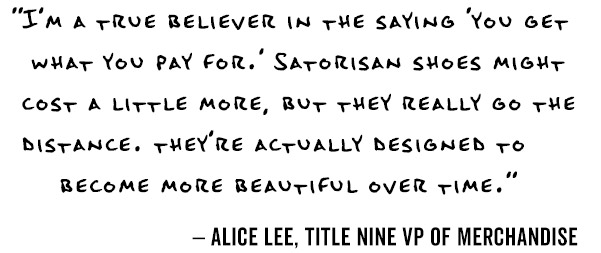 We carry several different pairs, but our hands-down favorite is the 20K Sandal. The ultimate travel shoe, it's designed to do exactly what it says—walk 20K in it. They're built to travel the streets of Barcelona, explore the ruins of Tikal, or take in the beaches of Phuket. They're also built to throw in the wash when you're done with all that traveling, and they'll come out as good as new—maybe even better.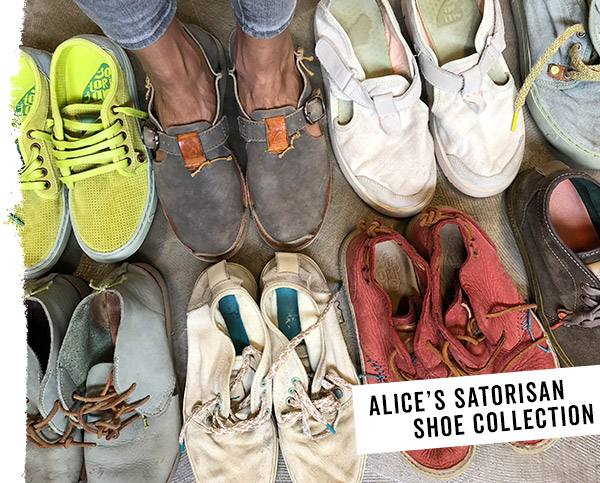 Our relationship has grown, and the miles between us don't feel so far anymore. Alejandro, Satorisan's CEO and founder, came to visit us in California. We went out to dinner, and talked shoes, and adventure. True to form, his next stop was waterfall-hunting in the Pacific Northwest. He sent pictures of his finds, Satorisan-clad feet knee-deep in the cold, clear water of an Oregon waterfall.
We are so very proud to offer this rare find as one of the stars of our shoe collection. And we'd bet you'd be hard pressed to find it anywhere else (except that little shop in San Anselmo, of course). Over at headquarters, our obsession has only grown: Alice's Satorisan collection is now at eleven pairs (and counting).
Get a pair (or two) of these hidden gems.