Our in-house style experts' summer picks are here!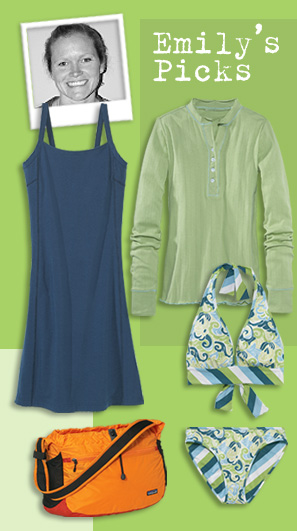 Emily's Picks
Secret Weapon Dress: I love this super basic dress with a not-so-basic fabric. Super soft cotton, wicking poly and stretchy spandex make this comfortable no matter what climate I'm in! I'm hoping to "wear-test" it somewhere beachy and tropical soon!
Sporting Henley: Red-hair and freckles mean that the sun is not my friend. So, when I'm on the beach and want to stay cool and covered, this is my go-to.
Darwin Satchel: This is the lightest weight extra travel bag. It practically weighs like nothing! Perfect to bring to the beach or carry around while I'm sight seeing.
Set-It-and-Forget-It Bikini and Bottom: Coverage, support and 2-in-1 versatility. What more could your girls want?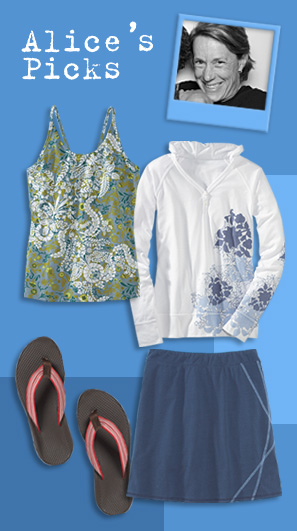 Alice's Picks
Hotline Top: Super versatile, easy bra top. I wear it to yoga and layer over it for every day. I love this print.
Yes Hoodie: I work out in this, I layer under this, I layer over it. Performance fabric, cute style.
Favorite Flip: A flip flop you can wear all day without having cramped flat feet at the end of the day.
Snap Skort: Skorts are the ultimate piece of clothing for women on the go. Looks like a skirt but if you need to hop a fence, you can do it in comfort without flashing your assets.