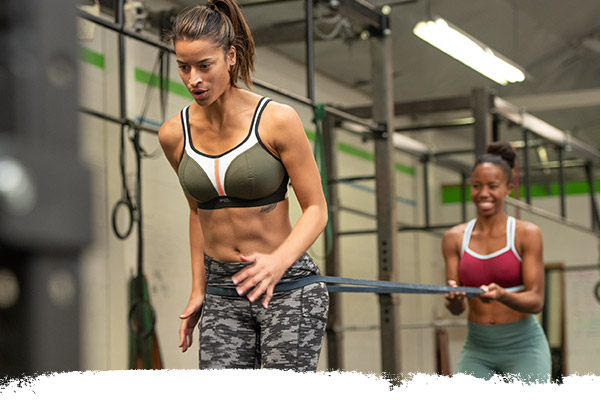 We've been told time and time again: not all bras are created equal. But somehow, here most of us are, in the same-old sweat-stained cotton number we had in college. We get it—there are so many choices out there, sometimes it's just easier to keep on keepin' on. But your bra isn't something you should be stressing about when you're focused on a PR. So, let's get down to it:
First things first: When it comes to bras that make the girls happy, you've got a few things to think about:
1. Whatcha up To?
It might go without saying, but bras that rock at running are probably not gonna hang with too many namastes. (And your favorite savasana bra is most definitely not down with a 10k.) Sure, there are bras that can work across sports, but if you're a best all-around athlete kinda girl, it's probably a good idea to have a few different bras for different days.
2. How Big Are the Girls?
A-cup boobs are most definitely different than DDs—so your bra should be different, too. High-impact underwire bras give our DD girls the shape and support they need, while a pullover bra with barely there padding can do everything an A-girl needs done.
3. Break out the Bells and Whistles.
There's no reason for your bra to be Plain Jane just because you work out in it. So whether it's sweat-wicking material, mesh in all the right places, or convertible x-back support, your sports bra should bring it just as much as you do.
Yeah, that's a whole lot to think about. Let's break it down, T9 style:

If you're DD+ and love a good long run, try….
The Trade Up Sports Bra: Our lightest weight five barbell bra for DDs and up, this bra's got all-over support with mesh in all the right places. Adjustable straps and a two-point closure system make sure your girls are always in good hands.
If you're always extra hot and sweaty at spin class, try….
AC Sports Bra:  Hands-down our most breathable bra, this adjustable sports bra has mesh in all the right places. Moisture wicking and contoured cups means you're ready to turn up the heat on your workout.
If you're a HIIT addict with a small ribcage and a not-so-small bust, try…
Marvel Underwire Sports Bra: This cleverly channeled underwire design (try it, we promise, it's comfortable!) gives your girls great shape all workout long. It even converts to an x-back, if you're into that sorta thing.

If your girls are small, but your workouts are high impact, try…
Uprise Pullover Bra: V-necked styling with lightly contoured cups, our A and B cup friends are pulling this one on for long run days.
If you're a nursing mama who's killing it at bootcamp, try…
3-Reasons Sports Bra: Velcro adjustable straps make this perfect for nursing or those ever-changing pregnant mama boobs; but don't just keep it around for new baby days—this popular sports bra has been our 15-year fan favorite for a reason. (Actually 3 of them.)

If you're looking for a bra that's ready to run….
Fast Crossback Sports Bra: Built for speed and oh-so-sleek, this pullover triumph is perfect for B and C gals who've got a big need for speed.
If the girls are small and looking for a good down dog, try:
What the Sweat Racerback: This pullover seamless racerback is perfect for A and B cups who are stretching, savansanna-ing, or just hanging out on the mat.
If you want a bra that looks as good by itself as it does under a shirt, try:
Attitude Sports Bra: Strappy-backed and oh-so-pretty, this bra is great for C- and D-cupped gals and all their low-impact dreams.
However you get your sweat on, we've got a bra for it. If you're still feeling a bit lost in a sea of sweaty sports bras, let us help. If you're a DIY kinda gal, check out our Bra Fitting Guide for all the dirty details. Looking for a little more love? Talk to a bravangelist—we love making you (and your girls) happy.