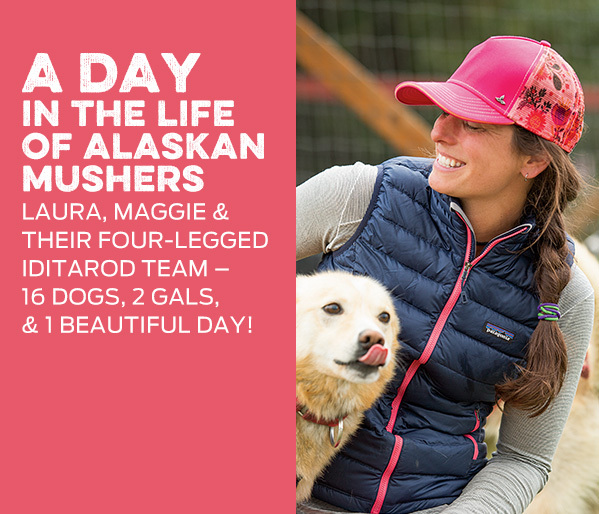 We headed to Alaska to test out our favorite winter gear and learned a thing or two about racing a team of dogs in the world's foremost sled race, the Iditarod. Dog mushers, Laura and Maggie, took us behind the scenes at the Susan Butcher Training Facilities for a day of hard work, serious training, and plenty of wet doggy kisses.
Meet Laura

Occupation: Dog musher and tour guide
Current car: 2001 Ford Escape
Favorite mode of transit: Dog sled
Embarrassing nickname: "Squat" (DON'T ask!)
Indispensable T9 gear: Daily Down Vest; I'm lost (and very cold) without it
Bathtub reading: Mushing Magazine (it's real!)
Best four-legged friends: Haggard, Leaps, Sugar, Dash, Ivory, Roxy, Bou, Katie, Soldier, Rishi, Flynn and Walker
Fangirl for: Roxy
Role model(s): See best friends
Most recent adventure: 2015 Iditarod
Meet Maggie
Occupation: Dog musher and farmer-in-training
Dream job: Add yoga teacher and I'm living it!
Kids: Raven (2) and Jackson (6 months)… dogs count, right?
Favorite food: Anything natural and raw, especially veggies
Can't say no to: Grandma's chocolate cake
Can't let go: Quick-dry running socks that are long past due for replacement (sentimental value. No, really!)
Sport of choice: Anything that gets me happily exhausted
Skip the workout: When it's cold out and the dogs are cuddly
Strangely satisfying: Harvesting potatoes

Meet Charles

Age: 1 1/2
Siblings: Ray, Nora and Jones
Lineage: Son of Donald (2015 Iditarod) and Corison (2008 Iditarod)
Sled position: Wheel (where the big, strong dogs do the WORK)
Unofficial job: Greeter at the Susan Butcher Training Facility
Favorite food: Whatever's in my dish, near my dish, or is unattended
Goals: 2017 Iditarod, getting away with eating off the table
Belly rubs: Yes, please
Experienced musher, newbie surfer, or weekend warrior? Where does your Title Nine gear take YOU?