We are gathered here today to discuss the myth of the strappy yet supportive sports bra. Contrary to popular belief, this unicorn of a bra does not exist. Sure, you've seen it around: a delicate combo of spaghetti straps, anti-gravity boobs, and the minimalistic pull-over look. You've seen it on every yoga model in every yoga ad ever made.
But, myth buster…
When it comes to DD+ boobs, architecturally speaking, the strappy pullover sports bra is, simply, not gonna cut it.
Truly Supportive DD+ sports bras are engineered to offer bounce control, chafing protection, and full coverage support. And it's not lookin' so strappy.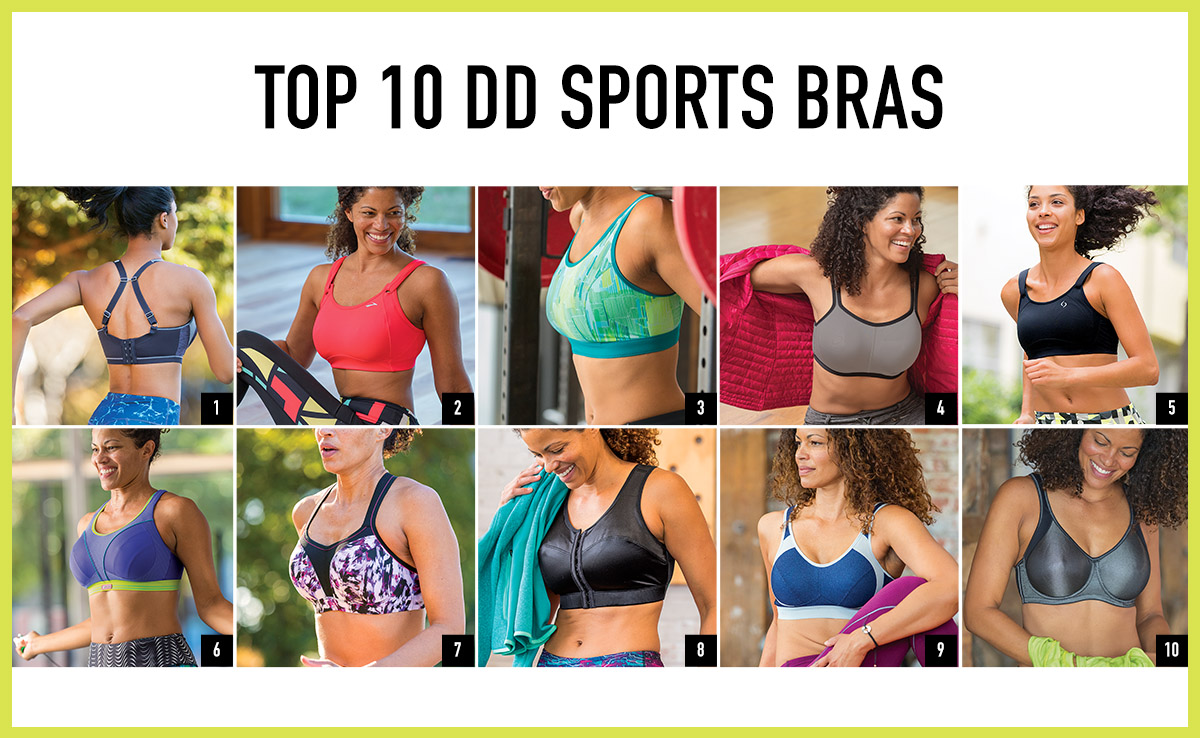 These are the types of support you should look for:
Band support. Look for a sports bra that comes with band sizing (numbered measurements like 34, 38, 42, NOT small, medium, large sizing.) The bra should also hook in the back, and fit low and snug. This is where 90% of the support comes from, so make it count!
Cup support. The bra cup should be reinforced with structure and shape. The cup should also have a size, like DD, E, F. Again, don't choose a bra that comes in a small, medium large sizing.
The RIGHT SIZE. DD+ bra sizing can be kind of a nightmare. Unfortunately, there is no universal bra metric. Depending on the brand and country of origin, you might wear a bra size that sounds totally foreign to you. The solution: try everything on. And, talk to a bra expert when you need help!
Now that we've dispelled some popular bra myths, we're happy to bring you some bra truths.
Check out our top 10 honest-to-goodness, stylish and STILL supportive DD+ sports bras:
1. Intrepid – Sweat wicking, full coverage, and amazing support.
2. 3 Reasons Bra – Winning adjustability and comfort.
3. Tech Athena – The best T9 compression bra, no underwire, all support.
4. Soothe Underwire Bra – Great shape keeper for low impact activity.
5. Booby Trap – Our favorite no fuss, full compression, and versatile use bra.
6. Trade Up Bra – A lightweight, non-underwire dream; great for running.
7. Marvel Bra – Underwire with great shape that converts into a racerback.
8. The Last Resort – Our highest level of support and coverage.
9. Aero Bra – Super breathable all day comfort and no underwire.
10. Seismic Bra – Simultaneously elegant looking, efficient, for medium impact.