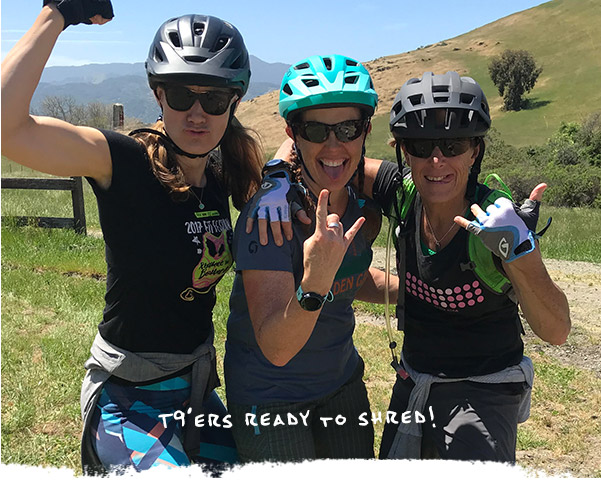 You never forget how to ride a bike—but take that bike, add some killer suspension, thick tires, a license to rip and it's a whole 'nother thing. We're talkin' mountain biking. Aka, shredding berms. Hugging singletrack 'cuz you love it. Mountain goating up hills and flying off the handle on the downhills. Crushing rocks, crashing once, twice…
A few of us adrenaline junkies at T9 are prepping for an Xterra Mountain Bike Triathlon, so a 2-day crash course with Trek Dirt Series brought on a collective "hell yeah!!" Why Dirt Series? 1) Badass women bike coaches. 2) Everything from the basics to advanced dabbing (translation: lifting a foot off the pedal to whip around switchbacks). Enough said.
Day 1: Pumped AF
We started the day at Summit Bicycles, a LBS (local bike shop) in Los Gatos, CA where we did the whole meet-and-greet, checked out test gear, and then divvied ourselves up in groups. After fueling up with caffeine and pastries, we headed to Santa Teresa County Park in San Jose—an epic destination with miles of craggy singletrack, gravely fire roads, and basically, massive shredage spots.
We spent the morning, covering some basics, joking, chatting, you know, the whole #camplife thing.  Amy Garrahan, our buddy and Patagonia Regional Sales Manager, was sporting the Schralp 2-in-1 Bike Shorts and was fielding compliments left and right. We broke for a bite, but quickly hopped back on our bikes for some afternoon pump track carnage…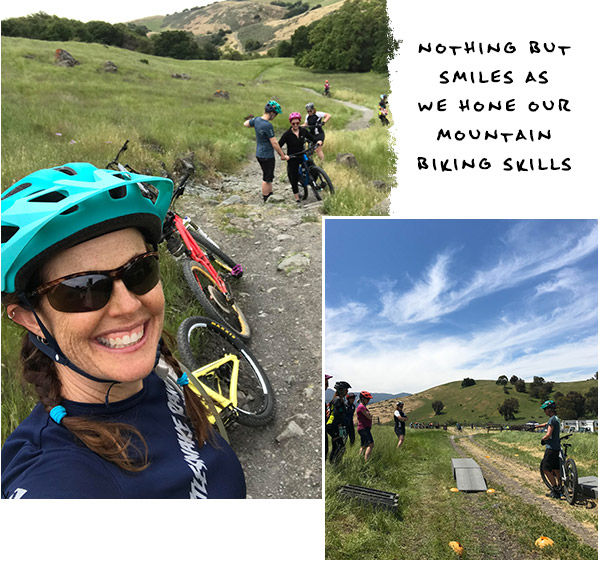 Skills & Drills
If you're not hip to the lingo, a "pump track" is just a bunch of features like dips and turns to practice "pumping" your bike for momentum and speed. Our coaches did a killer job of showing us how to shift our weight, using both our arms and legs, to charge it and crush it. I mean, they even dragged in fake logs. Gold star for team coaches. We talked climbing, busted out the obstacles, worked on turns, the whole shebang. Overall, tons of bike handling skills.
The rest of the afternoon was spent practicing our new moves on a longer ride. Sore and tired, we took our sunburns and skinned knees back to Summit Bicycles for a fave: pizza and beer (read: the go-to mountain biker meal). We brushed up on bike maintenance, rehashed the stories of the day, and then called it a night.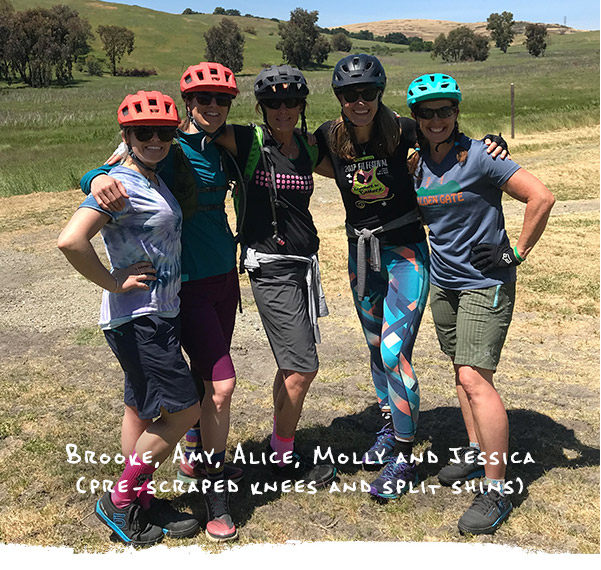 Day 2: Rinse & Repeat
We got up, met up, ate up, and hit the trails. Some new things we learned: Push your bike where you want it to go. Burn through your turns. And, trust your bike—it handles rocks and roots with ease. One of the biggest nuggets of truth? The strongest rider doesn't have to be the fittest, just the one with the handling skills to show that trail who's boss.
The best part: watching confidence grow. Sure, working on our own skills was awesome, but it was seeing everyone else improve and watching them push it again and again that really had us throwing hi-fives. Nothing builds instant "we're bffs" like shared challenges, and there's definitely a ton of challenges to overcome in mountain biking. Like, a ton.

The Leading Ladies: Our Coaches
No matter how large our group, we all received one-on-one attention on everything from how to hold our line to how to position ourselves for max power. And that's saying a lot, because let's talk about our killer coaches for a sec—these funny, wise-cracking pack of ladies are medal-winning enduro racers, NICA coaches, Trans Rockies finishers, former collegiate mountain bike athletes…even a former dog sled guide. Experts? Yep.
At one point on the hills, our coach said, "You don't have to power through. Approach. Stop. Think about it. " Cue blank stares. But um… that's what you're supposed to do, right? Just charge it and walk if necessary? Turns out, NOPE. The better strategy is to actually go back to the bottom, pick apart the trail like a Tetris puzzle and make sure all the pieces fit before you trek back on up. Turns out it's a good strategy for life, too.
Ride Hard, Rest Harder
After two days of rippin' and roarin', we were beat. Sunburnt to high hell. A couple trail rashes. Definitely some bruises worthy of Instagram, but bruised egos? Nope. We were riding high. We selfie-ed, high-fived, threw back one last beer and pizza and then hit the road home… for some very necessary R&R.
See you on the trails,
Team T9 MTBers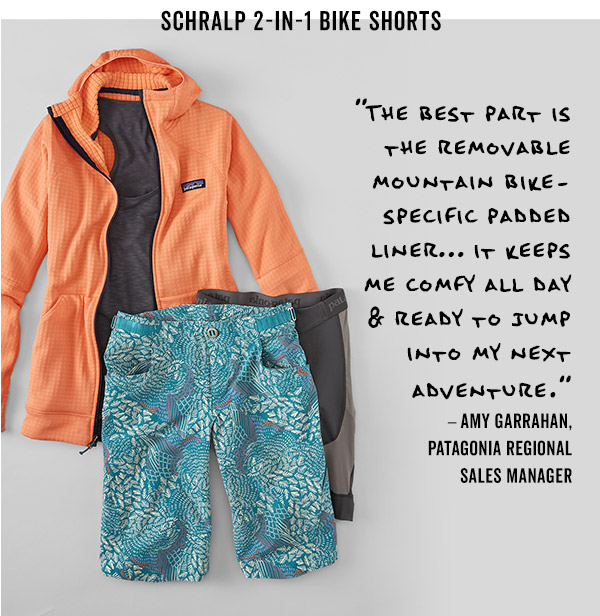 Check out our women's mountain bike shorts and gear, cut for our curves.