We've traveled all over for our "T9 Behind the Scenes" series, sharing the adventures and misadventures we've had along the way. But that was just the tip of the iceberg. What does it really take to make a photo shoot happen? Find out.
The Cast
No big production crews, no make-up artists, no craft services. A lean, mean skeleton crew of three, plus our real-women models, do it all.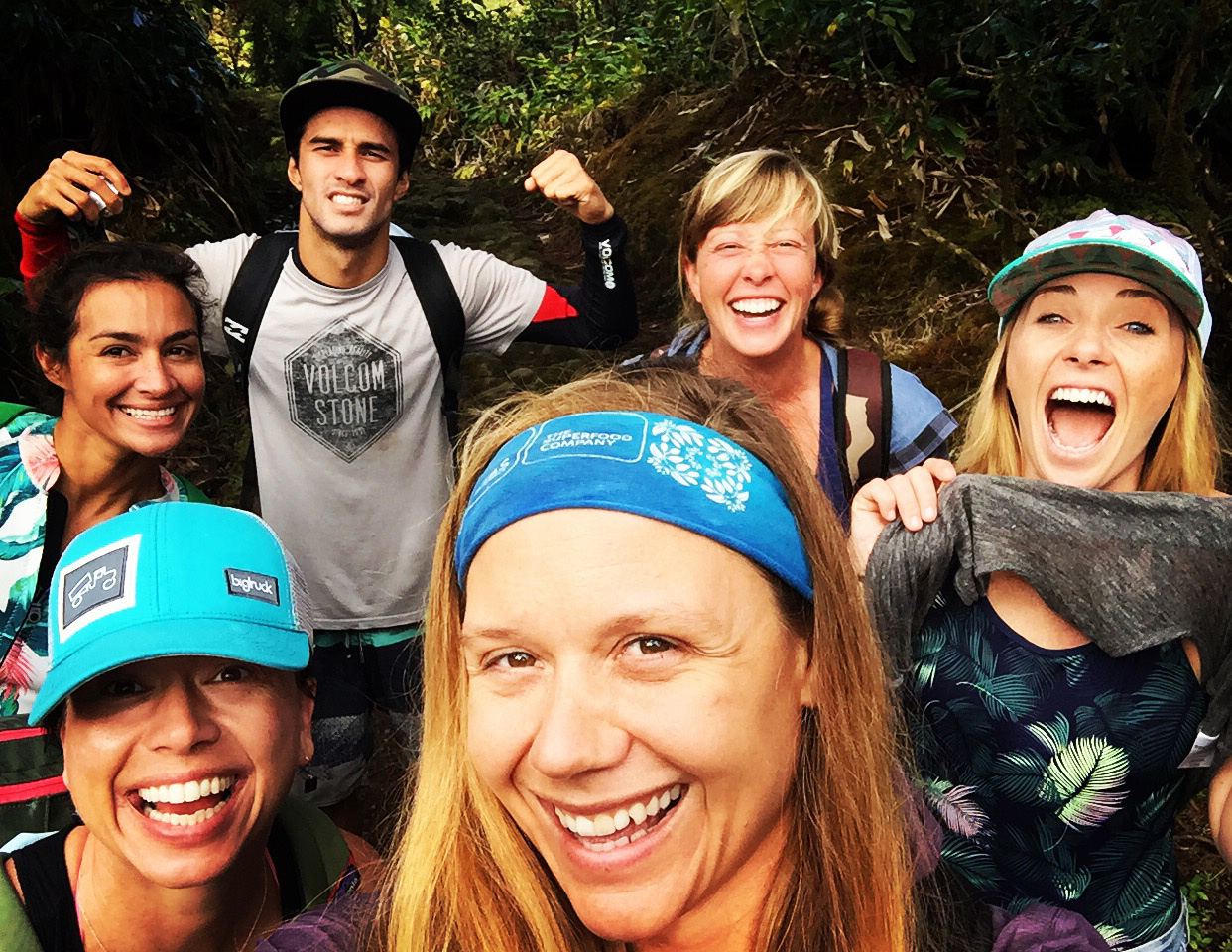 Ann: T9 photo art director, CrossFit dork, coffee snob
Caydie: photographer, stand-in model, lover of kale and camping
"Mayor" Shawn: photo assistant, Hilo local, cliff jumping machete ninja
Katy: model, go-to-gal, former ballet dancer, current bad ass farmer
Mahea: model, extreme surfer, mom, small business owner
Alysia: model, archeologist, surfer, photo buff
Donica: model, vegan, SUP superstar, nature lover
The Location
The Big Island, Hawaii
Our Mission, Should We Choose to Accept It
Cramming 5 days worth of photography into 48 hours.
Day One
6:00 am call time. We make coffee and meet up with the crew, grab more coffee, and begin our 5 mile hike to the first location. No pack mules for us – we carry in all the outfits, gear, and food ourselves.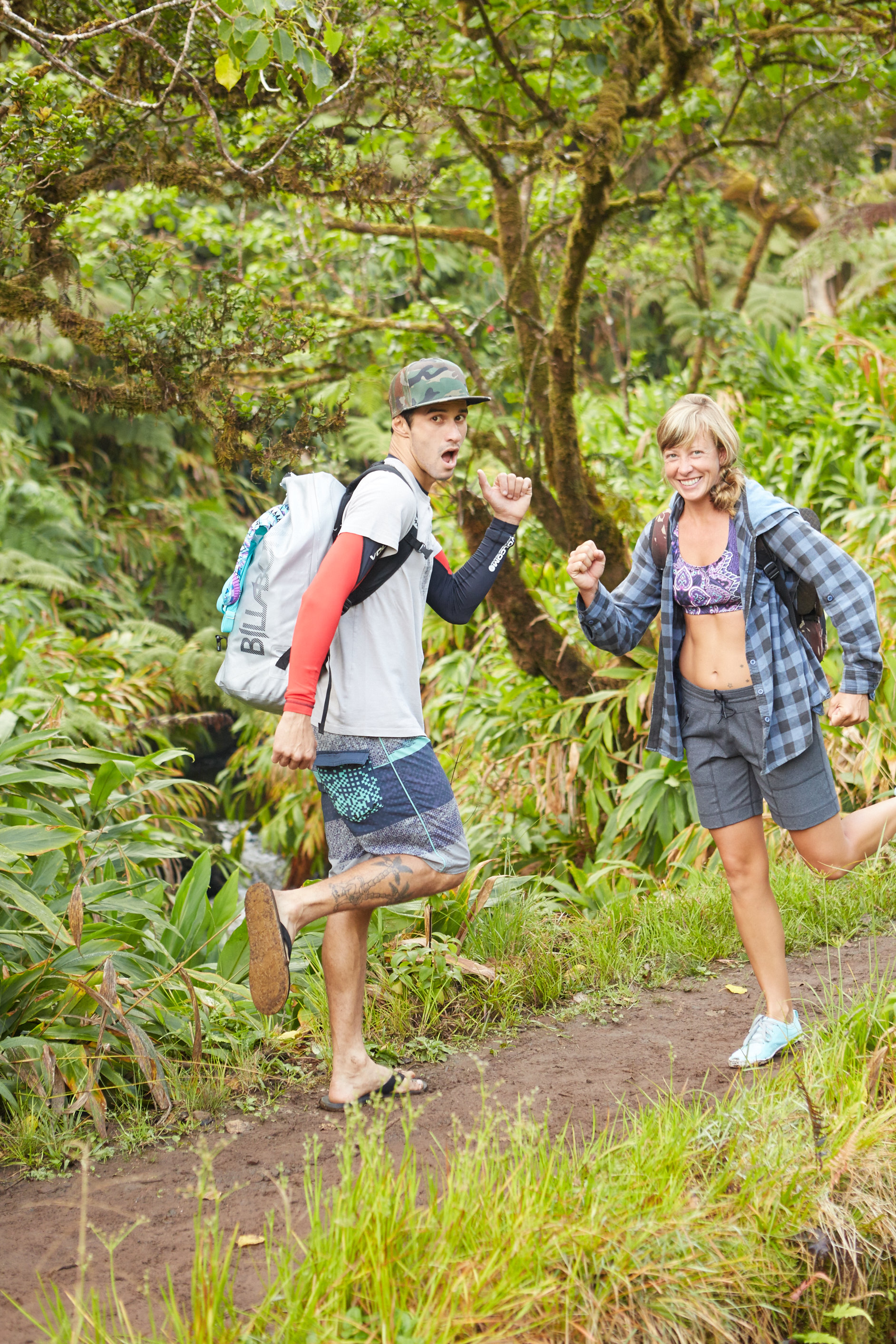 Before 8:00 am we hit the ground running and start our shoot at the first location. Loads of amazing waterfalls make it worth the hike, and a model like Katy – willing to leap off of cliffs without a second thought – makes our job easy. By the time we trek to our next location however, Katy appears to have succumbed to food poisoning. Does vomiting slow her down? Nope. Being the rock star that she is, we resume shooting just moments later. But not before our photo assistant, "Mayor" Shawn, shimmies up a tree to pick coconuts and crack them open with a machete so Katy can get some electrolytes in her.
Our tiny team keeps hiking and shooting between bouts of illness. Katy's partner-in-crime and fellow local Alysia is also feeling under the weather, but still shows up ready to play. Amazingly, both look radiant despite their upset bellies and we're able to pull off some great shots. 17 hour day in the bag, we head back to the Airbnb, do laundry, download and review film, eat, hydrate, brainstorm, and plan the next day, all while trying to ignore the naked dude in the outdoor shower in another unit on the property. At 11:30 pm we finally hit the hay.
Day Two
This morning's call time is 5:00 am thanks to the local roosters. We make a strong press pot of coffee while Caydie whips up some breakfast. In addition to being an amazing photographer, climber, and adventurer, somehow she makes kale and eggs taste good – go figure.
Today's adventures include more waterfalls, SUP boarding, swimming with dolphins, outriggers, hiking through aqueducts, trekking high above the Waipio Valley, and volcanoes. With our dream team of Katy, Alysia, Mahea, and Donica no adventure is too tough. Not professional models, our gals really live, work, and play in Hawaii.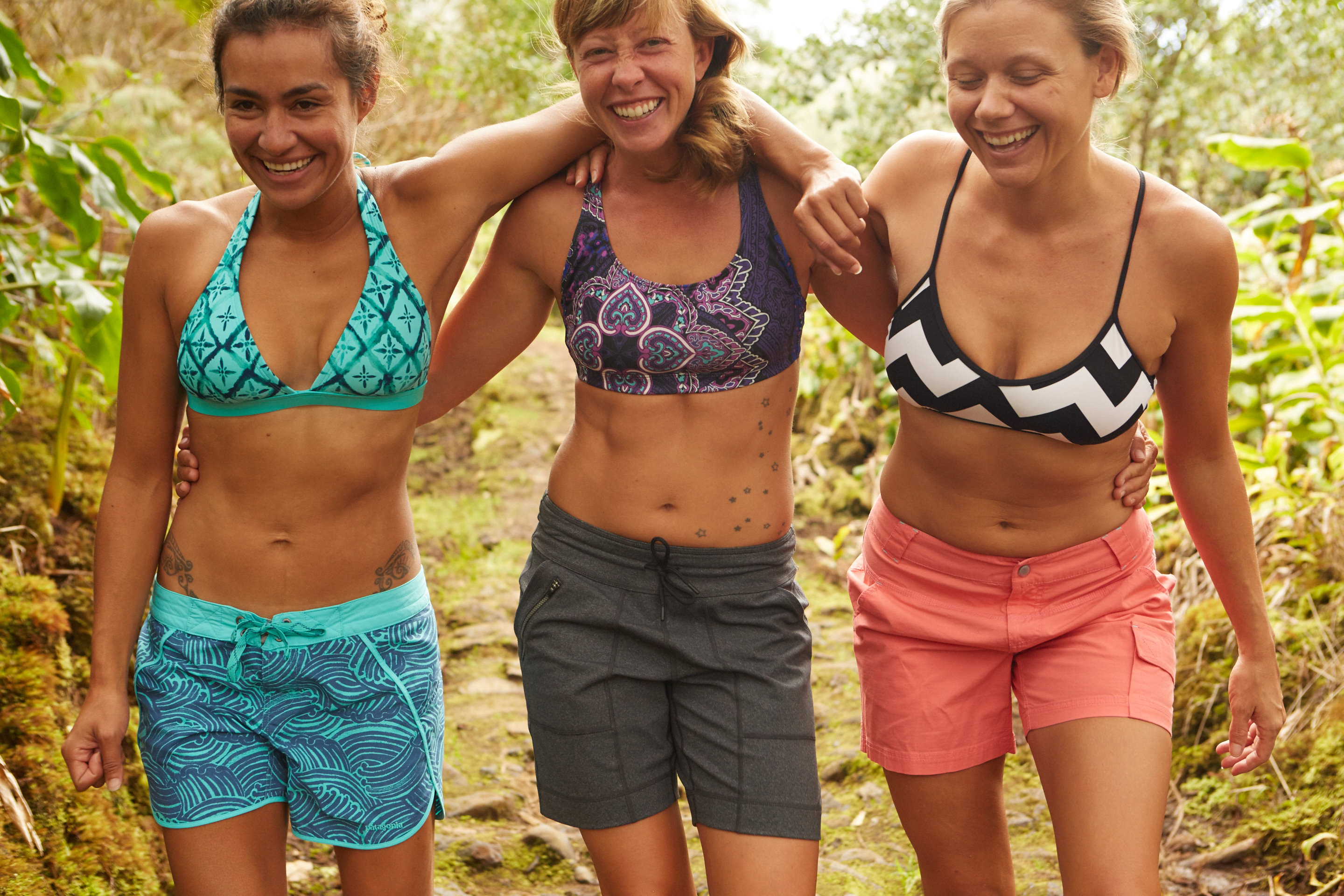 As we head out to our first location the weather's not cooperating, but it's Hawaii so we know it's only a matter of time before we see the sun. Thankfully all the illnesses have subsided and we're good to go. All the women are dressed in Title Nine clothes as we hike, swim, climb, and explore. We really do wear and test the gear we sell! These gals rock the clothing, the adventures, and the awesome attitudes. Even when we get lost, the weather is dreary, or someone gets sick, they keep things light and fun. Our models are awesome.
After another very long day and a lot of great shots, we call it a wrap and head to dinner. (Side Note: You must eat at Noodle Club in Waimea. Trust us. Noodles, noodles and more noodles in soup. Heaven.) It is the first time we sit down all day and it's just the nourishment we need before the long drive back to Hilo.
Bellies full of pho, we're eager to get back home. We have an early flight the next day and it's pouring down rain. We soon discover that our humble house at the end of steep farm roads (only accessible using 4-wheel drive) has flooded. We are unexpectedly up the (flash-flooded) creek without a paddle and can't get to the house. Thankfully "Mayor" Shawn grew up on the island, remembers mountain biking in the hills, and finds us an alternate route. We make it back (barely), pack up everything, and try to escape before the flood waters trap us for days. We scramble out and head to Kona, arriving around 10:30 pm. Our second 17 hour day has come to a soggy but successful end.
Everywhere we shoot holds a special place in our hearts, but there is something particularly wonderful about the Big Island. It's alive with volcanos, rainforests, and gracious people. Hiking hidden waterfalls, embracing getting lost, swimming with dolphins, eating shave ice and pho, escaping floods: every adventure and misadventure becomes a tale to tell. Every wrong turn yields an unexpected photo opportunity. As it turns out, you can cram five days of shooting into only 48 hours when you're in the right place, with the right team, and you own the detours.