225 miles downstream in the largest canyon in America—some people wait a lifetime for this.
T9 Model and adventure-lover Anne Conway wasn't very optimistic when she applied for a rafting permit that most people wait a decade (or more) for. But on a whim, 15 minutes before the yearly deadline, she threw her name into the hat. Fast forward to later that evening, when she got the call: She was in.
Let the planning begin.
First up? The Guest List
Anne was part of a larger group of 16 people, but had a couple open slots on her dance card. She invited fellow T9 models Katie Hancock and Jazzy Garrety, along with T9 photographer Freya Fennwood. The girls jumped at the chance; then it was time to get to work.

The Plan
How do you plan for 25 days in a raft, with no contact with the outside world? You get creative—with your gear, your grub, and your all-important theme-night costumes (priorities, are we right?)
The job was huge: all meals needed to be planned, packed, and kept cool; boats needed to be rented, borrowed, or purchased; tents, bathrooms, emergency supplies, and potable water all needed to be accounted for. The spreadsheets were massive, the to-do lists were long. But the promise of a month on the river was enough to keep the girls organized and on top of it.
After a year of planning, the party got started: 6 rafts, 3 kayaks, 225 miles, 25 days. Whatever happened, everyone knew this was the kinda thing you only get to experience once.
The days on the river quickly developed a rhythm: Early rising for the day's cook crew, coffee, breakfast, and camp break down. After the rafts were packed, the team set out downriver.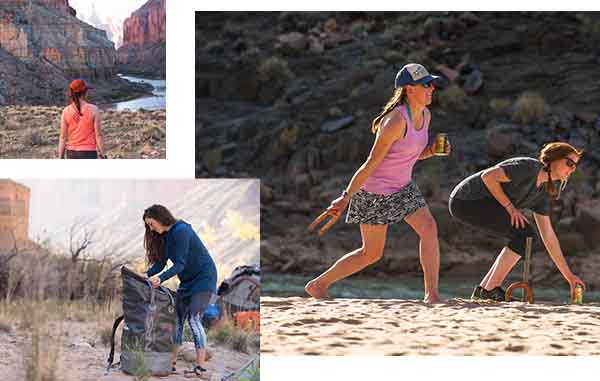 The sun was a luxury. A mile below ground, much of the day was spent in shadows: sunrise came late, sunset early. With only five or six hours on the river a day, life slowed down. (Except when it didn't—Class IV rapids were lurking around nearly every corner.) By around 3pm, it was time to search for a campsite and set up camp. The kitchen crew got dinner going, while the site crew set up tents, toilets and found firewood. By dusk (if they were lucky) they were ready for some R&R, some hot food, and a little fun…

T9 Middle-of-Nowhere Hacks
Campsite Sauna
Just because you're two weeks away from anywhere, doesn't mean you can't have a spa day. The T9 crew brought a pop-up tent down to the beach, dug a hole and put tarps down, then added lava rocks that had been baking in the fire all evening. A sprinkle of river water and boom—sauna on the go.
Spa Day Extra Credit
A bucket of water and a razor work just fine for shaving (because that's how we roll in the wild).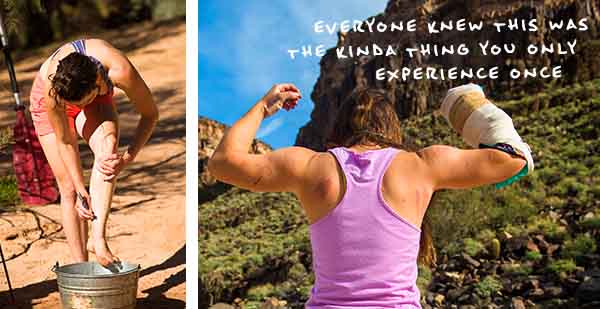 DIY Party
Somewhere in between setting up camp and crashing for the night, the crew had a little fun—theme nights were par for the course. Somehow, the girls had room in their bag for flamingo hats AND formalwear, but they won't reveal their secrets.
T9 Tough
When Jazzy fell while climbing, she was afraid it was the end of the road (or river) for her. The rescue helicopter was a radio request away. But after a fellow rafter, who also happened to be an EMT, examined her, nothing looked massively out of place. A temporary splint, some creative wardrobe choices and more than a bit of ibuprofen kept her on the river for the remainder of the trip. When she was back on dry land, an x-ray determined she was definitely lucky: no broken bones.
Ready for your adventure of a lifetime? Before you grab your gear and head out, pick up a few new favorite pieces, like an adventure-worthy skort, performance tank top or a wear-it-with-everything tunic.