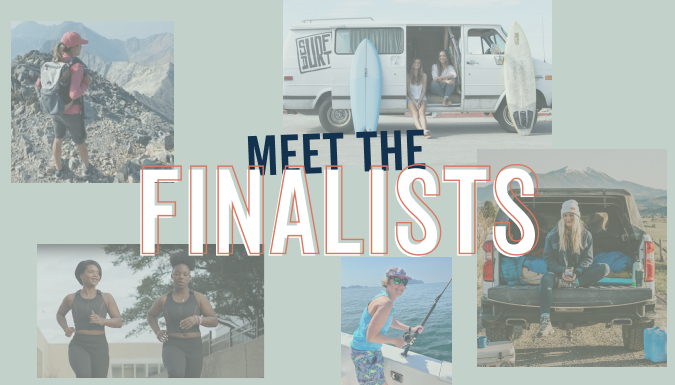 It's that time of year again! Our Sixth Annual T9 Pitchfest Outdoor Edition is just around the corner, and in our continuous search to find the best adventure approved gear for women, we've selected nine innovative finalists to show us how they're leading the way and changing the game for women in sports.
It takes a lot of grit, patience, and just the right amount of crazy to be an entrepreneur. And that's just the kind of game-changing spirit we wanna support. We can't wait to see these women in action at our upcoming Pitchfest, and learn more about the cool products they're serving up.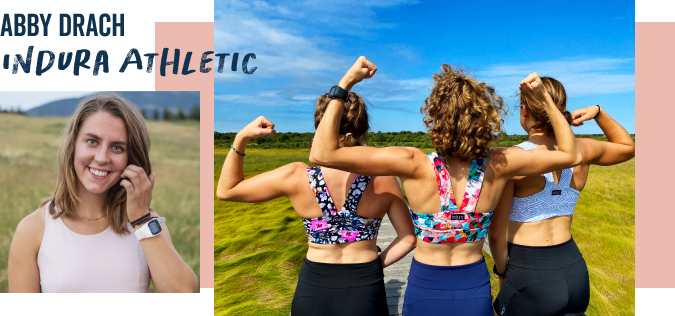 Abby Drach
@induraathletic
Competitive Nordic skier Abby Drach searched high and low for workout clothing that fit her strong quads and broad shoulders. When she couldn't find any gear that fit the bill, she decided to design her own, and to do it ethically and sustainably to boot. With a sewing machine and a few yards of lycra, she built a shorts prototype that didn't ride up, and a sports bra that was supportive, comfortable, AND cute (the holy grail). Fast forward one year later, Indura Athletic was awarded an Outside Magazine Editor's Choice Award for their innovative and uber functional apparel.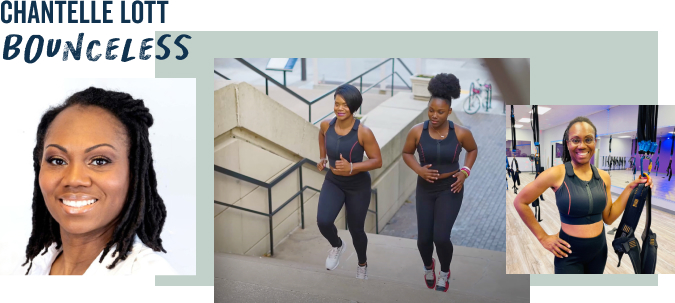 Chantelle Lott
@livebounceless
As a medal-winning D1 runner, Chantelle Lott couldn't find sports bras that could keep up with her rigorous training schedule. Wearing two or three bras at a time just to get the right support was uncomfortable, frustrating, and distracting. So she decided she was going to build a solution. Enter her genius, innovative Bounceless bras, the breathable, zippable, customizable solution to bounce-free running.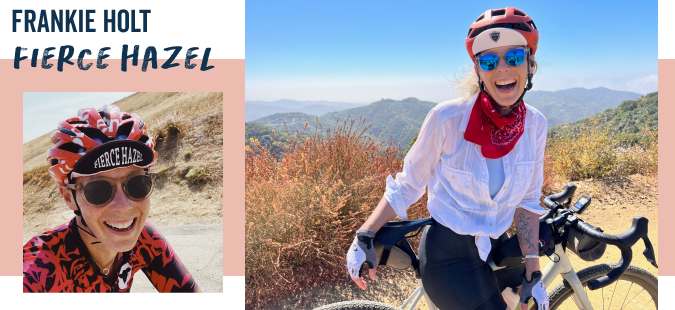 Frankie Holt
@fierce.hazel
LA-based artist and cyclist Frankie Holt's life was instantly made better by being on the bike. After a career as an art director, she discovered cycling at age 40, clipping in for the first time to ride the Blue Ridge Parkway from North Carolina to Virginia. In 2019 she launched Fierce Hazel, building small, technical pouchs to keep stuff safe and organized when she biked. Sustainability, ethics, and kindness guide the choices she makes in life, so all of Fierce Hazel's products are ethically made from eco-conscious materials.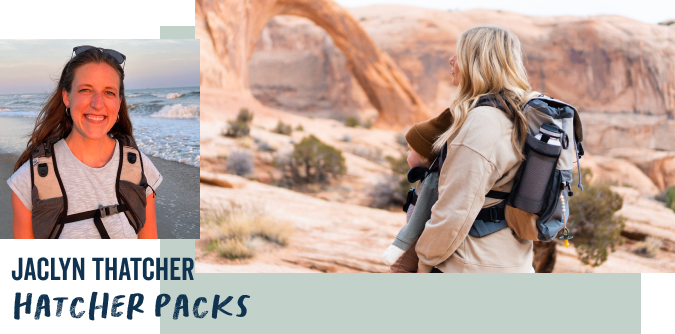 Jaclyn Thatcher
@hatcherpacks
On a mission to empower families with the tools to get outside — mom, nurse practitioner, and ultra-marathoner Jaclyn Thatcher built a diaper bag that could keep up with her active parenting lifetstyle. With a slew of elite components and make-it-easier features, Hatcher Packs are designed to maximize every MOMent. Tons of pockets, a detachable soft baby carrier, a reservoir AND water bottle holders, plus a place to hold a laptop, these bags are built to hold up for every adventure: from the airport to the backcountry.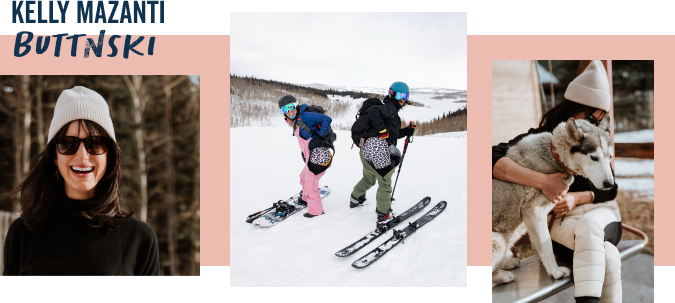 Kelly Mazanti
@buttnski
Inspired by a pair of her mom's fleece shorts from the 80's, Kelly Mazanti built an outdoor apparel brand for everyone who loves being outside in the mountains. Buttnski is based in adventure's playground — Summit County, Colorado. With the backdrop of the Rockies as inspiration, Kelly infuses the brand's functional (and stylish!) apparel with a "ladies first" focus — building products that really support an active lifestyle. Kelly works with her co-founder husband Christian plus the shop "assistant", their retired sled dog Drake.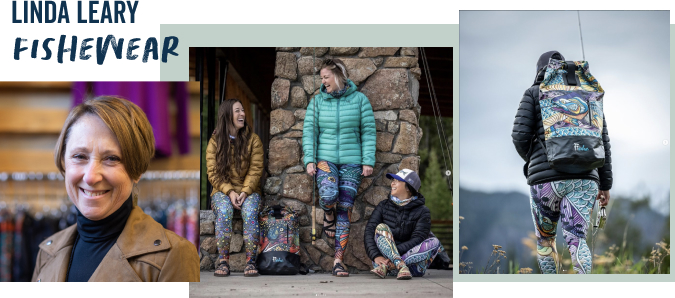 Linda Leary
@fishewear
Passionate angler Linda Leary grew up fishing in Maine with her dad, setting a formative love for the outdoors that carried her through her career in the male-dominated trucking industry in Alaska and across the US. Through meticulous R&D (and collabs!) she built Fishe to help women feel comfortable and expressive on the water while also getting all their functional gear needs met. Fishe's products are designed specifically for women, keeping a keen focus on technical details AND vibrant and unique colors and patterns.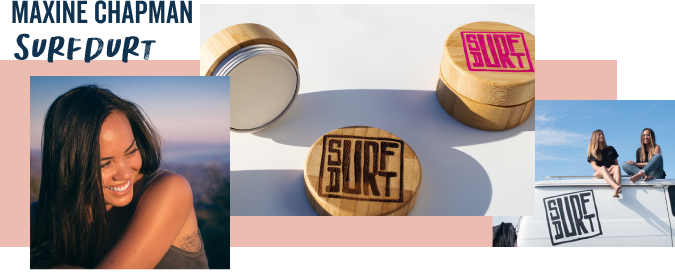 Maxine Chapman
@surfdurt
California-lovin SurfDurt founder Maxine Chapman is a passionate advocate of business as a tool for good. When she couldn't find a sunscreen that protected her skin without compromising the planet's delicate ecosystems, she decided to make one. Maxine calls SurfDurt Sunscreen the most "planet-friendly, non-toxic sport sunscreen on the market" 'cause it's built with a super safe sun-blocking zinc, antioxidants, and skin-boosting natural ingredients. It's inspired by the magic of the outdoor places she plays in, and made to last through the toughest adventures.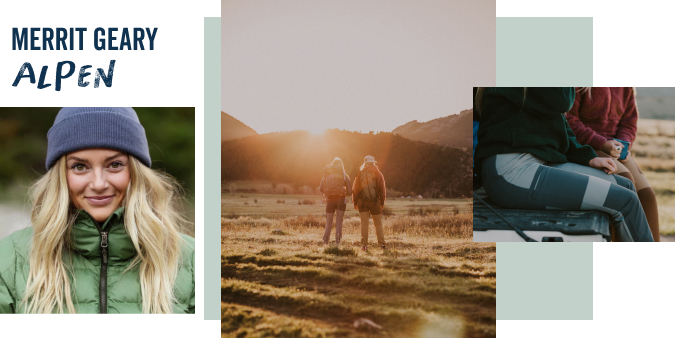 Merrit Geary
@alpenoutdoors
Runner, skier, fisherwoman Merrit Geary was tired of feeling like a second thought to gear companies when she was looking for clothing to outfit her outdoors lifestyle. She started Bozeman based Alpen to build technical clothing that is women-first and planet-first, thoughtfully designed to keep out the elements and keep up with our most ambitious adventures.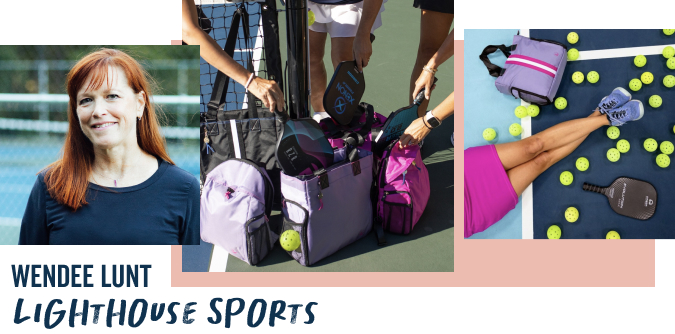 Wendee Lunt
@lighthousespts
Lighthouse Sports founder Wendee Lunt is an avid pickleball player, lifelong racket sports lover and a super accomplished international executive. She had a vision for functional pickleball bags and accessories that she couldn't find in the market, and because of her marketing and brand development background, she figured she could start building them on her own! Lighthouse Sprots bags are designed with high quality materials and tons of thoughtful detalis (insulation for temp control, a key leash, and soft felt to protect valuables) so it's a snap to grab the essentials and head for the courts.
---
We can't wait to host these risk-taking small business owners in our own backyard for Pitchfest once again. And yeah, we're gonna get our hands on that women-owned gear, too!
Check out last year's winners and check out our current T9 Movers & Makers to get your hands on some great women-owned gear. We'll be back soon to announce the winners from this line-up of finalists, so stay tuned!