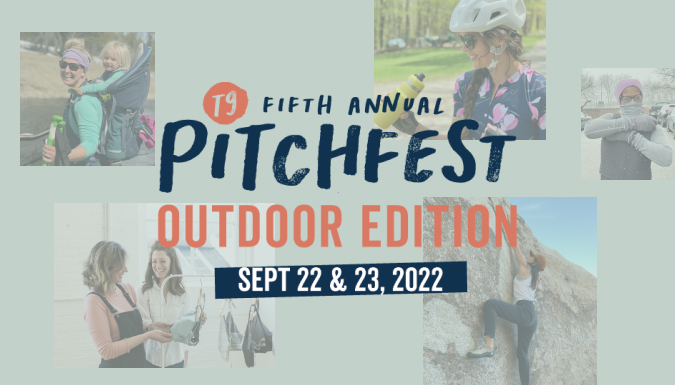 We're back at it this September with our fifth (!!!) annual Pitchfest Outdoor Edition! Here at Title Nine we've spent over 30 years searching high and low for adventure approved gear created by badass women. It takes a lot of grit, patience, and just the right amount of crazy to be an entrepreneur. And that's just the kind of game-changing spirit we wanna support.
Our 2022 Pitchfest Outdoor Edition finalists are throwin' down smart, sustainable, creative solutions that really up the ante for the outdoor sports and adventure world.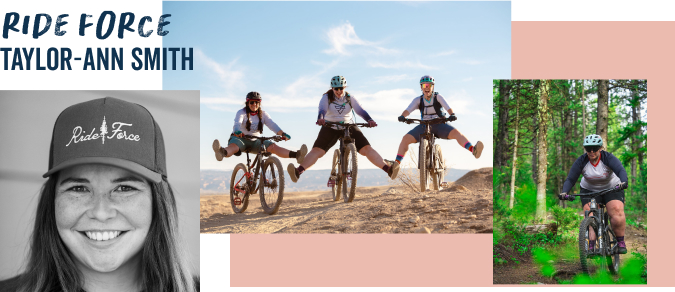 Taylor-Ann Smith
As soon as she unplugs from her day job, Taylor-Ann Smith chucks her bike into the truck and heads off for a mountain adventure. Her vast experiences in getting after it, getting lost, and then getting back to it have taught her lessons of patience and powering through – two key qualities in any successful entrepreneur. And another thing she learned out there in the dirt – she needed to see mountain bike apparel that reflects the strong women she meets on the mountain. So she shifted into a near gear and built Ride Force – badass mountain biking apparel for EVERY body.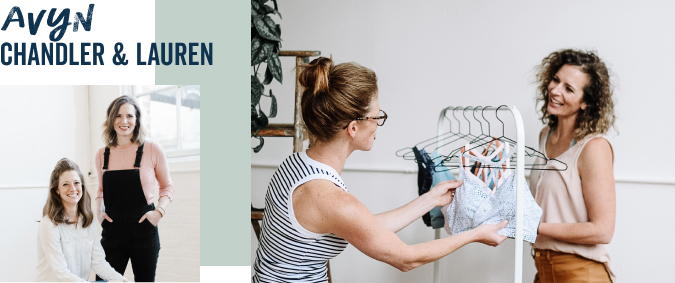 Chandler Lettin & Lauren Woodworth
Co-founders Lauren Woodworth & Chandler Lettin live by the mantra "work hard, play hard", and it shows. As new mamas makin' the most of every minute, they quickly discovered the lack of variety in the nursing bra marketplace. So, they changed that and developed Avyn – modern bras that go from nursing to mat to trail without a fuss. A trifecta of comfort, support, and style.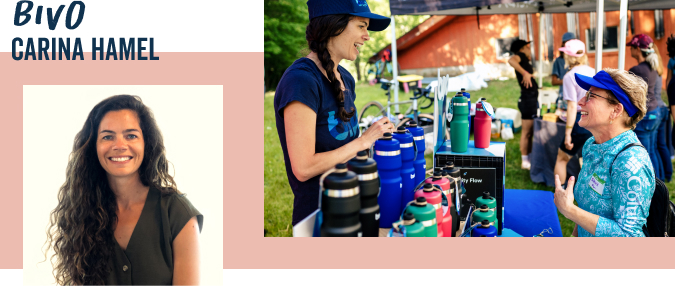 Carina Hamel
Carina Hamel is a former NCAA nordic skier and endurance aficionado with a passion for product development. Her work has taken her globe-trotting on incredible international adventures – both in the outdoors, and in business. In disbelief about the number of only-plastic water bottles options out there, she broke the mold and made the first stainless steel bottle with a flow-rate fit for cyclists, skiers, and all outdoor enthusiasts.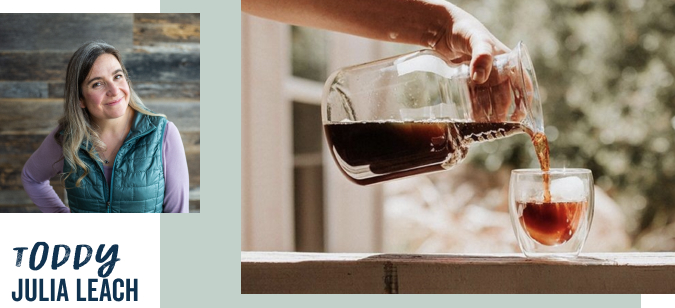 Julia Leach
Athlete, traveler and parent, Julia Leach really wanted folks to enjoy great cold brew coffee with that barista-poured care, everywhere they explore. So she launched a line of adventure-friendly cold brew equipment and coffee pitcher packs to make and take that cold brew along for the ride. The Toddy Go Brewer is the perfect partner for your early morning sunrise hike, evening adventure, and all the beverage-breaks in between.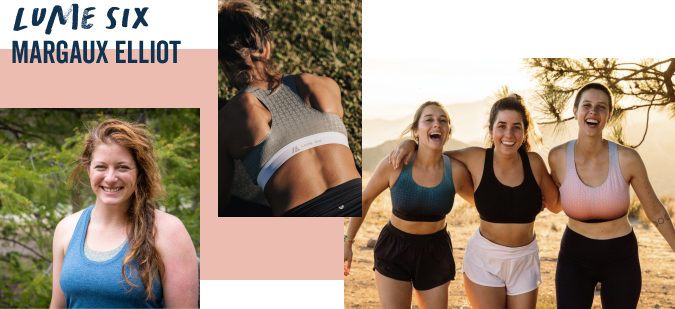 Margaux Elliot
Margaux Elliot is an eternal optimist and avid athlete. She's game for anything, but hopping on her mountain bike and hitting the trails might just be her favorite thing. In 2020 she became the first woman to climb one million feet in a single year – hello quad burn! And what did she think about for those many hours with boobs over bars? Sports bras. After many years of R & D, she created Lume Six — ultra supportive sports bras made for comfort in premium materials and thoughtful features.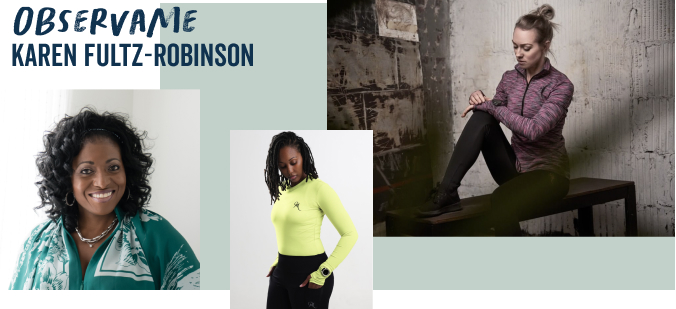 Karen Fultz-Robinson, Esq.
Karen D. Fultz-Robinson simply wanted to check her performance watch while she was out for a run in the cold. Not so easy with long sleeves she really needed to stay over her wrist. That's why she launched ObservaMé® – a dry-fit, sustainable apparel line made with a wrist opening for performance devices and watches. "ObservaMe" translates to "watch me", and we're here for Karen doubling down on that meaning to keep women on the move.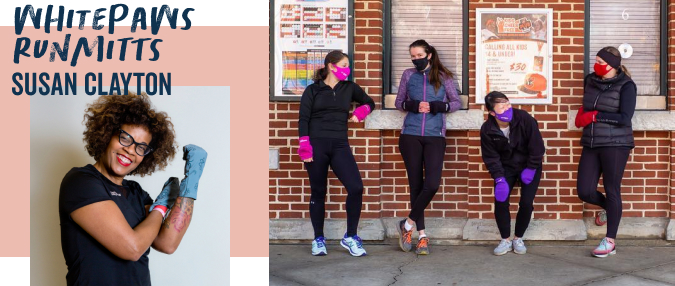 Susan Clayton
As a running coach for Back on My Feet, Susan Clayton met runners at the crack of dawn – no matter the weather. But she couldn't find a mitten that would keep her hands warm in the frigid morning hours and seamlessly transition to something a little more breathable as her body warmed up. So she got super handy and came up with WhitePaws RunMitts — a patented, thumbless, convertible mitten to keep athletes' fingers and thumbs warm while going hard in the lower digits.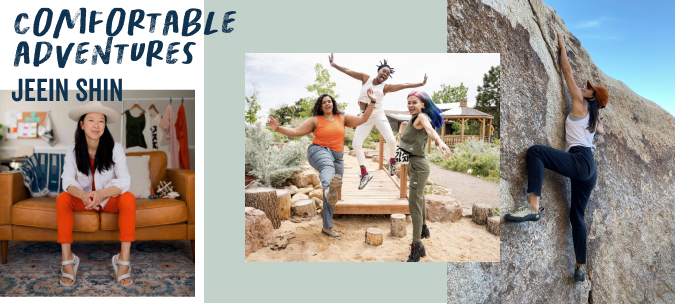 Jeein Shin
Comfortable Adventures founder Jeein Shin spent over a decade designing apparel for contemporary and outdoor brands, and was struck by the environmental impact the apparel industry has on mother earth. And that wasn't the only rub. Why were tight leggings and ill-fitting nylon pants her only options for climbing? She addressed both of those active issues when she started working with hemp to make a classic pair of pants made sustainable, functional, and comfortable fabric.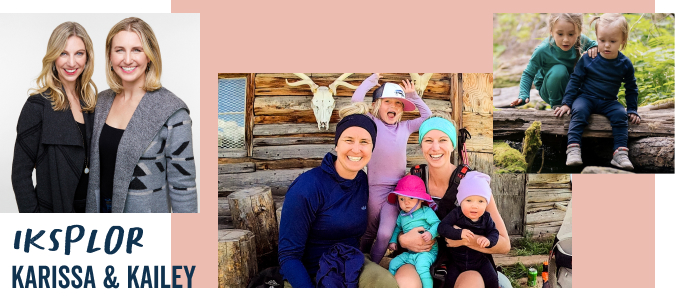 Karissa Akin & Kailey Gieck
Karissa and Kailey are sisters who grew up doing all the outdoor things – hiking, camping, biking, climbing, skiing. As they began families of our own, we knew we wanted to share this same love of nature and spirit of adventure with their kids. But with everything on their plates, carving out that family adventure time is easier some days than others. That's why they're on a mission to create easy-to-use resources, easy-to-care-for clothing and community inspiration to get families out the door and into nature, together.
---
We can't wait to host these risk-taking small business owners in our own backyard for Pitchfest once again. And yeah, we're gonna get our hands on that women-owned gear, too!
Check out last year's winners and check out our current T9 Movers & Makers to get your hands on some great women-owned gear. We'll be back soon to announce the winners from this line-up of finalists, so stay tuned!