"Failing is when theory turns to practice, failing is where the learning comes in, failing is what leads to success. But no matter how often we say it, it's still hard to live it. So we invited entrepreneurs to try a little failing — and succeeding — with us here at T9. The opportunities here are endless."
Title Nine is the place to be when you're ready to push your personal goal post further into the aether.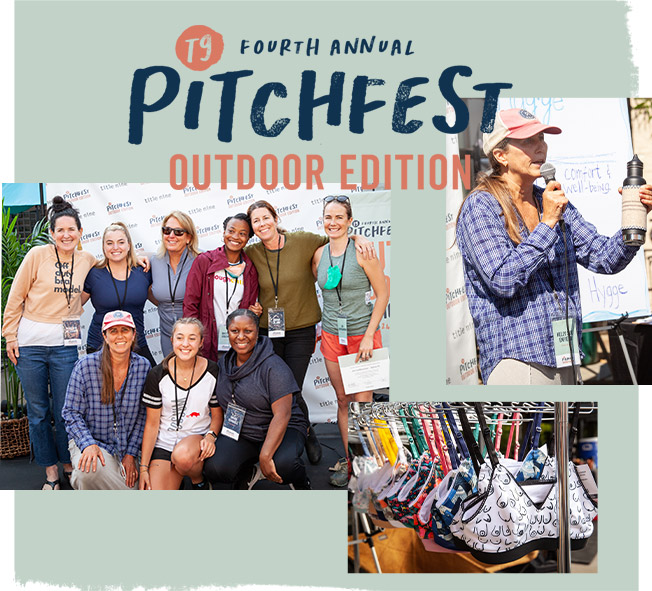 Pitchfest Outdoor Edition 2021. Quick and Dirty Takeaways.
We're stoked to support these movers, makers, moms, and nothing-half-ass game-changers who are defining spaces that have for too long been minimized, diminished, and flat-out ignored.
Three winners were chosen to receive product orders from T9 to showcase their businesses in our Spring 2022 collection.
One runner-up was chosen by our panelists for mentoring and product development with all eyes on a purchase order when she's ready to go.
Missy's eye-opening Q&A with Sally Bergesen, Founder and CEO of Oiselle, reminded us all to fail fast, learn from our mistakes, and try again. And we learned that even our very own Missy Park is afraid of something. (Hey moms, she worries about her kids too.)
Pitchfest alums are reporting record-smashing years for 2021. Take that, patriarchy, COVID, and supply chain catastrophes.
The Big, Hairy Beginning. The Pitch.
Bold, brash, and sometimes shy (but determined) women gather into the same room to embrace new ideas and to build those ideas right on past glass ceilings.
This is Pitchfest.
And it happens right here at T9 headquarters. On a pickleball court, no less.
Because those big, audacious ideas of ours, they all have to start somewhere. Whether we're pursuing a new sport, deepening our commitment to a passion project we've half-assed too long, or setting our sights on an elite goal. There's one thing — one moment — none of us can get around. The beginning.
And how powerful is it to be at the beginning — at the starting line staring down the length of The Future — with people who are on really, truly, very seriously on your team?
It's game-changing.
No. It's more than that. It's rule-breaking.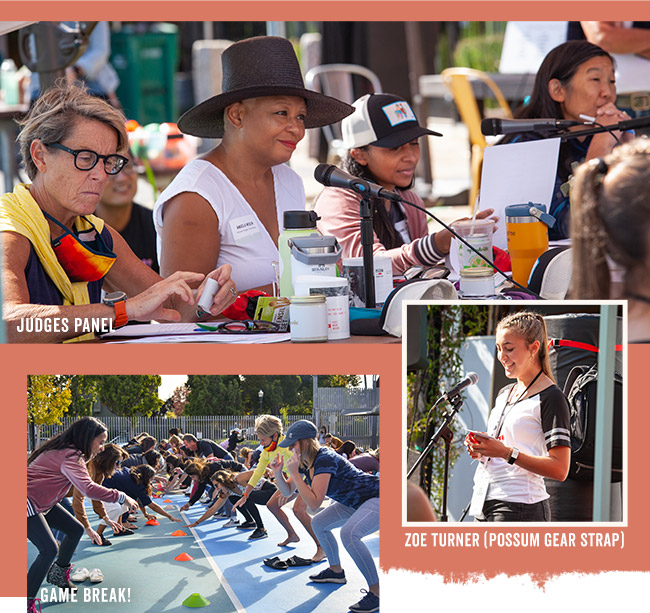 Caution: Difficult Women Ahead
That's why we started Pitchfest Outdoor. To not only make space at the starting block for women entrepreneurs, but to be their ride-or-die teammates, yes-you-can coaches, and ruckus-rallying fans.
The Starting 9 Finalists
Damn, these women are visionaries, y'all. We already know women do it all and then some. But these women? They're working full-time, burning the midnight oil, holing up in their garages with inventory, designs, and spreadsheets. And they're making it look GOOD. Get reacquainted with the finalist cohort here.
Without Further Ado, Meet the Winners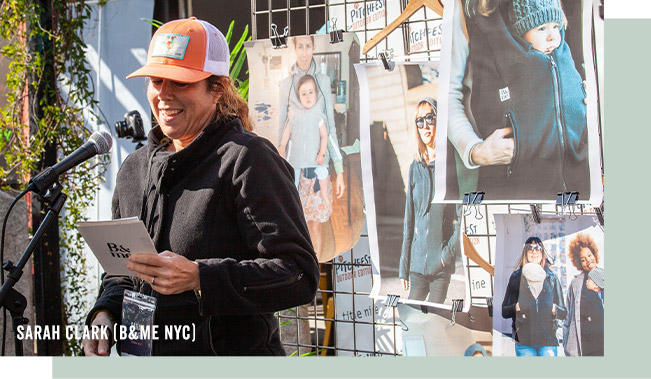 B&Me NYC
Entrepreneur: Sarah Clark
What she said: "Wearing my baby beneath my husband's big puffer coat, our shared body heat kept us both so warm and bundled. The concept was so simple. But I felt like a giant blue marshmallow. I thought — there has to be a better option."
Why we're stoked: We're multi-taskers. Every single one of us, whether we think we are or not. The Booker Coat is a one outer layer for two people. It can be worn before, during, and after pregnancy. Finally, a multi-functional piece that adapts to our ever-changing bodies!
Keep an eye out for: A cover for your baby carrier that looks absolutely nothing like a cover for your baby carrier and a whole lot more like a beautifully designed jacket you can wear before, during and after baby (because it is).
Follow B&Me NYC on Instagram @bookerandme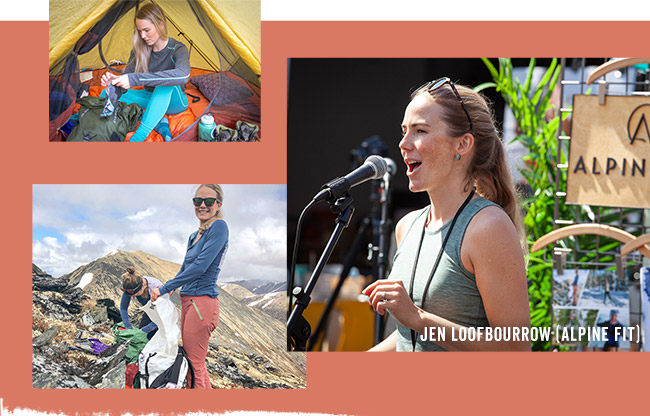 Alpine Fit
Entrepreneur: Jen Loofbourrow
What she said: "Imagine you're out with friends and you've all been hiking and camping for seven days straight in one set of clothes. Your friend has been wearing Alpine Fit odor-eliminating adventure layers and she invites you to smell her armpit. I'd accept that challenge."
Why we're stoked: If the technology fits, we're game to wear it. Alpine Fit is designed in a blend of tech-forward textiles with good-ole Merino wool, so it's going to regulate all that boss body heat we're putting out when it's cold, and it'll ward off the inevitable apre-pursuit stank too. Oh, and equally important, each style is offered in two fits to empower active bodies across the board.
Keep an eye out for: Seriously soft layering pieces fit to feel great through varying adventures, climates, trips to town, and yes, smell tests.
Follow Alpine Fit on Instagram at @alpinefitco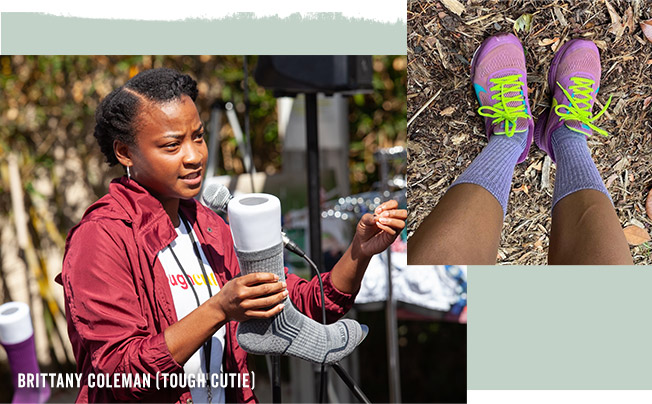 Tough Cutie
Entrepreneur: Brittany Coleman
What she said: "Most of the companies that play in the sock space are run by men. And we believe that they market to women because women have feet. But we're doing it for something totally different."
Why we're stoked: 'Bout damn time we can hit the ground running with hiking and casual socks boldly designed to meet us at our toughest, cradle our unique curves, and cushion our every agile move. Plus, Tough Cutie socks are biodegradable, made in the U.S.A., and sourced and constructed through women-owned businesses.
Follow Tough Cutie on Instagram at @toughcutiebrand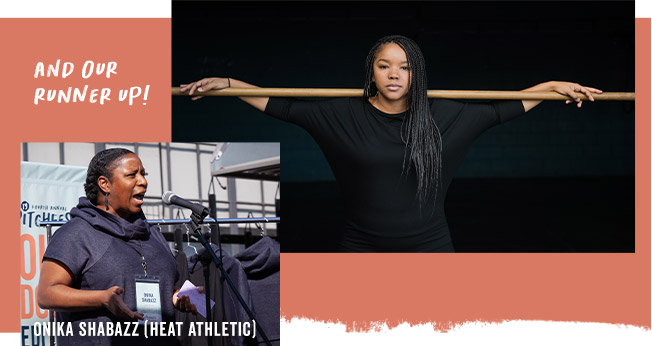 Heat Athletic
Entrepreneur: Onika Shabazz
What she said: "I wanted to build an organization that empowered women of all sizes to focus on their wellness. What I kept coming back to was apparel. We have to outfit her to empower her."
Why we're stoked: Inspired by a love of boxing and a need for clothing that could keep up with runners and always-at-it athletes, this capsule concept offers key pieces into active wardrobes for women sizes 12 to 24.
Keep an eye out for: Clean designs with boxing-inspired hoods, drawstring waistbands, and cuts that keep our powerful legs feeling free to move.
Follow Heat Athletic on Instagram at @heat_athletic_clothing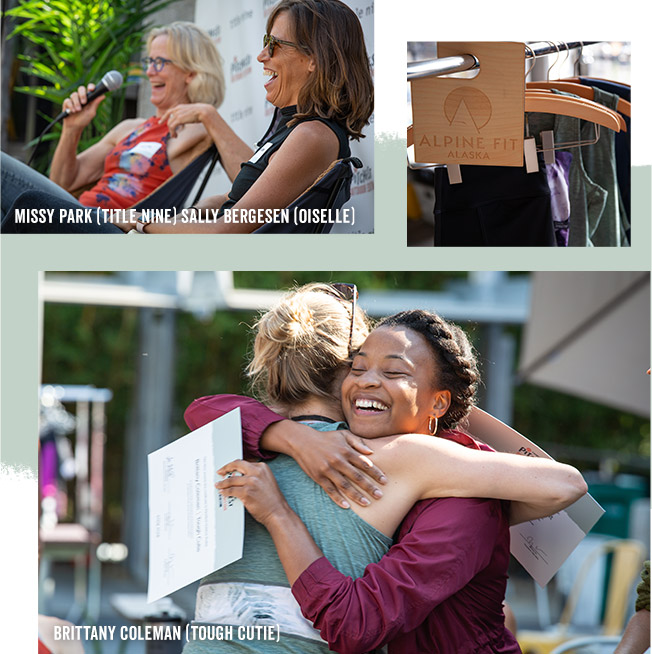 Sunglasses Suggested
We're fostering the forum for fired up, feminist women who are leading, risking, and owning their big dreams. That leads us to the winners of Pitchfests past. We call them our T9 Movers & Makers for pretty obvious reasons.
While 2020 added an unprecedented kink in the supply chain (to say the least), they've rebounded in 2021, celebrated major milestones, and now they're headed nowhere but UP. Keep up with our T9 Movers & Makers — and shop their badass apparel and products too.
And, hats off to our speakers, panelists, mentors, and supporting Movers & Makers. It takes a village, after all. Here's to everyone who made 2021 Pitchfest Outdoor Edition an overwhelming success.
Speakers:
Sally Bergesen, Oiselle, Mover & Maker
Alix Klein, ABD Culture, 2020 Pitchfest Outdoor winner
Erika Togashi, SEPTEMBER, 2020 Pitchfest Outdoor winner
Lisa Carponelli & Kim Hopkins, Velorosa, 2020 Pitchfest Outdoor winners
Becky Worley, Good Morning America
Mark Francis, Uspire Group
Jen Gurecki,  Coalition Snow / Zawadisha / SISU, Mover & Maker
Mentors (all T9 Movers & Makers):
Bronwen Lodato, Bronwen Jewelry
Kelli Jones, NOSO Patches
Jennifer Ferguson, Handful
Mallory Ottariano, Youer
Judges:
Cassie Abel, Wild Rye, Mover & Maker
Roxanne Christophe, Girls Crushing It, 2021 Pitchfest Nonprofit winner
Angela Medlin, House Dogge / Faas Design Collab
Noriko Morimoto, Title Nine
Alice Lee, Title Nine
Additional T9 Movers & Makers Supporting from the Pickleball court Sidelines:
Sensi Graves, Sensi Graves Swim
Emily Trower-Young, Em & El Organics
Thayer Sylvester, Carve Designs
Alyssa Feinberg, Happi Headware
Raquel Vélez, Alpine Parrot
Stay tuned for information about 2022 Pitchfest Outdoor Edition and Pitchfest Nonprofit Edition, and get caught up on past Pitchfests here.